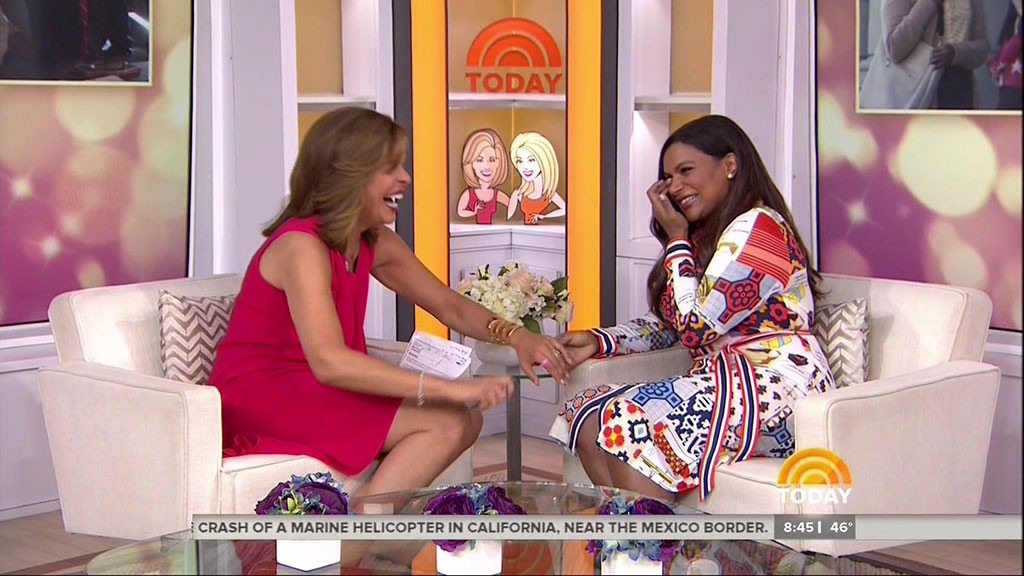 NBC/Today
When thinking about all she's accomplished, Mindy Kaling is moved to tears. 
During a sit-down with Today's Hoda Kotb Wednesday morning, the Champions star was feeling the emotion as the two women got to discussing all that Kaling has achieved up until this point. She's an Emmy-nominated actress and writer, she's the co-creator and an executive producer on the new NBC series, Champions, and she recently became a mother to daughter Katherine Kaling late last year. 
"She's so great and I just love being a mom," the actress gushed to Kotb of her little one. 
As the baby is just a few months old, there was "0 feedback except for crying for the longest time," Kaling joked. "Then you start wondering, 'Does she care about me? Know about me besides that I'm a food source for her?"
Then, Kaling got to celebrate a subtle milestone: Katherine's laugh. "She's incredibly easy to make laugh," she said. "It's very nice actually because versus my real job where it takes so much effort to make these shows and everything...I just sing The Sound of Music to her. It's the best."
The actress is so in love with her little one, she finds herself staring at pictures of her daughter during meetings. As the funny lady perfectly summarized, "She bleeds over into all parts of my life."
And what a life it has been! Kaling's milestones were perfectly summarized in a recent Instagram tribute by former co-star B.J. Novak. 
"When I met @mindykaling in 2004, she lived in a small apartment off Fairfax in Hollywood," he captioned a photo of a Wrinkle in Time advertisement featuring her character at a bus stop. "This is what's in front of that building today."
"That actually makes me want to tear up," Kaling told Kotb as she reflected on the sentiment. "That's really moving...When I was coming up, there was no one who looked like me on TV or film and that was such a nice thing that he remembered that."
As she predicted, a tear started to stream down her face. "I'm legit crying," she pointed out with a laugh. "This happens so quickly."
"No, it's true," the triple threat continued. "If you dream big, you can get whatever you want."
(E! and NBC are both part of the NBCUniversal family.)