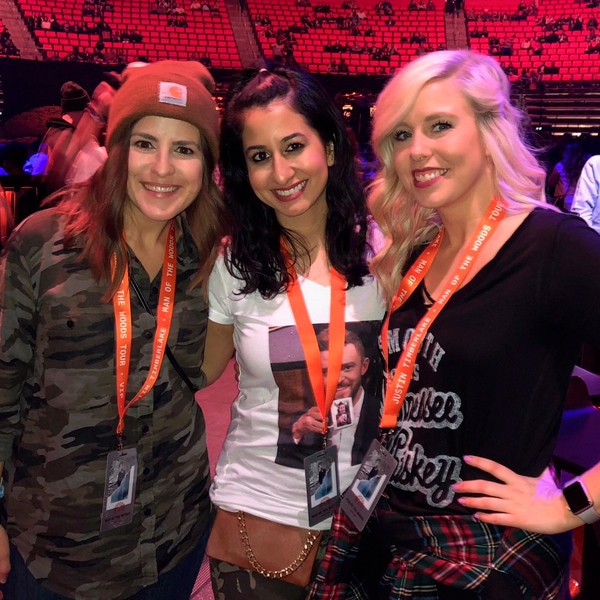 Darcell Baxtresser
Justin Timberlake brought his concert to a halt to make one lucky fan's dream come true.
While performing at Detroit's Little Caesars Arena on Monday, Timberlake spotted Darcell Baxtresser holding a sign that read, "Will you help me announce my pregnancy?"
And, of course, the "Man of the Woods" singer was more than happy to oblige, announcing, "Baby Baxtresser arriving November 1, 2018."
Before resuming the concert, the star brought out the shots to celebrate the "Baby Bax," which he chose as the baby's nickname.
The mommy-to-be tells E! News exclusively, "I've loved him since I was 6 years old so if I wanted anyone in the world to announce it, it was him."
This was the most amazing, magical, unforgettable moment I have ever had in my life!!! My first love to announce my pregnancy was crazy!!! A truly special memory I will forever cherish!! Thank you!! ?? Justin Timberlake The Tennessee Kids #BabyBax #BestPregnancyAnnouncementEver #NoOneCanTopThat #JTisTheBest #MOTW #JustinTimberlake #ILoveHim #WorthEveryPenny

Posted by Darcell Baxtresser on Tuesday, April 3, 2018
So when Baxtresser and her friends decided to see his show for a girls' night out, she decided to take the chance despite the fact that she "wasn't going to announce to my family for another couple of weeks."
"But I thought, 'Wow! What if this happened?' And then I just decided to try it," she shares with us.
And to her surprise, the artist went above and beyond her expectations, with Baxtresser explaining, "I really only expected him to see it and, at best, take a picture with it, but I did not at all expect him to stop the show, literally."
She adds, "As soon as it happened, cousins and friends who were at the show were blowing up my phone, so I figured I had to tell my family right away. I group texted my siblings and parents the video and they were all going nuts. I sent it to my husband and he was just like 'Oh wow!!'"
Her family wasn't the only ones freaking out she says, "I was shaking, tearing up. Soaking it all in. It was really crazy."
Unfortunately, "Baby Bax" won't be named after the famous pop star, but Baxtresser tells us that Timberlake is "more than welcome to be the Godfather!