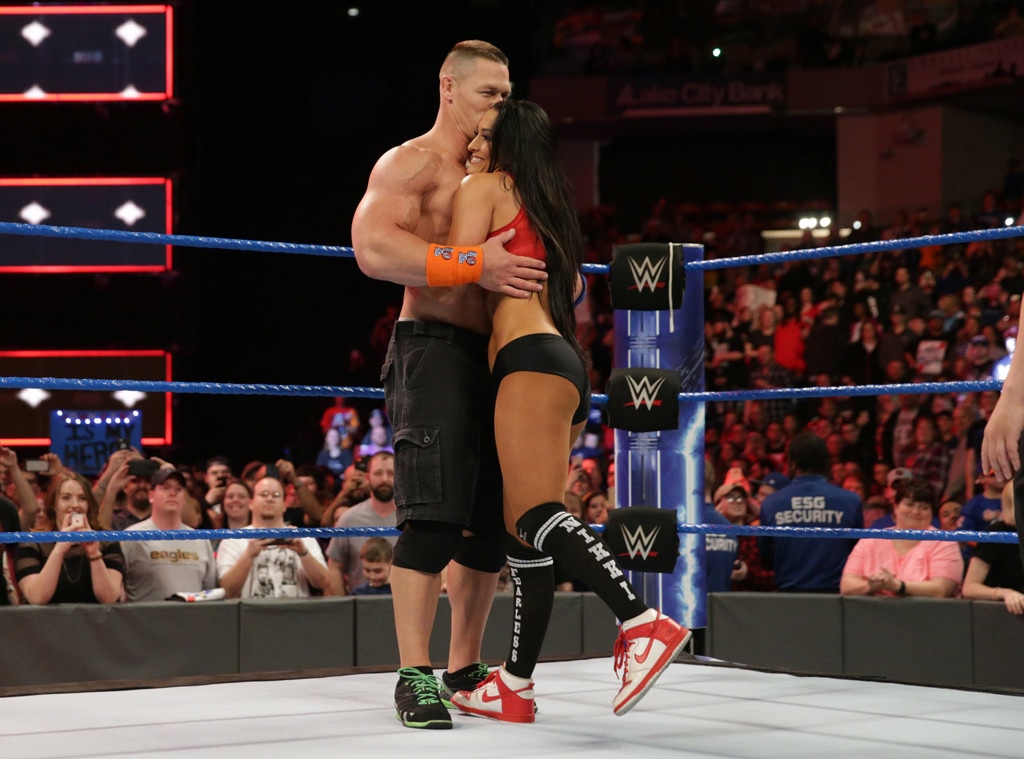 WWE
It's about to go down! 
WrestleMania 34 is coming and you better be prepared. Every year the biggest and brightest in the WWE compete in the ultimate matches at WrestleMania. It's a no hold barred time where anything can happen, and it usually does. 
This year's event is like no other, and we've got everything you need to know ahead of the big day on April 8 at the Mercedes-Benz Superdome in New Orleans, LA. Some familiar faces are making a comeback, plus it's the engagement anniversary of Nikki Bella and John Cena. Here's your breakdown of all the WrestleMania action you should be prepared for! 
1. Daniel Bryan Is Coming Out of Retirement
This year there is a special fight that has everyone in the wrestling community buzzing. Daniel Bryan will be coming out retirement and wrestling in ring for the first time since 2016. The wrestler and husband of Brie Bella will join forces with Shane McMahon against Kevin Owens and Sami Zayn. 
2. Nikki and John's Engagement Anniversary
Last year at WrestleMania 33, Nikki and John got engaged. Fans who have followed their journey for the last five years were excited to see John finally pop the question. Does he have anything planned to top last year's proposal? 
3. Ronda Rousey's First WrestleMania Match 
Former UFC fighter Ronda Rousey is teaming up with Kurt Angle for her first WrestleMania match against Stephanie McMahon and Triple H. The duo has had some bad blood throughout the year, and it's all coming to a head at this year's big event. This match is going to be a major career defining moment for Rousey, and the world will be watching. 
4. Chloe x Halle Will Sing "America the Beautiful" 
This year Chloe x Halle will be taking the stage to kick off the event and perform "America the Beautiful." The ladies tweeted about the huge honor earlier this year. "#WrestleMania, here we come! honored to be performing "America the Beautiful" at this year's @WrestleMania in NOLA," they shared with their fans.  
5. Inaugural WrestleMania Women's Battle Royal 
The women of the WWE are about to make history yet again. "As first announced on Raw, the groundbreaking battle royal will feature female Superstars from all [SmackDown, RAW and NXT] competing to be the last Superstar standing in the over-the-top-rope melee," WWE shared. 
6. Alexa Bliss and Nia Jax Prepare to Fight 
Former besties and current frienemies Alexa Bliss and Nia Jax are going to be going up against each other in a match. These two have very different strengths, and when they meet in the ring, it's going to be every woman for herself. Will Alexa be able to defend her title against Nia? 
Watch it all go down on Sunday, April 8! 
Total Bellas returns this fall, only on E!