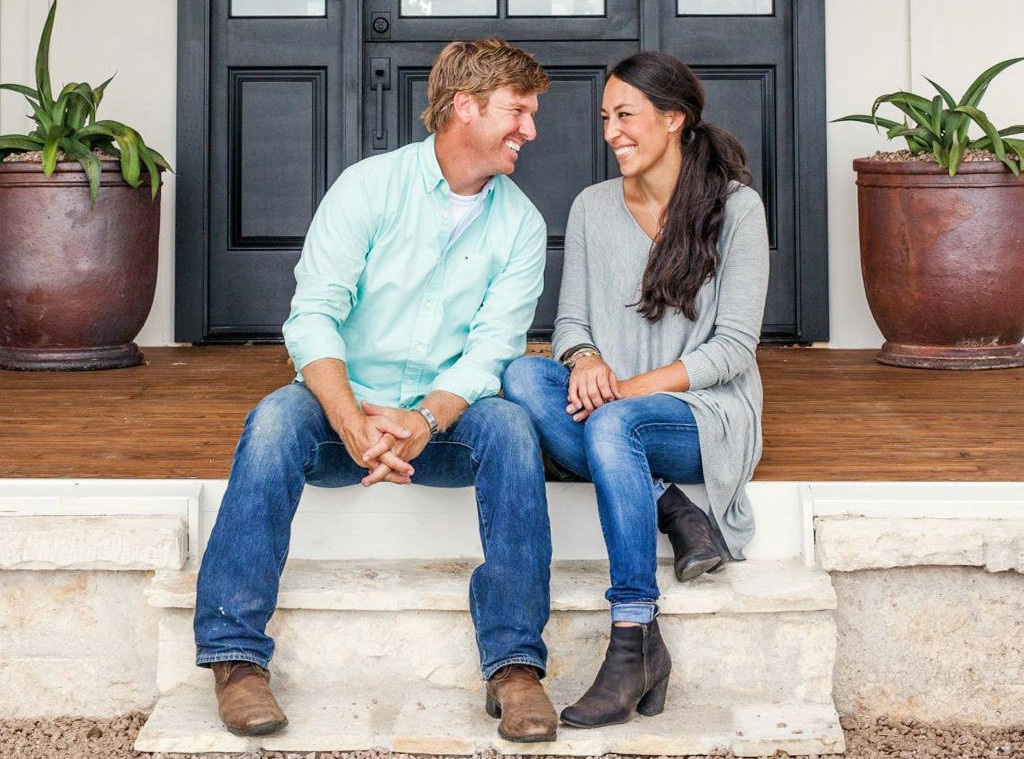 HGTV
With Fixer Upper coming to an end, Joanna Gaines took a moment to reflect on the next stage of her journey—welcoming baby no. 5.
The HGTV star penned a note to her followers on April 3 via her company's blog.
"Pregnancy has been so fun," she wrote at one point on Magnolia.com. "in fact, my two favorite things to do are take naps and eat!" 
Joanna explained it's been eight years since she and husband Chip Gaines welcomed the youngest of their four children Emmie Kay. They also have three other children Drake, Ella Rose and Duke. Actually, Joanna joked that it's been so long since she's been pregnant that it "feels like it's my first time."
"The best thing about all of this is the excitement that my kids have shown for their new baby brother," she continued. "Since I had our first four babies so close to one another, none of them actually remember me being pregnant. They love my growing belly (and boy is it growing), and they cannot wait to meet him. I truly believe this baby is a gift from God for our family in this season."
However, the baby boy won't be the only recent addition to the family. Joanna also wrote that her hubby surprised the family by bringing home a new puppy, Brindley, and a new kitten. 
"Oh, sweet Chip…" she wrote.
In addition to opening up about her growing family, the shiplap star wrote about the couple's time on the show. The husband and wife team announced they would be stepping away from the show back in September. While Joanna claimed it "seemed so far away" at the time, she admitted the finale "snuck up on us." 
"Time is funny like that," she wrote, "the days sometimes seem long, but the weeks, months and even years fly past us when we least expect it."
She also described their final fifth season as "rewarding, challenging, unbelievably fast and furious and nearly everything in between."
"I really loved this final Fixer Upper season because there was such a variety of styles and projects that really kept us on our toes," she wrote at one point. "We did everything from an old barn out in the country to a downtown loft apartment. We also got to do some pretty unique projects like my garden house, a new build for clients, our restaurant, and an ADA compliant house for two amazing boys and their family that we met through the Tim Tebow Foundation. Oh, and of course tonight's episode, where we do a renovation for a Rockstar!"
Finally, Joanna cited several of the couple's major updates in terms of growing their Magnolia brand. The couple has already launched several brand partnerships and book deals. Now, the two are getting ready to debut their restaurant and new cookbook, both called Magnolia Table. She also revealed she's finishing up her design book.
After Chip and Joanna announced their deprature, rumors started to spread that marital issues were to blame. However, in an October interview with Today, Joanna cited her growing family as a reason for stepping away. The couple shared the pregnancy news that January. Joanna also reinforced the idea of her growing family being the reason for their departure in her blog.
"If you would have told me that I'd end this season of the show pregnant with our fifth baby, I would've laughed," she wrote. "Like the entire Fixer Upper opportunity as a whole, life has a way of surprising us. With our little ones getting bigger, we had this gut feeling that it was time to step back and focus on them and our businesses here in Waco, Texas. And although that's why we thought we decided to step away from the show, we now realize with this little one on the way that there was a bigger plan in place for us all along."
To read Joanna's whole note, check out Magnolia's website.
The final episode of Fixer Upper airs Tuesday on HGTV.