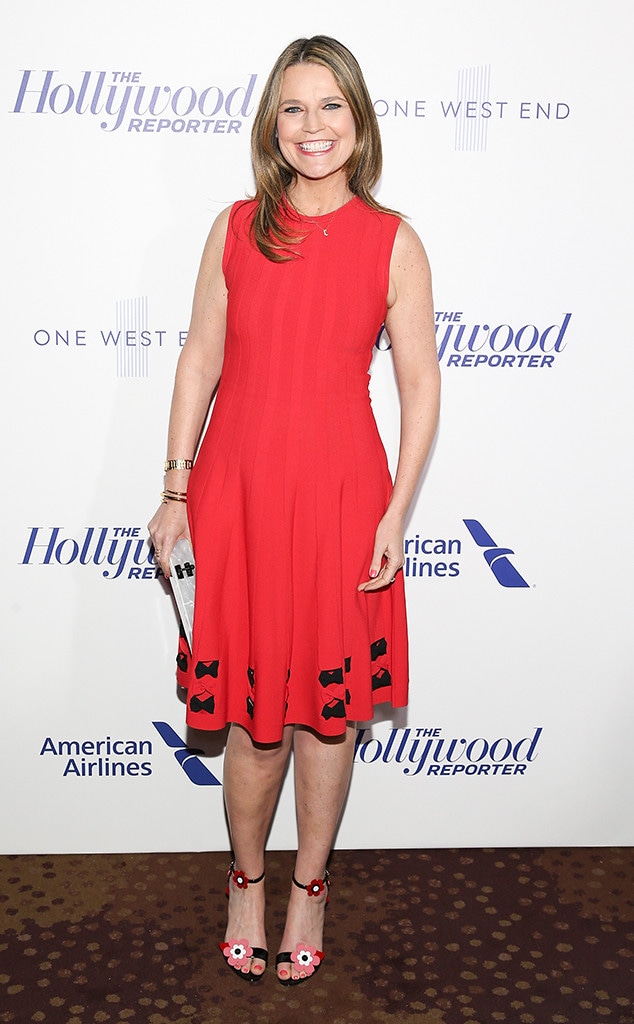 Bennett Raglin/WireImage
Savannah Guthrie is loving the skin she's in. 
The Today show co-host opened up about the ups and downs of aging in the spotlight in a recent blog post, admitting that she can be her harshest critic when it comes to physical appearance. Guthrie said she reacts "like anyone" would after taking a picture where her wrinkles are visible, adding, "I don't love looking at that, and I'll try to put the good Instagram filter on there to make it look better."
But Guthrie's outlook differs from others who would refuse to post the photo. "I'm not going to not put the picture up, she wrote. "I'm 46-years-old and I don't mind looking 46-years-old."
"Sometimes people say, 'I can see your wrinkles,'" Guthrie recalled. "Well, that's true. I do have some wrinkles. I call them smile lines. They're from smiles and laughing, and those are the best kind of wrinkles." 
And speaking of the opinions of her Today viewers, Guthrie described having to be "careful" about not reading too many comments. 
"Sometimes I do, sometimes I don't," she explained. "Any time someone writes and comments, I'm just honored and flattered they're paying attention to me. The good ones make you feel good for a second, but you don't dwell on them. But the ones that are mean... I try to be careful, how much I expose myself to that. I don't have a thick skin."
She added, "There certainly is a lot of criticism out there. Fair criticism, I'm open to. But criticism about your looks or hair? If you absorb it too much, it can get to you." 
There's another special someone out there that Savannah is particularly sensitive about influencing. The broadcast journalist said in the blog she is "very attuned" to society's unrealistic beauty standards affecting her 3-year-old daughter, Vale Guthrie Feldman. 
"Like most women, I find it pretty easy to make a remark that's critical of myself," she noted. "I sometimes have to catch myself. I don't want her to mimic it or question herself or her own looks." 
For example, when Vale asks her accomplished mama why she exercises, Savannah remembered thinking, "I could say, 'Oh, I have to lose 10 pounds.' But I say, 'Because I want to be healthy and strong.' And now she says it back to me. She says, 'Oh, you're exercising so you can be healthy and strong.'"
As if we needed another reason to love Savannah! 
(E! and Today are both part of the NBCUniversal family.)