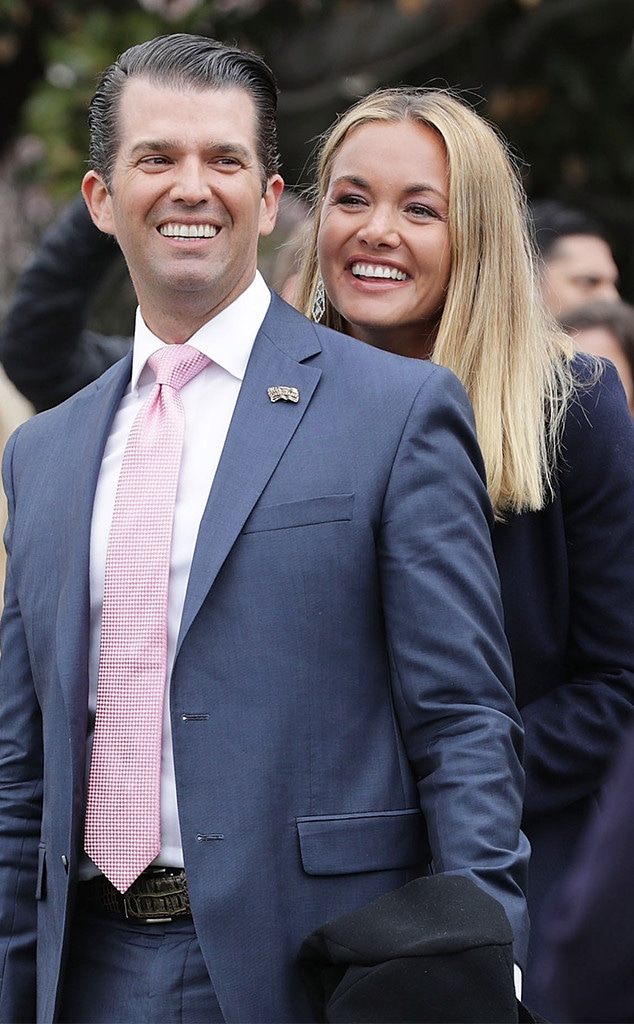 Chip Somodevilla/Getty Images
Weeks after Vanessa Trump filed for divorce from Donald Trump Jr., the pair reunited at the annual White House Easter Egg Roll celebration in Washington D.C. on Monday—and the parents of five were all smiles.
The former couple's children Kai Madison, 10, Donald III, 9, Tristan, 6, Spencer, 5, and Chloe, 3, joined a slew of kids for the annual egg-rolling event on the lawn of the White House, which is a tradition that was started by President Rutherford B. Hayes in 1878.
Meanwhile, the duo released a joint statement on March 15, stating that they were splitting after 12 years of marriage together.
Days later, rumors circulated that Trump had an affair with Danity Kane's Aubrey O'Day in 2011 while she was appearing on Celebrity Apprentice and he was an adviser.
mpi34 /MediaPunch/IPX/AP Images
Chip Somodevilla/Getty Images
Despite all of that, Vanessa and Donald couldn't help but smile while at the official White House event. 
The estranged couple appeared to be laughing and smiling throughout Monday's event.
Chip Somodevilla/Getty Images
Perhaps something else that put a little pep in Don Jr.'s step was his eyebrow-raising accessory?
The businessman was photographed wearing a lapel pin that says "deplorable" on it, which is likely a reference to Hillary Clinton's now-infamous 2016 presidential campaign speech where she referred to a fraction of Trump's supporters as a "basket of deplorables."
Meanwhile, the other woman at the center of all the divorce drama was up to her own holiday (much less kid-friendly) antics. The singer posted provocative image of her dressed up a sexy bunny surrounded by heart-shape of Easter eggs with the caption "egg hunt."
The racy post has certainly drawn some attention and caused some commenters' fur to fly (pun intended).
Everybunny has their own Easter traditions it seems!