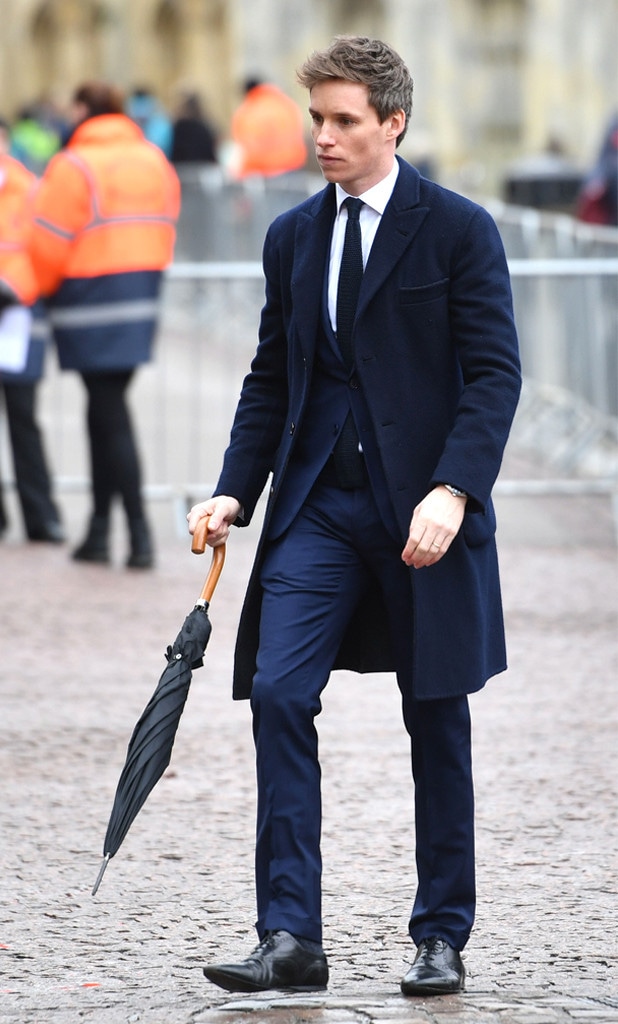 Joe Giddens/Press Association via AP Images
The chapter has come to a close...
Theory of Everything co-stars Eddie Redmayne and Felicity Jones joined friends, family and more at the funeral service of Professor Stephen Hawking at University Church of St Mary the Great in Cambridge, England. 
The renowned British physicist, whose life was told on the big screen in the 2014 Oscar-winning film, died peacefully at his home in Cambridge on March 14. He was 76 years old.
The New York Times reports that 500 hundred people attended today's church service and that thousands of people lined the streets of Cambridge, applauding when the beloved scientist's hearse drove by.
The outlet also reports that during the service, Redmayne, who won the Oscar for his role as Hawkings, gave a Bible reading from Ecclesiastes. Additionally, Martin Rees, Britain's Astronomer Royal, one of Hawking' children, and a former student gave eulogies for the late scribe of A Brief History of Time: From the Big Bang to Black Holes.
Dr. Hawking, who had a rare motor neurone disease (ALS) that debilitated him throughout his life, was a fellow at Cambridge University for 52 years.
Joe Giddens/Press Association via AP Images
In addition to Redmayne and Jones, who played Hawking's ex-wife Jane Hawking, The Telegraph reports that other celebs in attendance included Elon Musk, Cinderella's Lily Cole, James Bond producer Barbara Broccoli, playwright Alan Bennett, and comedian Dara O Brian.
Jane and children Lucy Hawking, Robert Hawking, Timothy Hawking were also in attendance.
NBC News previously reported that Westminster Abbey will host a Service of Thanksgiving later this year in Hawking's honor,
Ben Cawthra/Sipa USA(Sipa via AP Images)
On March 13, a spokesperson for the family said in a statement to NBC News, "Professor Hawking died peacefully at his home in Cambridge in the early hours of this morning."
The statement continued, "His family have kindly requested that they be given the time and privacy to mourn his passing, but they would like to thank everyone who has been by Professor Hawking's side—and supported him—throughout his life."
His three children also issued a statement when the news was confirmed.
"We are deeply saddened that our beloved father passed away today," Lucy, Robert and Tim expressed. "He was a great scientist and an extraordinary man whose work and legacy will live on for many years."