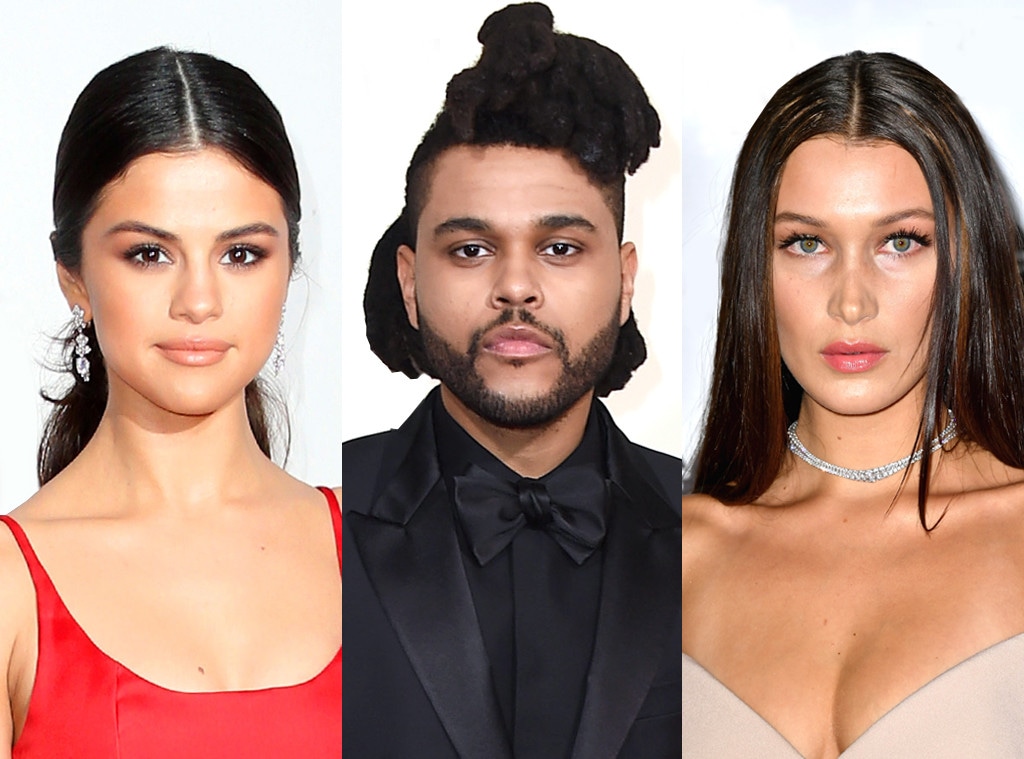 Gareth Cattermole/Getty Images, Frederick M. Brown/Getty Images, Jordan Strauss/Invision/AP
The Weeknd dropped his new album My Dear Melancholy on Thursday, and fans couldn't help but notice the tracks seem to reference his exes Selena Gomez and Bella Hadid.
"Call Out My Name," in particular, appears to be about his relationship with Gomez. E! News reported the two started dating in January 2017 and broke up in October of that year.
In the song, The Weeknd, whose real name is Abel Tesfaye, appears to reference Gomez's kidney transplant. The 25-year-old "Wolves" singer underwent the surgery due to her lupus last summer. Her friend Francia Raisa was her donor. 
As fans listen to the lyrics, they can hear The Weeknd sing phrases like "I helped you out of a broken place" and "When times were rough, I made sure I held you close to me." Gomez once opened up about the pain she experienced from her arthritis and from her kidneys "shutting down" in an interview with Today. Raisa also told Self the two women went through a depression after the surgery.
In addition, the 28-year-old "Starboy" crooner sings "I almost cut a piece of myself for your life," possibly indicating he contemplated being a donor.
He also seems to sing about Gomez in "Privilege" when he belts out "Enjoy your privileged life 'cause I'm not gonna hold you through the night. We said our last goodbyes. So, let's just try to end it with a smile. And I don't wanna hear that you are suffering, you are suffering, no more. 'Cause I held you down when you were suffering. You were suffering."
In addition to singing about Gomez's kidney transplant, he appears to reference her decision to move on from their relationship and rekindle her on-again-off-again romance with Justin Bieber. Gomez and Bieber were spotted kissing in November—just weeks after the announced split—and had been hanging out even before the breakup news.
"Guess I was just another pit stop 'Til you made up your mind," The Weeknd sings at one point during "Call Out My Name."
He also seems to sing about Hadid in "Wasted Times." He sings "You were an equestrian, so ride it like a champion." The 21-year-old supermodel used to ride competitively. In addition, he belts out, "Wasted times I spent with someone else. She wasn't even half of you," which could be interpreted as a shot at Gomez.
Hadid and The Weeknd first started dating in May 2015. After taking a brief break, the two made their red carpet debut as a couple in 2016. They broke up later that year.
But is he hoping for a reunion with Hadid? After all, he was seen "hanging out" with her shortly after Gomez got back together with Bieber. In the song, he sings "And even though you put my life through hell, I can't seem to forget 'bout you, 'bout you. I want you to myself."
Have you found more hidden messages in The Weeknd's songs? Let us know in the comments below.