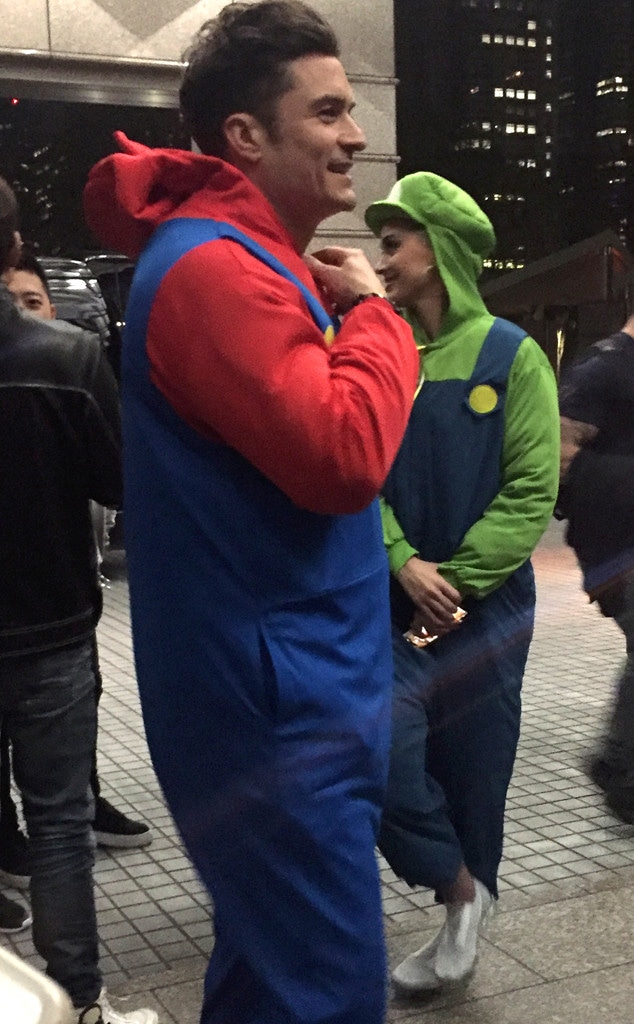 SWNS.com
It's-a them, Katy Perry and Orlando Bloom!
It seems these suspected lovebirds wanted to shake things up for their latest date night because the two stars were spotted in full Mario and Luigi garb while out and about in Japan Wednesday night. The Grammy nominee, who is currently deep into her Witness: The Tour, took a playful break from her routine after her show at the Saitama Super Arena to don the video game character's signature overalls and hat while her on-and-off beau dressed up like Luigi's right-hand man.  
While the costumes would certainly be enough to spice up an ordinary evening out, the two were actually dressed for a go-kart tour of Tokyo. Talk about fun! The two were snapped in the outfits outside of the Park Hyatt Hotel. 
From the looks of it, these two are very much back on after "taking space" a year ago. Just a night earlier, Perry alluded to Bloom when she dedicated "Into Me You See" to "bubby doe," a pet name many interpreted to be for the actor. 
"I feel very loved and this next song is about being so loved and so seen that you never, ever, ever have felt this feeling before—this feeling of love," she said before launching into the number. Bloom didn't hide the fact that he was in Japan with the songstress, sharing a photo of himself with the cherry blossoms in Tokyo on social media. 
"They are seeing each other and hooking up. There's nothing official," a source close to Perry told E! News back in February. 
"She's on tour for the next several months and will be all over the place. She knows sustaining a relationship or any kind of normalcy will be difficult. But, they love each other and never really stopped talking when they were apart. They've been seeing each other off and on the entire time."
Plus, how can one resist a go-kart date?