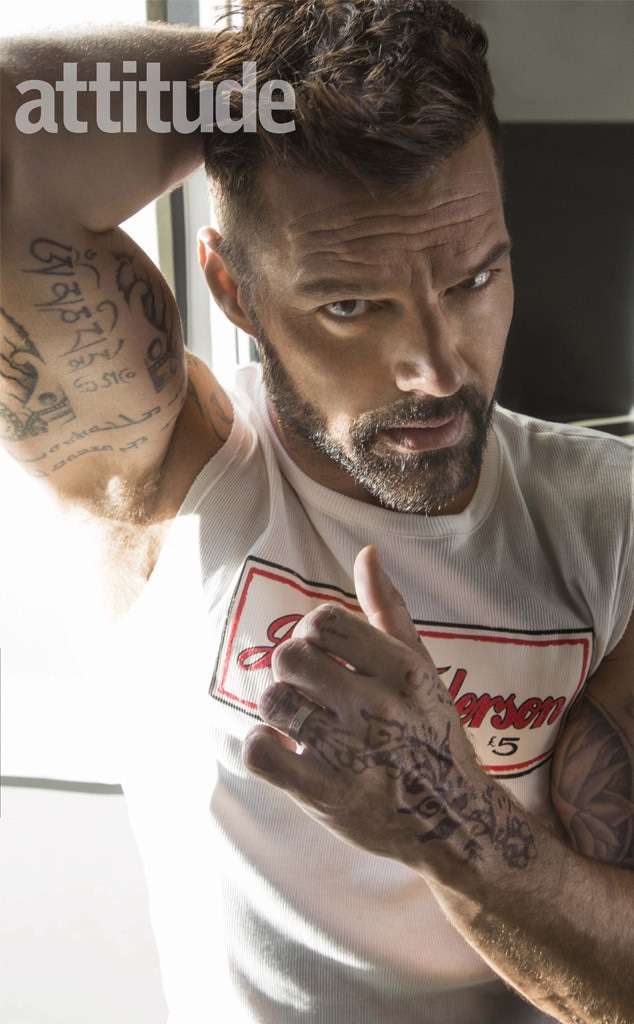 Attitude by Tony Duran
Ricky Martin is opening up about how he met his husband Jwan Yosef and how they strive to make their kids proud and full of self-esteem. 
Martin candidly explains that it took time to build his relationship with the contemporary artist.  
"I contacted him, and we talked for six months. We were just sending messages, talking about life and existential issues. Nothing sexy, nothing sexual. It's not that he was sending me sexy pictures and vice versa, I swear. But when I first saw him, I said, 'I am going to marry this guy.' And apparently, he said exactly the same thing," the 46-year-old singer says to Attitude. "Obviously, he only told me this, later on, you have to keep it to yourself at first! But I lost my breath when I saw him. Six months' build-up and it was very romantic."
Clearly, Martin's intuition was on point, because in January, the star told confirmed to E! News that they were married. 
The "Fiebre" singer and the artist use their visibility as a gay couple to inspire other gay men around the world. 
"We love it! It's not even for us; it's for our kids. It's for my kids to look at us on that red carpet and say, 'Ah, those are my daddies, how cool!' And to boost my children with self-esteem and let them understand how amazing it is to be part of a modern family. We know that we carry this flag and if we're going to carry this flag, let's sway this flag really loudly. Because at the end of the day, we're proud of who we are. Just being visible is a lot of help. That's my activism," he says. "Every time I post a picture of me and my husband on Instagram, that's my activism. And we'll keep fighting."
Although Martin couldn't be prouder of who he is, he admits that he avoided facing up to his sexuality for years. 
"I submitted myself to my career completely. I didn't open doors to new relationships, and I'm not talking about romantic relationships, I'm talking about any relationship because I didn't want people to know me too much," he explains. "I wouldn't even sit down and have a cool relationship with amazing producers or great film directors because I was afraid that if they spent more than two hours sitting with me, they would know my nature. I wasted so much energy trying to manipulate my sexuality." 
Martin, who has a Las Vegas residency, also talked about his role in The Assassination of Gianni Versace: American Crime Story. 
"The level of injustice that we as a community were dealing with back then was heavy. I played every role before I even started working on this project. I was a closeted gay man who was making my partners hide," he says. "I had relationships with other men who were in the closet and I had other relationships with men who were not in the closet but because of me went back in the closet. And so I'm re-living everything that I did."