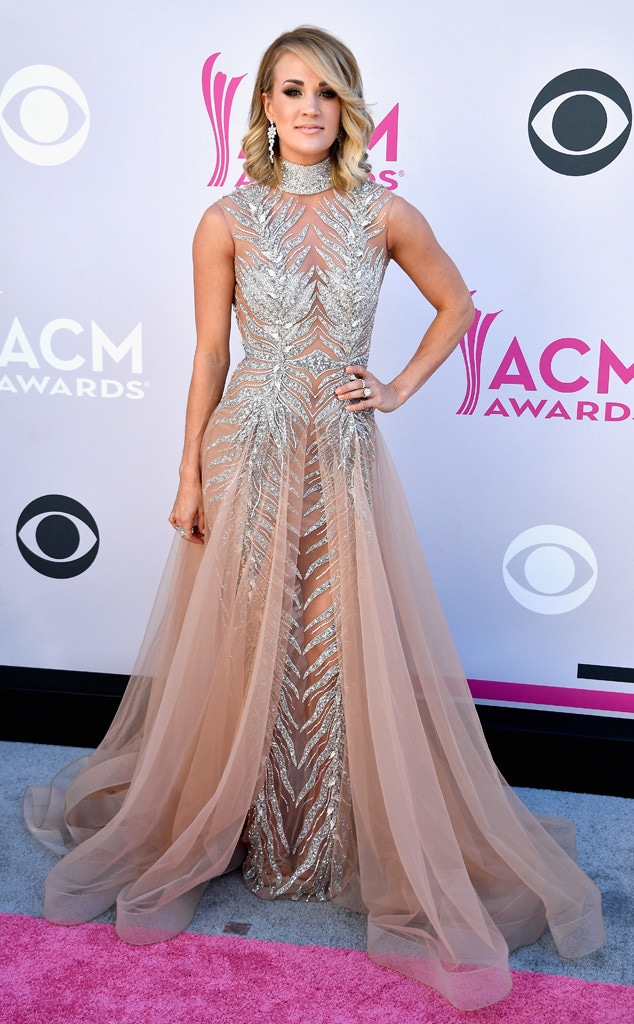 Frazer Harrison/Getty Images
From the red carpet to the center stage, Carrie Underwood can put on a show.
Twelve years ago, the American Idol winner received her very first Academy of Country Music Awards nomination.
Since then, the "Before He Cheats" singer has made the annual show a place to showcase her talents and celebrate her accomplishments with fans and peers alike.
While details of Carrie's performance for this Sunday's show at the MGM Grand Garden Arena in Las Vegas remain secret, one thing is certain.
The Female Vocalist of the Year nominee has set the bar high for fellow artists who take to the stage at the live television event.
Ethan Miller/Getty Images
Just last year, Carrie helped open the show with Jason Aldean, Luke Bryan, Florida Georgia Line and Keith Urban.
While rocking a metallic dress, the singer showcased her signature voice and brought some serious girl power to the Las Vegas stage.
Even when she was on the younger side of her career, there was something about Carrie's performances that always grabbed the attention of viewers.
In 2009, Carrie proved she was maturing into one of country music's biggest stars when she performed a rendition of Randy Travis' 1988 single "I Told You So."
Two years later and the country singer brought some rock n' roll to her performance when she collaborated with Aerosmith frontman Steven Tyler on his big hit "Walk This Way."
And when some thought Carrie wouldn't play instruments on stage, they were quickly silenced when the singer performed "Church Bells" and made some silver drums her best friend during her 2017 appearance. Yes, that opening number really was that good.
But perhaps what stands out above the rest is the Oklahoma native's impressive voice. Rewind to 2006 when the artist showcased her Christian faith in a powerful performance of "Jesus Take the Wheel." Fair to say some viewers went to church after watching that performance.
With more than 10 ACM Awards under her belt in the past decade, Carrie has certainly earned her spot at any music-themed award show.
And whether she wins or loses Sunday night, perhaps other country music artists will ask themselves: What would Carrie do?
Leave us blown away, of course!
The 2018 ACM Awards air Sunday night at 8 p.m. only on CBS.