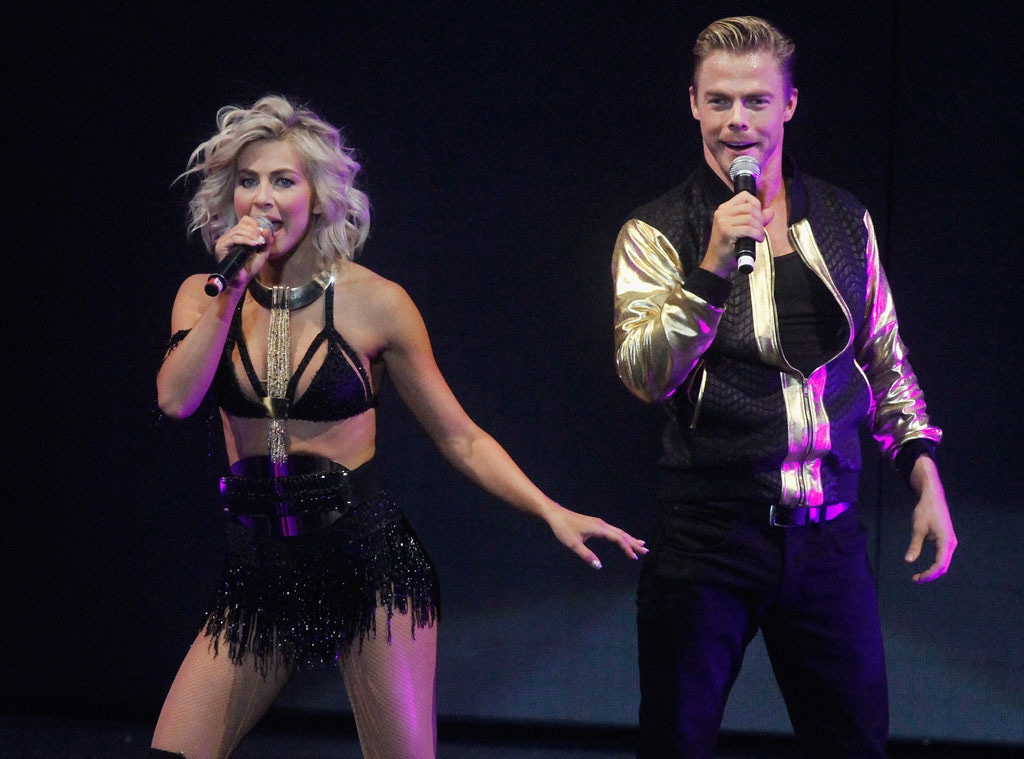 Mike Moore/WireImage
Derek Hough and Julianne Hough have waltzed their way into America's hearts.
For the past several years, the brother-sister duo has made a name for themselves both as individuals and as partners.
And through every success, career accomplishment and celebration, the Houghs have been showcasing just how strong a sibling bond can be even under the intense Hollywood spotlight.
With National Sibling Day upon us today, E! News wanted to acknowledge the connection built between Derek and Julianne as they made their way to Dancing With the Stars and beyond.
To say their love for one another deserves a perfect 10 may just be understatement.
Beginning at a young age, both Derek and Julianne knew they loved to move, shake and dance up a storm. In fact, the pair decided to leave their sheltered life in Utah when they were younger than 13-years-old to take a chance and enroll in the prestigious London dance school Italia Conti Academy of Theatre Arts.
"People will say, 'How could your parents let you go off to do that?' " Derek once shared with People. "I think it's great that they saw an amazing opportunity. That is the reason we are here today."
Today includes sold-out dancing tours, starring roles in live TV musicals and a combined following of 6.2 million Instagram users.
"We actually work pretty well together," Derek previously shared on Good Morning America. "We feel very lucky to do something that you love with somebody that you love and care about. It's a wonderful thing."
Watch:
Derek Hough Talks Julianne Hough's Fairy Tale Wedding
After becoming fan-favorites on ABC's Dancing With the Stars, the pair has participated in three sold-out dancing tours. The last tour titled "Move Beyond" concluded in June 2017 and left the pair with plenty of unforgettable memories.
"To my little sister. We did it!" Derek shared on Instagram after celebrating the final performance. "I am so thankful to have the opportunity to share something that I love, with someone that I love. You're an incredible sister and even more so an amazing human being."
And before you think these two have to do everything professional together, it's just not the case. Derek signed up to become a judge on NBC's World of Dance. Julianne has said yes to special movie projects including Safe Haven, Footloose and Rock of Ages.
The pair has also been able to snag impressive—and individual—roles in some of the biggest live musicals on network TV.  
D Dipasupil/Getty Images for Extra
Recently, Julianne channeled Sandy in Grease Live! while Derek received the special role of Corny Collins on Hairspray Live! After the specials premiered on their respective days, both siblings were the first to praise each other's performance.
"So so SO proud of my amazing brother! You were absolutely stellar!" Julianne shared online. "Can't wait to watch it again and again and again!"
And after watching Julianne perform "Summer Nights," "You're the One That I Want" and other Grease classics, Derek gave two big thumbs up.
"She killed as Sandy! I don't know if you were watching but she sang 'Hopelessly Devoted' and she hit this extra little extra high note," he told Elvis Duran on iHeartRadio. "I was like, 'Uh?' It was so good. I'm so proud."
While they may have found huge success under the Hollywood lights, that doesn't mean Derek and Julianne are immune to life's twists and turns.
Last month, Julianne helped bring awareness to Endometriosis Awareness Month and opened up about her 10-year battle with the condition. While chatting with E! News, the 29-year-old expressed how supportive Derek has been.
"Oh my gosh we literally can't get rid of each other," she joked with us while promoting her new campaign SpeakEndo. "The other day I was telling him that I don't feel right. He was like go dance. Go write a song. Go do something. He knows me so well."
Ultimately, the pair has always focused on the positives in their lives including solid relationships with family and friends. During Nina Dobrev's 28th birthday party, the sibling duo turned heads for all the right reasons when they dressed up as Emma Stone and Ryan Gosling's La La Land characters.
As for Julianne's wedding to Brooks Laich, let's just say Derek was more than thrilled to serve as a groomsman and experience his sister's magical day.
"Brooks is just a great guy. I said to him, 'I've known Julianne my entire life. I've seen every phrase she's gone through.' I've seen all the different versions of herself trying to figure out who she is and by far this is the best version of her and it's because of him," Derek shared with E! News' Sibley Scoles after the wedding. "He's definitely brought it out of her. I'm so happy for them."
We'd say Derek deserves some credit too. After all, it always takes two to tango.