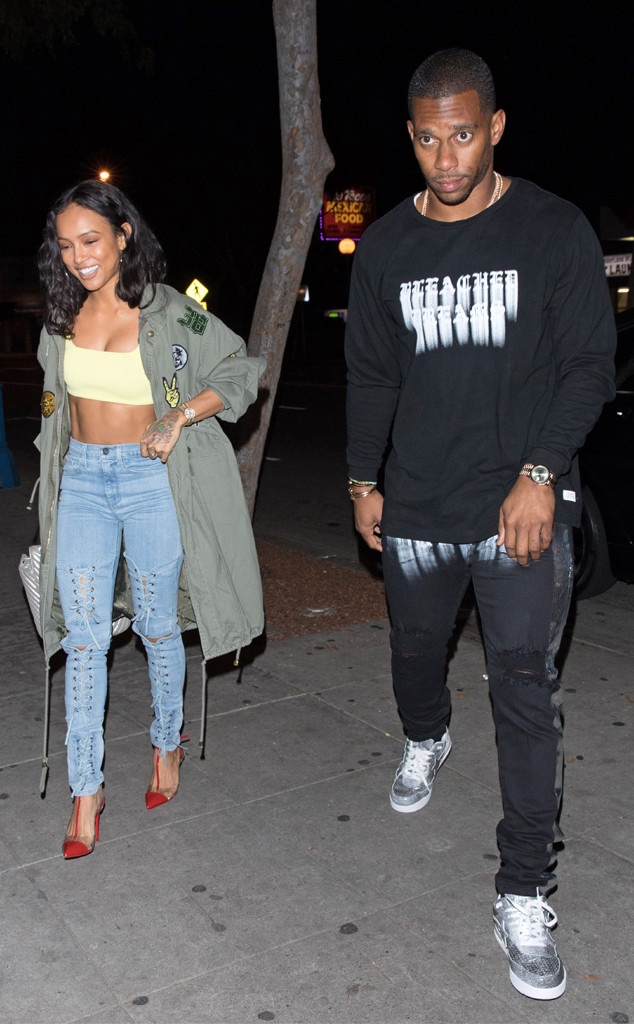 Mr. Canon / Splash News
Well that was unexpected!
Less than a year after a judge granted Karrueche Tran a 5-year restraining order against ex-boyfriend Chris Brown, the R&B singer posted publicly on social media that he approves of her new relationship with football player Victor Cruz.
On Saturday, TheShadeRoom posted an Instagram of Cruz and Tran arriving at hotspot Delilah in West Hollywood.
There was a plethora of comments about the new couple from fans and one of the commenters just so happened to be Brown himself. 
The music man commented, "They look really good together." He also posted left the comment of the praying hands emoji.
Many lookyloos were quick to spot Brown's comment, wondering if it was said with snark or love—as the two have had a very contentious relationship for years.
Last month, the Claws actress talked to Ebony about her new relationship with the NFL wide receiver. 
In February, Tran said, "We've been hanging out and getting to know one another. My main priority is always work, but he's a gentleman. He's a sweet guy and he's really nice. We're taking it slow, but yes!"
In June 2017, E! News confirmed that a judge granted the model a permanent restraining order for five years against her famous ex in a Santa Monica court.
During the hearing, two voicemails Brown left for Tran were played, in which he spouted off curse words, threats and angry and offensive remarks to Tran about rings he had gifted her and wanted back. In text messages from Brown submitted as evidence, he threatened to "beat the shit" out of her, claimed he would make her hate him "even more" if they were in the same place in public and told her that if she's his enemy, he "won't hold back so stay in your place." In another text message, he wrote, "I want my motherf--king rings back or I'm going to hurt your limbs." 
Tran told the judge that Brown had hit her in the past and "didn't put it past" him to hurt her again. 
Their legal battle stems from allegations Tran made against the Grammy winner in a temporary restraining order filed on Feb. 17, 2017. In the documents obtained by E! News, she claimed that Brown has been harassing her as recently as the second week of February and alleged that he threatened to kill her to others, to shoot her and to harass her friends.
In the documents, she claimed physical abuse began "years ago," when he allegedly punched her in the stomach and pushed her down the stairs. In the initially filing, she wanted to extend the protective order to her mother and younger brother as she did not want to put  them "at risk." 
At the time of the filing, Brown took to social media in a since-deleted post and told his followers not to listen to "all this bulls--t."
"Make sure ya'll don't be listening to all this bulls--t, man. What all them other people on the outside doing, let them do what they doing. I don't know what the f--k they talking about."
Looks like he's changed his tune...