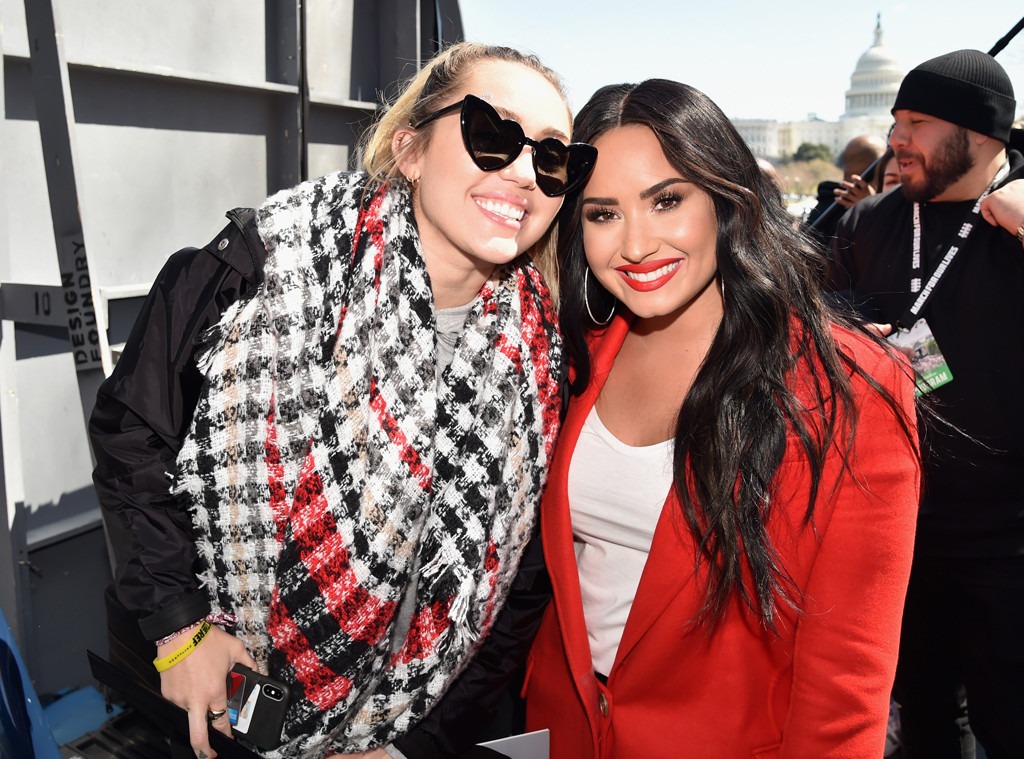 Kevin Mazur/Getty Images for March For Our Lives
It's the best of both worlds!
Despite some hiccups in their relationship, former Disney stars Miley Cyrus and Demi Lovato joined up after separately performing at the March for Our Lives rally in Washington D.C., on Saturday—and fans are LOVING it!
Miley was quick to post the momentous occasion on social media, posting a photo of the twosome and writing, "Been friends forever & happy to stand with you on important days like this!"
Of course, the post got many of their fans feeling nostalgic for their Disney days together. The Internet broke into quite the tizzy seeing the two all smiles together.
During the star-studded rally on the capital, Lovato performed "Skyscraper" and Cyrus, who was there with mom Tish Cyrus and sister Noah Cyrus,  to sing her hit "The Climb."
Miley and Demi joined George Clooney and Amal Clooney, Kim Kardashian, Lady Gaga, Padma Lakshmi and Charlize Theron, along with hundreds of thousands of students and other people at March for Our Lives rallies on Saturday to demand an end to gun violence.
The nationwide protests are aimed at toughening gun laws to help stop school shootings and other massacres. Teens organized the rallies after the February 14 mass shooting at Marjory Stoneman Douglas High School in Florida that killed 17 students and staff members.
The two have had a rocky friendship over the years, but appear to have found their way back to each other.
In 2014, Lovato was asked to describe her current connection with Cyrus on The TJ Show Boston's 103.3 AMP Radio today and 
"Um…yeah…that, um…we're, we're like...we're acquaintances," Demi said. "It's life, and people change." She added, "I don't have anything in common with her anymore. I wish her the best."
Previously, the "Heart Attack" singer had gushed over the Bangerz songstress.
"Miley has been one of my best friends growing up and so I'm happy for her," the "Heart Attack" singer said on Fox 31's Everyday in October 2013. "She's doing what she wants to do and this is her time to break out and figure out, you know, what she wants to do in her career and her image and everything...I'm happy seeing her happy because I love her so much. And, you know, she doesn't care what people think, nor should she."
In 2013, Joe Jonas revealed that he "smoked weed" for the "first time" with Cyrus and Lovato. The Camp Rock star also claimed they peer pressured him into getting high. "I must have been 17 or 18," he wrote in a New York magazine essay. "They kept saying, 'Try it! Try it!' so I gave it a shot, and it was all right."
Demi recently celebrated six years sober, so a lot has changed since those days, but it looks like she's brought one thing back, namely her pal, Miley!