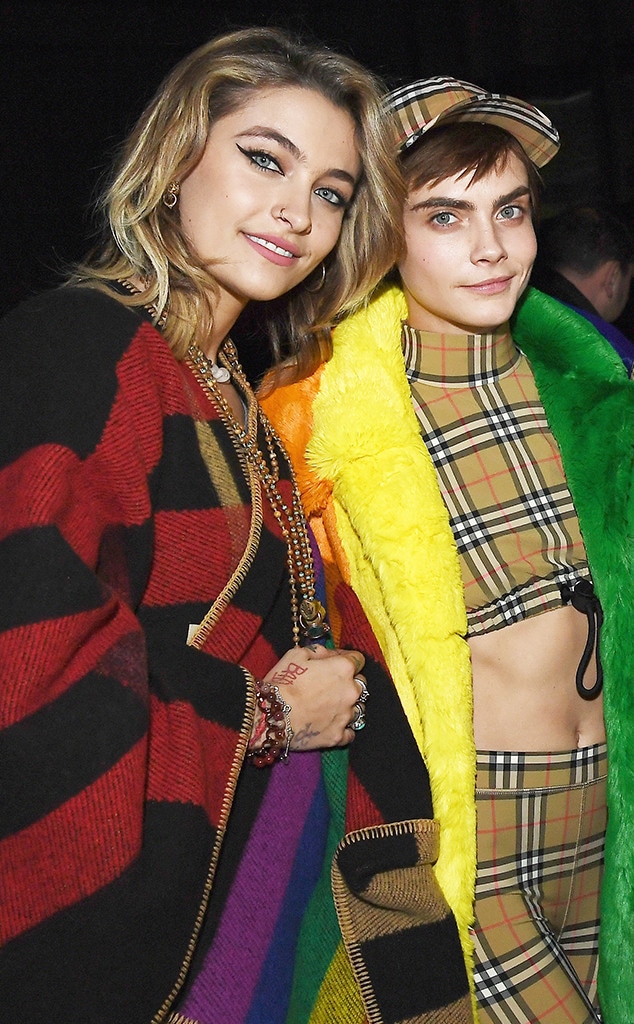 Gareth Cattermole/Getty Images for Burberry
Paris Jackson and Cara Delevingne were photographed kissing in Los Angeles this week.
The 19-year-old daughter of the late Michael Jackson and model and the 25-year-old British model and actress have been spending time together in recent months. They have not commented on the nature of their relationship.
They were photographed kissing, dancing and cuddling, with Delevingne sitting on Jackson's lap, while hanging outside the Carlitos Gardel steakhouse with Jackson's godfather Macaulay Culkin and his partner and former Disney Channel star Brenda Song on Thursday.
"Cara was sitting on Paris' lap and they were both smoking outside the restaurant as they waited for their table," an eyewitness told E! News. "They took turns stroking each other's backs. When they got up, they linked arms and their hands brushed one another. They slow danced for a few minutes. Cara was teaching Paris some steps and they were having a lot of fun. At the end of their dance, they kissed. First Paris kissed Cara's cheek and then they kissed on the lips. Cara stood behind Paris and put her arms around her waist and whispered in her ear. They gave each other a long hug and Paris rested her head on Cara's shoulder. She looked like she didn't want to let go."
Another source told E! News recently that Jackson and Delevingne are just friends.
Delevingne said in 2015, while she was in a relationship with female musician St. Vincent, that she is bisexual. Jackson has not talked openly about her sexuality. She last dated Michael Snoddy. The two broke up in 2017 after a year together.
Jackson and Delevingne were first pictured hanging out together at the 2017 MTV Movie Awards. In February, they were photographed walking together in London, where Delevingne made her runway return. At the time, Jackson posted on Instagram photos of her hanging out with friends, including the model, writing, "So f--king happy I got to see my favorites, can't wait to come back again soon ♥️."
Earlier this week, Jackson shared a pic of Delevingne jumping on a bed, as well as Instagram Stories of the two of them cuddling in it while watching Carol, a 2015 lesbian romance film, and eating strawberries.