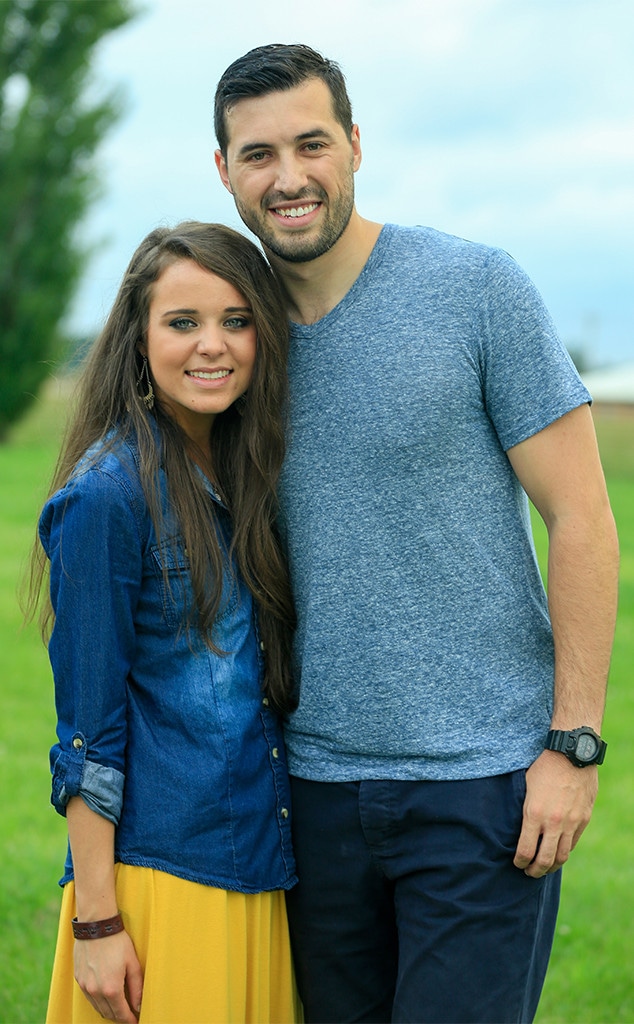 Julia Myers/TLC
At 22 weeks pregnant, Jinger Vuolo (formerly known as Jinger Duggar) is well on her way to becoming a mom for the very first time.
The 24-year-old reality star, who is married to Jeremy Vuolo, has been documenting her baby journey on social media since announcing the news. And according to her adorable chalkboard countdowns at 15, 18, 20, and 22 weeks pregnant, she is more than halfway to her due date!
So how did the couple get here? Let's take a look back at the couple's road to baby.
Saying "I Do"
The sixth oldest of the Duggar bunch, Jinger and Jeremy tied the knot in November 2016 after getting engaged in July 2016. According to People, the TLC star and former pro soccer player had started their official courtship one month prior to their engagement.
"It's been 1 year since the day we said 'I do'...it's been the best year of my life!" the mother-to-be wrote alongside a photo of the duo on their wedding day on their anniversary. "Jeremy, you have shown me such love that is too amazing for words. Whether we are talking, going on an adventure together, or simply doing everyday life together—I cherish every moment with you! I love how you lead me in the Word and prayer. Your selflessness and sensitivity and care is remarkable. I love absolutely everything about you and couldn't be more grateful to God for giving me the most incredible husband in the world! I love you, babe!"
The Big Reveal

After being married for a little over a year, Jinger and Jeremy shared their exciting baby news on their personal blog in early January, paired with an adorable photo that read, "We're expecting!"
"The past fourteen months have been the best of our lives as we have had the wonderful privilege of beginning our journey through life together in marriage," the couple wrote in a statement.
"We both looked forward to the joys of marriage but neither one of us fully understood just how amazing the start of this journey would be. Truly, the Lord's mercies are new every morning! Now, the journey has taken an exciting turn: we are expecting our first child! We are praising God for this beautiful gift and ask that you join us in praying for a safe and healthy pregnancy."
Nesting...or Not?
In a recent interview with Us Weekly, Jinger opened up about how much she and Jeremy have prepared for their newborn.
"At this point we haven't done too much prep," Jinger said. "Now that I'm halfway through my pregnancy, we haven't really collected anything. A friend of ours had some stuff they were getting rid of, so that was really nice because they were able to give us baby swings and things like that that we needed, but we haven't started on anything as far as prep for the baby."
She continued. "I'm trying to just enjoy the pregnancy and I know that when that baby comes I'm going to be super excited to see it."
Nap Time!

So how is she feeling? Jinger says that she definitely is feeling the lack of energy while carrying her first child.
"I do think probably what surprised me most is just being so tired all the time," she revealed to Us Weekly. "I was never a napper, like having to take a nap, and now it's like, 'Ooh! I think I want to nap every day!'
"They've said 'Just take a nap, don't feel bad if you need to lay down in the middle of the day,'" she continued. "Especially when I was in all the morning sickness, I talked to them a lot about what they did, how they got through their morning sickness and I think that was some of the best advice — just resting, taking it easy."
Delivery Room Details
And in regards to who will be with her in the delivery room on the big day? Jinger has a few key names in mind.
"I want my mom definitely at the birth of our child and so I've invited her and Jana as well and Jill, she wants to make it. So they're invited, but I don't know how many will be able to make it," she revealed. "My mom, at this point, is the only one who's probably going to be able to make it for the birth."
Boy or Girl?
While the pair have kept mum on the sex of the baby, Jeremy hopes his soon-to-be son or daughter will be just like his wife.
"I am praying that the baby will look like, act like, talk like, be like Jinger, and so I've asked everyone else to pray as well," he said in a TLC video. "I was a little terror as a child, so I'm hoping that the little one will be as much like Jinger as possible."
"I hope that the baby will be like Jeremy," Jinger added. "He's just very kind and gracious."
TLC's Counting On airs Mondays at 9/8c.