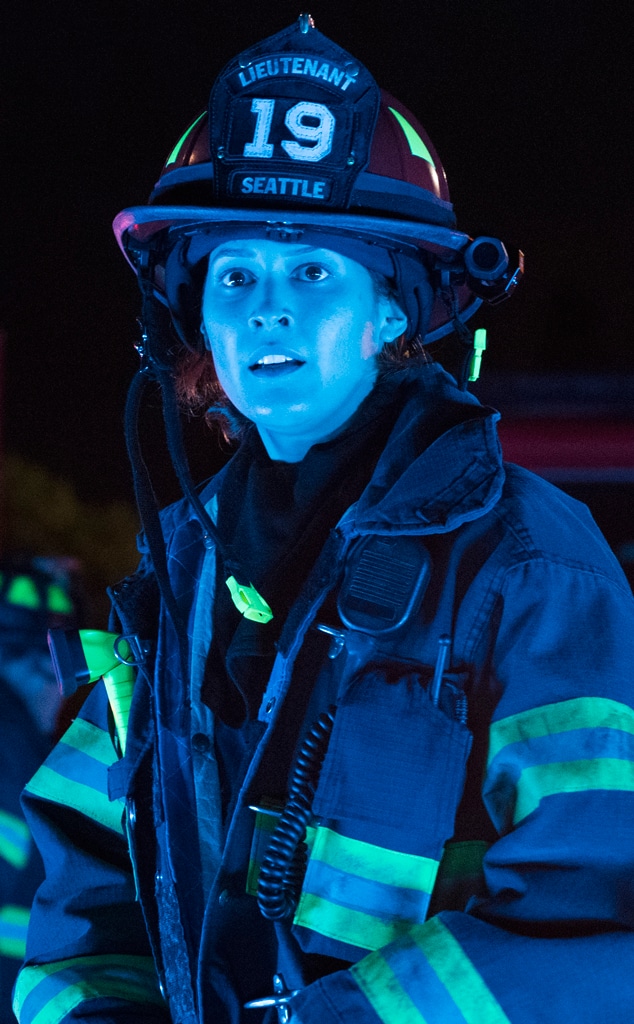 ABC
After months of anticipation and an early introduction to its leading lady Andy Herrera, we've had our first official visit to Station 19. And it was, well, pretty good.
The Grey's Anatomy spinoff, which follows former surgeon Ben Warren (Jason George) as he changes careers and becomes a fire-fighting first-responder in the firehouse just three blocks down from Grey Sloan Memorial, finally arrived on ABC tonight, taking us into the world of the titular station and the close-knit family of firefighters who protect their city at all costs. While the first hour did some heavy lifting, introducing us to Andy's (Jaina Lee Ortiz) required love triangle—this is Shondaland, after all—and setting up the stakes once her father Pruitt (Miguel Sandoval), who's also the station's captain, revealed he had cancer and would be pitting his daughter against her almost fiance Jack (Grey Damon) in the fight to replace him.
But that second hour, it sung with all the usual Grey's notes. There were compelling cases, there were sexy hookups, there was the patented quick-witted pacing, and there were moments that put a serious lump in our throat. (We're looking at you, lonely senior citizen!) And, of course, there was fire. Lots of fire. Lots of cool, scary, and sometimes blue fire. Seriously, who knew some fires were invisible to the naked eye?! Talk about terrifying.
While the premiere has us feeling that creator Stacy McKee was warranted in feeling no pressure because she delivered a worthy heir to the Grey's throne, we want to hear what you think. Will you be making Station 19 a permanent part of your TGIT routine? Vote in our poll below!
And let us know why you voted the way you did in the comments below!
Station 19 airs Thursdays at 9 p.m. on ABC.