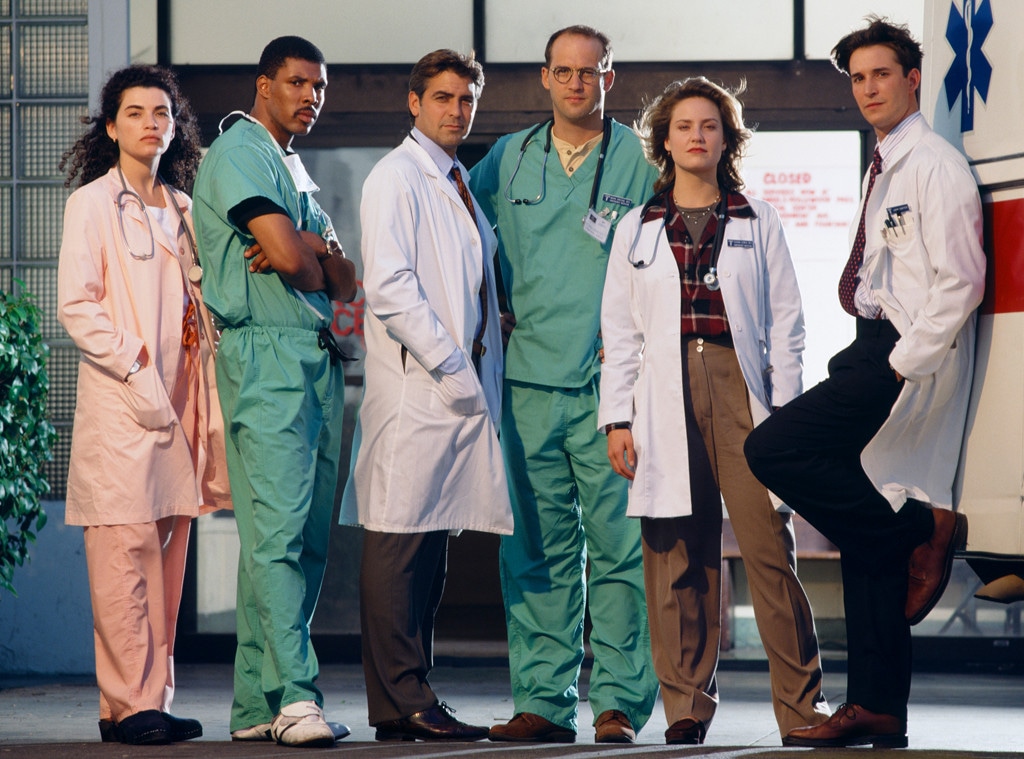 NBCU Photo Bank
Greene. Carter. Lewis. Weaver. Lockhart. Benton. These are the names of TV characters on viewers' lips, characters on one of 2018's hottest TV shows...a show that happened to premiere nearly 25 years ago. Now on Hulu, ER is having a second life.
The 15-season series made its streaming debut in January with much fanfare. Sure, ER has been off and on TV in syndication (most recently on Pop) since it ended its run on NBC in 2009, but the show was never accessible all at once on a (legal) streaming site. With all episodes now at their fingertips, viewers are eagerly eating up the series.
E! News has learned more than 35,000 viewers finished all of ER in just over two months. That's 240 hours of TV consumed, with viewers watching an average of five episodes of ER per day. It's not just a tour of the classic episodes either, 90 percent of viewers started from the very beginning. And ER isn't just attracting old fans, the most common age of a viewer who streamed ER in its first week on Hulu is 27. ER premiered in 1994, which means viewers who were toddlers when it first premiered are learning their TV history with Hulu. The series was a ratings juggernaut in its heyday and that's continuing on the streaming platform: More than two months since release, ER is still in the Top 4 overall shows on Hulu.
Robert Sebree/NBCU Photo Bank
"That's crazy," ER star Sherry Stringfield told E! News in a phone interview. "I love it! That's so cool. I'm glad people could enjoy it."
Lisa Holme, the vice president of acquisitions at Hulu, told E! News the response to ER has been surprising.
"It has surpassed expectations for sure, both from a consumption perspective, but even more so from the zeitgeist that it has kind of picked up. We've launched other big, iconic shows on Hulu, from Seinfeld to Golden Girls to Will & Grace and others, and those have had their moments of excitement, but ER has been, I think, bigger and more sustained than we necessarily thought it was going to be…I think there was even more pent-up demand and nostalgia than we anticipated."
But, Stringfield, who was an original cast member and played Dr. Susan Lewis in seasons one-three, eight-12 and again in the season 15 series finale, said she's not surprised by the way viewers are devouring it.
"Not that other things I've done weren't good, but, I mean, the writing, the acting, the production—Every single thing on that show was quality," Stringfield said about ER. "I just think, honestly, the writing on that show was amazing."
In many aspects, ER is timeless series, she agreed.
Scott Garfield/NBCU Photo Bank
"And it was real. It was about real people and real things that happened. So much changed, just in the business here in Hollywood. Sometimes you look at people playing a doctor and they've got barrel curls or a blowout. You're just like, 'What?'… Generally, I felt like ER, even now, like you said, it's timeless because it was real people! We're still real people with real problems and real illnesses. No matter what images are presented in front of us, we are still real people with real medical emergencies. Real people go to medical school and real people go to the ER. I just thought it reflected that perfectly. It didn't shy away from the non-glamorous reality that we actually all live," Stringfield said with a laugh.
Hulu had ER on its list of desired properties for sometime, Holme said, because it's "one of the best shows ever made, why wouldn't we want it?" Holme said the streaming service pays attention to "great iconic shows," the shows people want to revisit or discover for the first time. ER premiered before DVR and VOD service.
"There's a big population of people who probably saw a lot of episodes of it. Even as massive as the audience was when it was initially airing, probably relatively few people have actually watched every single episode because that is sort of an experience that streaming has enabled, that if a show like ER has never been on streaming it was never possible," Holme said. "We pay close attention to that sort of first time on streaming, best shows ever and we got a lot of them."
For viewers (new and old), and stars, like Stringfield, ER left a lasting impact. The series exposed viewers to the healthcare system in a new way—and inspired some to pursue medical professions—and helped launch the careers of Stringfield and her costars, like George Clooney, Julianna Margulies and Noah Wyle. ER holds a special place in the hearts of many in a variety of ways.
"Gosh, what does it mean to me? God, so much! I think it taught me excellence…To make things really good, and what that looks like. Putting in the extra hours. Also, creatively when people work together, when the departments are allowed to do what they want and really come together, like, be the best at props, be the best at set design, be the best at acting, be the best at writing, and then come together, you get something like ER," Stringfield said.
The show became a second home for her. "Well, when I was on it the first time, it was my home," she said with a laugh. "All we did was work, and then I had a second home I went to, to sleep at…Yeah, it was like a second home when I was working, for sure. Yeah, because everyone becomes your friend and you know way too much about everyone, and they know way too much about you. [Laughs.]"
In fact, Stringfield said she's still friends with the doctors she met on the show.
Scott Garfield/NBCU Photo Bank
"I had this weird, personal foray into the medical world that I never would have had, which really changed my life too. I used to be really afraid, like, 'Oh, what's wrong with me? I'm afraid to go to the doctor,' or whatever. And then you do that and you're around it…It took that edge off it and that weirdness off it," she said of her on-screen medical experience. It still comes in handy today. Stringfield was with her daughter at an urgent care facility to test for strep throat when we spoke.
"That is so crazy. I didn't even put that together. Yeah, she's like, 'Oh, my throat hurts. I was feeling nauseous.' I said, 'Is there strep at school?' and she was like, 'Everyone has it.' I said, 'Alright, we're going to urgent care.' [Laughs.] That's also being a parent though, you become a mini doctor because, wow, are you around it," she said with a laugh.
That ER experience is clearly one Stringfield fondly recalls. If the renewed interest in the show on Hulu leads to something more, say an ER revival? She's there.
"Yeah! I never thought of that," she said about a possible return of ER in the current television landscape full of revived shows. "Well, if it really was the same ER. Wow, that would be interesting…I love it. It was just so much of my life. It's crazy, just crazy...It was just such a great blessing for me to have done that. It was a real blessing in my life."
All 15 seasons of ER are now streaming on Hulu.
Be sure to watch E! News for more on ER. Originally published on Friday, March 23, 2018, 8:00 a.m. ET.