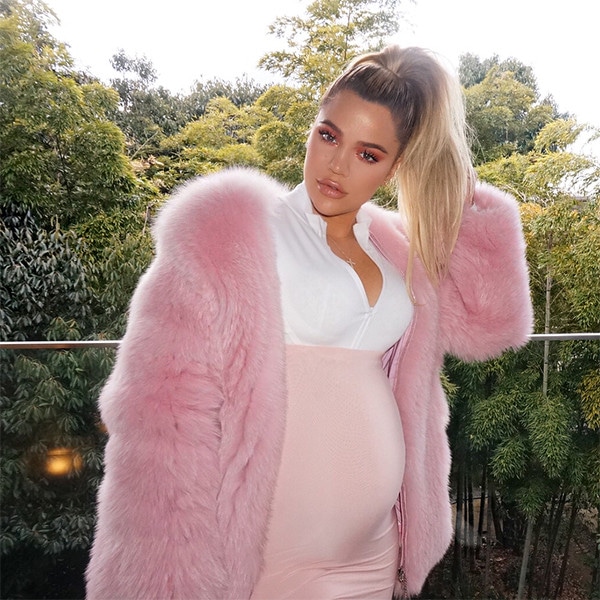 Instagram
Hot mama alert!
With her baby due in less than two weeks, Khloe Kardashian squeezed in one fierce photo shoot focused on her best accessory yet: her baby bump!
In a newly shared photo on the reality star's Instagram account, the Good American mogul posed for photographer Sasha Samsonova in lingerie while cradling her bump, a floor length jacket cascading over her arms and down her back. 
While she didn't have much to say about the picture, fans were quick to digitally shower Kardashian with compliments. "Stunning Khloe your slayin it," one follower commented. 
The first-time mom-to-be has been chronicling her pregnancy with the help of social media and has even let motherhood inspire her latest collection for her line called Good Mama. 
"This time in a woman's life is super exciting (I've been through it with my sisters!) but it can also be overwhelming, especially when it's your first time. You shouldn't have to worry about your clothes fitting properly or keeping you supported. We kept this in mind as developed this collection and I can't wait for all you new mommies and mama-to-be to see this collection and try it for yourself," she wrote in a statement to her fans. 
"I am so tremendously proud of what we've accomplished and I am thrilled that my daughter will be surrounded by strong, confident women from all walks of life and see that beauty comes in all shapes, sizes and backgrounds."
But, before the star's little lady joins the world, there's some last-minute prep to be done. "It was a mad rush to get everything to Cleveland and ready," an insider told E! News. With help from her assistant, Khloe has been tending to all of the final details like putting the diapers away and getting all of the baby gear working, the insider explained. 
And, of course, a maternity shoot to remember the journey!