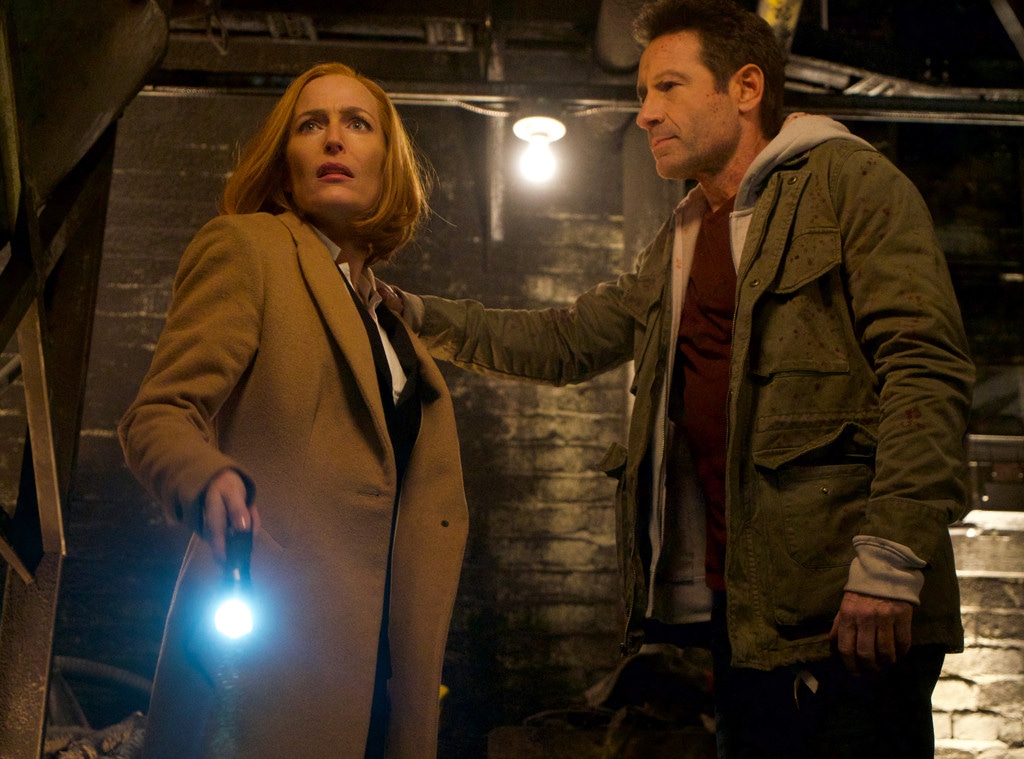 Fox
Is tonight the end of Mulder, Scully and The X-Files? It just might be.
The Wednesday, March 21 season finale of The X-Files could very well be the last episode of the Fox series—ever. Series star Gillian Anderson said she was done with the show—and playing Special Agent Dana Scully—after this 10-episode season. Anderson said she thought the previous six episodes would be it, but after shooting them, she said didn't think she "would necessarily have been happy if those six were how we said goodbye."
"So when I was asked to do another season, I agreed to do another season. It never occurred to me, nor was it discussed or suggested, that it was now a new, you know, a series, that we were starting a new series. So I said, 'Yes, I will do this.' But in my mind, it had always been that it would just be one season," she said at a pane during the 2018 TCA winter press tour.
As for why, Anderson said, "there's lots of things that I want to do in my life and in my career, and it's been an extraordinary opportunity and an extraordinary character, and I am hugely grateful. But there's lots of other stuff I want to do, and I don't really want to be tied down to months and months of doing any particular one thing that I feel like I've done. That's why."
"My Struggle IV" tells William's (Miles Robbins) story, the completion of what series creator—and the writer and director of this finale—Chris Carter calls a series within the series.
"I think that it will be satisfying for everyone, once they finish the finale, to go back and watch the four parts, the four puzzle pieces together. I think it will be a very satisfying miniseries within the series," Carter told E! News in a phone interview.
Carter said if fans haven't watched the previous "My Struggle" episodes, they better pay close attention to the "Previously on The X-Files" opening.
"I hope they than take from that, that William, Mulder and Scully's putative son, can shape shift. I think it's important that thy understand that the paternity of that son—whose name is William, but also has been called Jackson—that his paternity is in question," Carter said. "And I hope that they understand the Cigarette Smoking Man has this diabolical plan he's about to put in motion."
Carter said this season was full of highlights, and he couldn't just pick one episode as favorite, but did signal out Karin Konoval's portrayal of Little Chucky and Little Judy in the third episode, "Plus One," Darin Morgan's "The Lost Art of Forehead Sweat" and "Rm9sbG93ZXJz," the episode with limited dialogue that had Mulder and Scully going up against drones and robots.
Read on to find out what Carter had to say about casting William, Anderson's exit comments and more. Be sure to come back to E! News after the finale at 9 p.m. EST to get the scoop on the ending and what—if anything—is left to come.
What did you look for in casting William?
I looked for exactly what we got. I looked for a kid who could portray the darkness that I thought the character was living under, knowing he was different from everyone else that he knows, that he was adopted, that he doesn't know who his parents are, that he's got special powers—all those things. What we got with Miles Robbins is really a person who you can't take your eyes off of when he's on screen.
Do you have anything specifically you're most proud of this season? Either an episode or a shot, anything like that?
I think that I'm just proud of the scope of this season. What The X-Files does, and it's different than almost every show on television, is that each episode is a little movie. And to appreciate what that asks of a production crew, be it both the production designer and everyone who works under him, camera, casting, it is a, like I said, a little movie each time. There are only a couple standing sets, everything else is brand-new locations. The scope of this season, I think, is unrivaled.
Is there anything you would do differently?
No...I have to say it's hard to second-guess yourself, especially when I'm just finishing up here. Maybe if I have some distance from it, but I think what I'm very proud of this year is we expanded our roster of writers and directors. We were mindful of the need to employ diverse people in the creative as well as the technical side of the show.
Right, this season saw new writers and directors involved and the stories were noticeably different. Are you pleased with the direction?
Very much. They come into a speeding bullet train. To do that is a testament to how good these directors are because there's so much that's been set down before. We've done 218 episodes. To come in and be able to see how we do it and basically play on the team shows you how good they are.
Did you have any conversations with Gillian since she announced this would be it for her?
She made the comments in October and we shot all the way until December, so there conversations, certainly. I was also following her Twitter feed where she was saying, 'Last time I have to wear this wig,' 'Last time I have to do this,' 'Last time I have to do that,' so it was momentous in that sense. And certainly it was on my mind when we got to the finale.
More from Chris Carter to come after the episode! The X-Files finale airs Wednesday, March 21 at 8 p.m. on Fox.