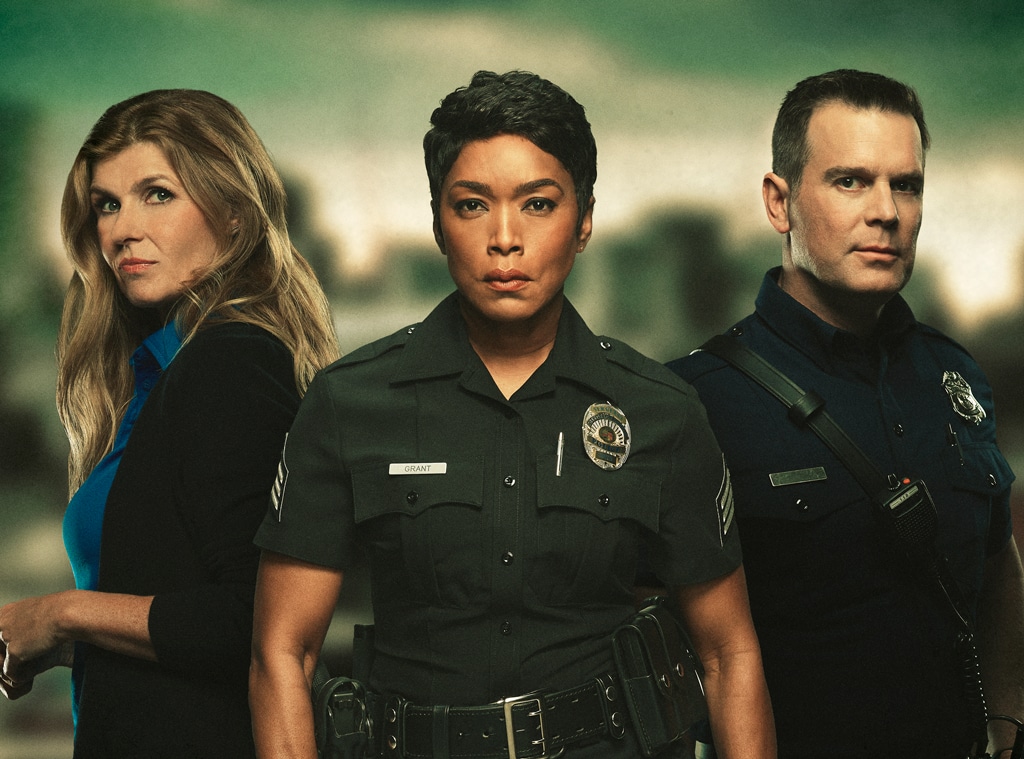 Fox
Ryan Murphy's freshman series 9-1-1 is the most watched show on Wednesdays, and the most watched show on all of Fox, with 14.3 million viewers.
With more than 400 scripted shows vying for your time, let's just give you the highly scientific data here: Those kind of numbers are about as easy to come by as a unicorn crapping gold on your front lawn.
For Murphy, whose shows are often adored by fans and critics, but aren't always necessarily heavy-hitters in the Nielsens, this kind of ratings bonanza, right out of the gate, feels a little surreal.
"I really did 9-1-1 as an experiment with [Fox Television Group Chairman] Dana Walden," Murphy tells E! News. "Like, what's not on network television? I had no expectations of it, but I just wanted to surround myself with people that I'd worked with and loved. And then when those live numbers were coming in, they were so high, comparatively, and it won every night during its run, and I was pleasantly surprised."
And perhaps a little conflicted, given that 9-1-1's numbers were coming in at the same time as the second installment of Murphy's American Crime Story, The Assassination of Gianni Versace, which appeared to underperform compared to the series' first installment, The People vs. OJ Simpson, on FX.
(Both Versace and 9-1-1 air their season finales tonight.)
O.J. was clearly a ratings behemoth—and an awards-show beast. But while Versace hasn't garnered quite as much buzz or live-viewing luster, it does seem well positioned for its own awards glory, and plenty of streaming clicks when it hits Netflix. (Not only is it a natural binge-watch series, you actually can watch it in reverse for a second go-around, to put the events in chronological order, if you so desire.) 
Frederick M. Brown/Getty Images
So for perhaps the first time in his storied career, Murphy—who just signed a massive overall deal with Netflix—is re-evaluating the metric by which he measures his own success.
"What the past six months have taught me is, there are no rules any more," Murphy tells E! News. "There are no rules of success. There used to be. You were a winner or a loser overnight, and you knew overnight exactly where you were. And I think that it's not about that any more. I never feel that overnight ratings on anything tell the story. I feel like it's just the tip of the iceberg. I don't watch live television. In my life, I don't do that. I watch things in delayed viewing. And Versace's numbers have grown each week."
More so than ratings, Murphy says he's deeply invested in feedback from those who are watching. "Versace has been a show were it has elicited the most response of people coming up to me on the street or at award shows or on sets and saying, 'I'm watching it and loving it.' So I do feel people are watching Versace. Most people don't know about Andrew Cunanan. Everybody knows about O.J. So right there, it's just a different entry way, but I think that Versace is doing tremendous numbers in delayed viewing, it sold incredibly well overseas, and it's going to be on Netflix were it will have a long life next to OJ."
In the past five years, as Netflix has poured massive funds into original programming and sent the number of original series soaring, networks have fought hard to make linear TV feel urgent again. And that's precisely what Murphy's 9-1-1 has done, with its focus on first responders on the scene of some incredibly intense emergency calls.
"I'm interested in the Netflix model," says Murphy, "because you don't get the daily report card. But I'm also interested in the 9-1-1 experience, which proved to me that there is sort of an excitement and there is still an appetite for immediate water-cooler conversation shows. It's still there."
Murphy says it will be "business as usual" with the projects he already had in the works under 20th Century Fox (Pose, The Politician, American Horror Story and Ratchet are next in the pipeline) as he begins developing new projects for Netflix under his new deal.
"All I can ever do is try and do my best work and try and connect with an audience. I've just decided that I don't have a judgment about anything, because the business is in such flux, that every time you think you understand how it's going to be, there's some new wrinkle and something has changed."