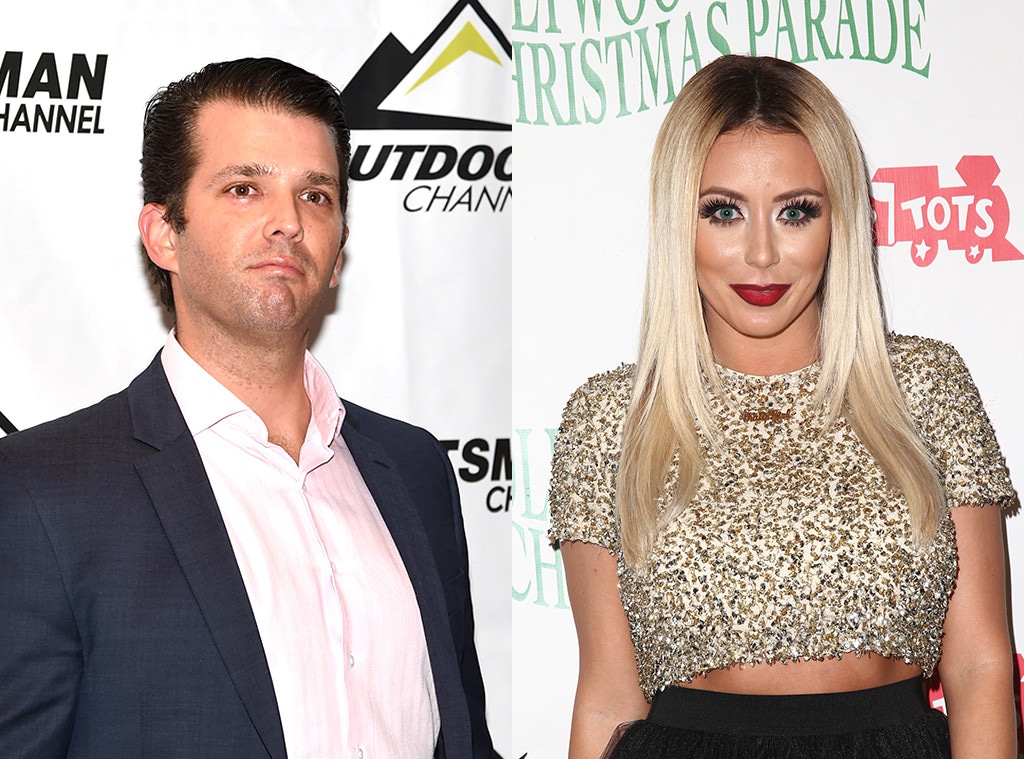 Getty Images
One week after Vanessa Trump filed for divorce from Donald Trump Jr., rumors about the duo's marriage have started to surface.
"After 12 years of marriage, we have decided to go our separate ways. We will always have tremendous respect for each other and our families. We have five beautiful children together and they remain our top priority. We ask for your privacy during this time," the couple said in a statement to E! News on March 15.
On Monday, Page Six reported that Donald "cheated" on Vanessa with singer Aubrey O'Day in 2011 while she was appearing on Celebrity Apprentice and he was an adviser.
While both Aubrey and Donald have yet to address the speculation, social media is buzzing about Aubrey's 2013 song "DJT."
"I thought it was forever at the time, but maybe I was lying to myself," a male voice says on the track.
"Is that what you want? You wanna believe that everything with me was a lie? A fantasy? And you want to go back and live in the life that you had...have...forever?" Aubrey asks.
"I don't know," the man responds. "I couldn't do what I said I would do so that answered the question for me. I'll always want you and I'll always wonder about it but it doesn't matter because I have to stay here."
While we wait to see if Donald or Aubrey will comment on the speculation, let's take a look back at other celebs who've been caught in the middle of a political scandal.
Twitter; Andrew Harrer/Bloomberg via Getty Images
Kathy Griffin: In May 2017, Kathy Griffin sparked major controversy when she posted a controversial video which showed her holding up a beheaded, blood-soaked image of President Donald Trump to the camera. Kathy went on to apologize for the fake beheading video.
"I am sorry. I went too far. I was wrong," she said.
In response to the video, the president tweeted, "Kathy Griffin should be ashamed of herself. My children, especially my 11 year old son, Barron, are having a hard time with this. Sick!"
As a result, Kathy was fired by CNN from hosting the New Year's Eve special with Anderson Cooper, the Secret Service began investigating her and her tour was canceled.
In August 2017, Kathy reacted to the controversy surrounding the video during a satellite interview with Australia's Sunrise, saying, "I'm no longer sorry. The whole outrage was B.S. The whole thing got so blown out of proportion."
Kathy continued, "I lost everybody. I had Chelsea Clinton tweeting against me. I had friends...Debra Messing from Will & Grace [was] tweeting against me. I've been through the mill. I didn't just lose one night on CNN. My entire tour was canceled within 24 hours because every single theater got all these death threats. These Trump fans, they are hardcore...They are a minority, but they know how to act like they're a majority."
Kevin Mazur/Getty Images for PMK
Dixie Chicks: Back in 2003, some radio stations stopped playing Dixie Chicks songs after they expressed their political views and criticized President George W. Bush for his plans to invade Iraq during a concert in London.
"Just so you know, we're on the good side with y'all," group member Natalie Maines told the audience. "We do not want this war, this violence, and we're ashamed that the president of the United States is from Texas."
12 years later in 2015, Natalie tweeted, "Just so you know,12 years ago today,over half of this country had lost their minds and some questioned my knowitallness. #dummies."
In 2016, the group sparked controversy again when—while kicking off their DCX MMXVI World Tour in Cincinnati—they performed their 1999 hit "Goodbye Earl" against a background that showed Trump with devil horns and a comical mustache and goatee.
Kanye West: Back in 2005, Kanye West appeared alongside Mike Meyers during a Hurricane Katrina charity telethon. During the live broadcast, West said, "George Bush doesn't care about black people."
Bush later called Kanye's comment "one of the most disgusting moments" of his presidency. Kanye went on to express remorse over his comment and Bush said he appreciated the apology and shared, "I don't hate Kanye West."
In 2009, responding to Kanye taking the stage during Taylor Swift's acceptance speech at the VMAs, President Barack Obama was heard calling Kanye a "jackass." But years later, the duo would smile and pose for a picture together alongside Kim Kardashian.