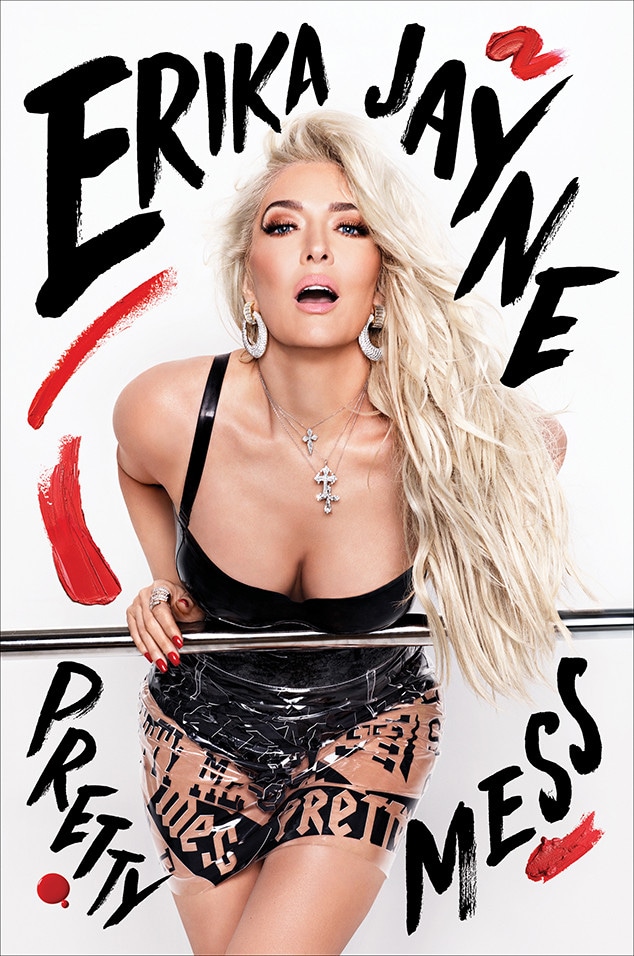 Gallery Books
Erika Jayne may give some f---ks about her new memoir!
The Real Housewives of Beverly Hills star is getting candid in her wild new memoir, Pretty Mess—and we've got some of the juiciest moments of the 289-page book.
The book tells the tale of a woman who knew she was meant for big things but didn't know how she was going to make it happen. She struggled for years to make ends meet and support her son, until all of that changed when she met, fell in love and eventually married famed lawyer Thomas Girardi in 1999.
Years later, her friendship with Yolanda Hadid eventually led to her casting on the sixth season of the hit Bravo reality show, leading to her being a contestant on Season 24 of Dancing with the Stars in early 2017. She's also become a successful singer, churning out No. 1 hits like "How Many F--ks," "Painkillr" and, of course, "Pretty Mess."
But what are the stories behind the stories? From losing her virginity to threesomes and how she met her hubby, take a gander at the eight juiciest excerpts from her new book...
Michael Simon/StarTrakPhotos.com
1. California Love: Erika details losing her virginity at age 14 with her high school boyfriend, Jonathan, while "Hotel California" played in the background.
"I lost my virginity to him when I was 14. We were in his bedroom at his parents house and the Eagles' 'Hotel California' was playing on the stereo. Was that a little foreshadowing of my West Coast life to come? He wasn't a virgin but he wanted to be a gentleman and not push me. I was ready and had to convince him of that. Jonathan is still a great guy and we are in touch to this day."
2. Three's a Party: Erika details her one and only threesome with a married couple who asked her to go out to dinner with them on Valentine's Day.
"We had a great time, kind of like we were on a little date. They seemed like they were testing the waters with me and driving the conversation toward sex. He has already hinted they were into this kind of thing, so I wasn't totally shocked. I think this might be on the agenda, and I was okay with it. We went back to their place after dinner and had quite the memorable Valentine's Day."
"It was a very positive experience, I had a great time with the two of them, and it satisfied my curiosity."
3. Oopsie Baby: She details accidentally getting pregnant at the age of 20 with her boyfriend, who was seven years older than her. 
"I missed a few days of my birth control pills. I thought I could double up on the next ones and it would work out fine. Well, it didn't. My period was late. It dawned on me in an acting class while we were doing some exercises. Somebody was performing a boring scene, and for the first time I wondered if I was pregnant. I didn't feel pregnant, but then again, I had no idea what being pregnant felt like."
"That afternoon, I went home and took a home pregnancy test. It was positive. A few days later, I went to my OB/GYN, Dr. Cox...She confirmed that I was pregnant."
4. End of an Era: Erika discusses why her first marriage, which was filled with fighting, fell apart when her son was an infant.
"I feel like my marriage came apart because of me, not because of anyone else. I can take responsibility. I knew I was a good mom. I thought I was adult enough to be a wife and a mother, but really I wasn't. Tommy bore the brunt of that. It was this constant pressure and it was hard for both of us to take."
"We broke up when my son was a little more than 18 months old. I came out of a divorced home. I did what I knew, which was to take my son and leave."
5. Making Moves: Erika writes about how she made the first move on medical malpractice lawyer Tom Girardi after he frequented Chasen's the restaurant that she worked in.
"After a year of working in the restaurant, one night I decided to slip Tom my telephone number. We were standing in front of the giant fireplace. 'Did you hear I was single?' I asked."
"The next day, his secretary called me and said, 'Mr. Girardi would like to know if you're free to have dinner this evening.'"
"'Absolutely not,' I told her. 'Tell Mr. Girardi if he wants to take me out on a date, he needs to call me himself and ask me and give me enough time to prepare.' You know how men are, especially if they are successful. They expect you to drop everything right away. That's not how I work, I don't care who you are."
"He did call me back himself, and he asked me out on a date like a gentleman."
6. Numbers Game: Erika is aware that many people have a problem with the fact that Tom is 33 years older than she is.
 "Tom is 33 years older than me. It was always a bigger deal to everyone else than it was to either of us. All a couple really needs is to have the same life philosophy. If you see things the same way, then age, race, religion—none of that comes into play..."
"I have a thirst for knowledge and Tom has a wealth of it. He is a great mentor, a great teacher and somebody I really admire...That kind of stuff is a powerful aphrodisiac."
7. Wedding Band: She says Tom says he's never wear a wedding band and she's never made him.
"After our engagement, Tom said, 'Listen, I'll buy you anything you want. I don't care what it is. You name it, But I am not wearing a wedding band. I never have, I never will. I don't like it. It's uncomfortable. Please don't ask me to.'"
8. Life-Changing Talk: She recalls how a conversation with Yolanda Hadid changed her life and led to her role on Real Housewives of Beverly Hills.
"She had no makeup on and her hair was tucked behind her ears. She was looking as simple as she possible could. As I was rambling on, I could see the gears turning in her brain."
"'Have you ever thought about being on Real Housewives?' she asked me when I finished."
"No."
"She was holding her cell phone and started typing out a message right there. 'I am going to text my boss and let him know that he should talk to you about being on the show.'"
And the rest, as they say, is history...
Pretty Mess comes is available on Tuesday.
—Reporting by Beth Sobol and Hiba Bary