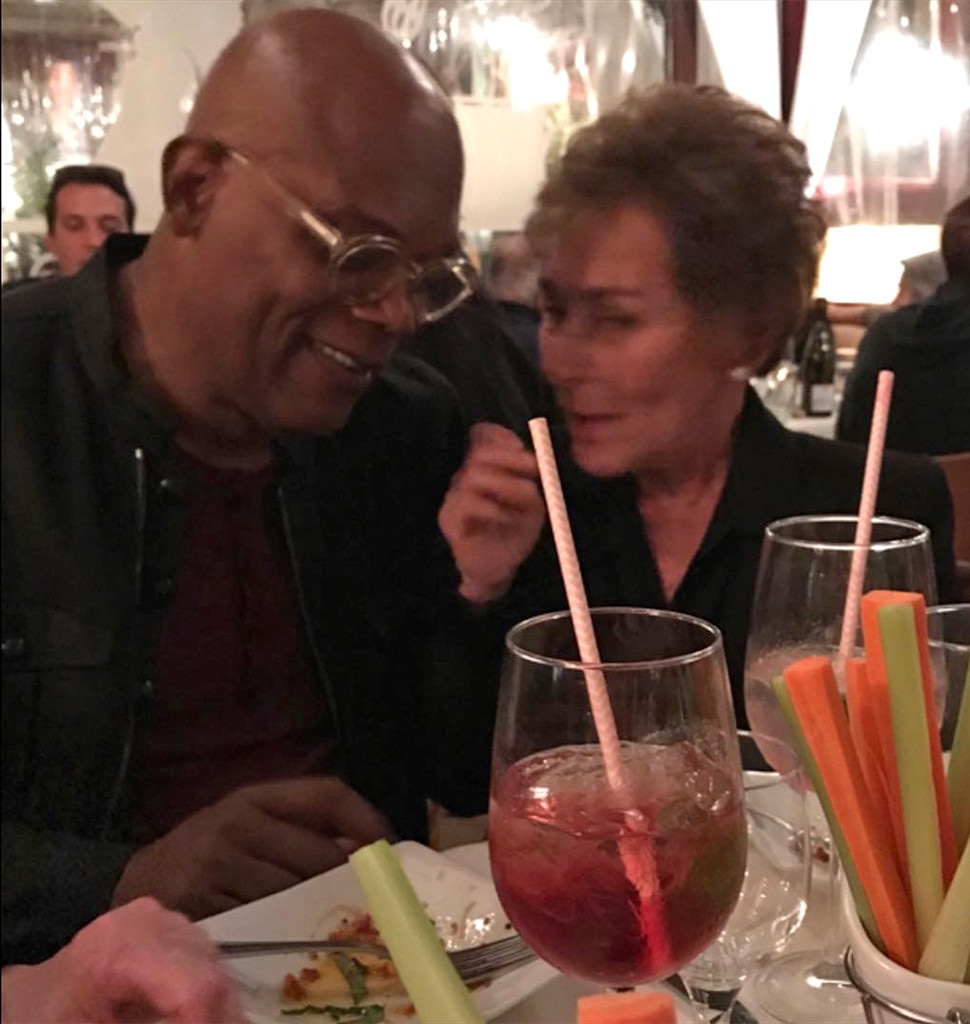 Samuel L. Jackson/Instagram
This ain't baloney!
Samuel L. Jackson made the Internet smile when he had dinner with his famous (and famously tough) friend Judith Sheindlin, aka "Judge Judy", on Friday night in Los Angeles—and lucky for us, the bad-ass actor took a pic of the amazing encounter. 
The candid photo show the unlikely duo sitting and gabbing together at dinner—and of course, the two are smiling.
Jackson wrote on the Instagram image, "Dinner with a Boss!! Always Dope connecting with Judge Judy!"
But that wasn't Jackson's only recent judicial hang, he also took a snap with Judge Greg Mathis, who is the star of the syndicated reality show Judge Mathis, while  at the 2018 Wearable Art Gala on Saturday.
Along with the Instagram photo, Jackson wrote, "Still carrying on in the Judicial mode, ballin' out with my Podnuh @judgegregmathis!!!# straightjusticenochaser#straightfromdastreets."
Within a matter of hours, Jackson's dinner photo with him and the "boss" lady got over 130,000 Likes on Instagram and had a flurry of comments, who were all about the meet-up.
@Divineprincessa wrote, "I'm crying this is so pure."
@mswflr commented, "@samuelljackson awww dude- i grew up listening to her quips - legend- can she be my friend tooo
Meanwhile, @bubba2480 responded, "I would give a kidney to be at this."
Superfan @lesd2Hollywood wrote, "I would sell a child to hear what that conversation was like!!! They're all griwn, lol [sic]."
Fan casualcranberry couldn't contain the excitment: "@samuelljackson if I saw you two together in public I would honestly think I was having a fever dream or something."
While this dinner is certainly a remarkable one, it certainly isn't the first time for that the two unlikely pals have palled around with each other. 
During a March 2017 of Watch What Happens Live with Andy Cohen, Jackson discussed his friendship with the venerable judge and explained they met at Jackson's agent Toni Howard's house. But he says that their friendship didn't really get going until they both tried quitting smoking together.
"And when Judy stopped smoking, she made me stop smoking. She sent me to her doctor in White Plains, who actually treats you with sodium pentothal and I quit smoking," he said.
The Hitman's Bodyguard star also revealed that the twosome have trekked the globe together having tea-fueled adventures.
"I've had tea with Judy at the Dorchester in London. And hang out and fly back and forth cross country with her on planes," admitted the actor.
"She's awesome," gushed the Hateful Eight actor. "She's straight up clocking dollars."