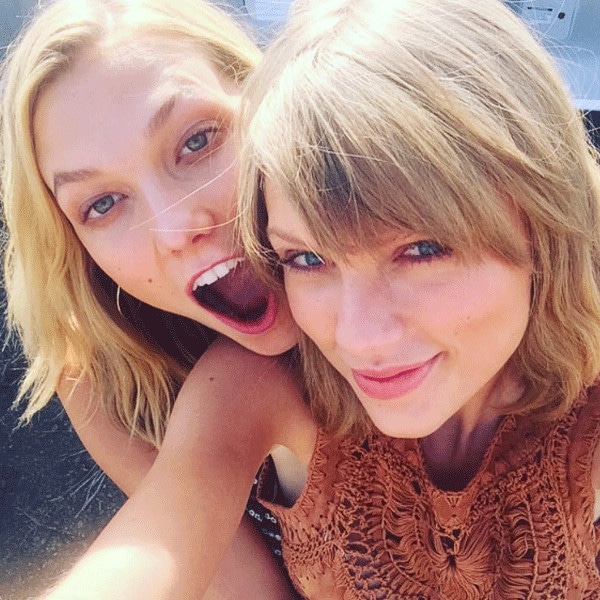 Instagram
Model Karlie Kloss says "don't believe everything you read" when it comes to the recent rumors regarding her and Taylor Swift's friendship.
In August, Swift released her controversial "Look What You Made Me Do" video, which shows her wearing a T-shirt bearing names of her friends. Kloss' is not seen, and this, as well as the fact that she and Swift have not been photographed in public together since 2016, sparked speculation that she was no longer in the pop star's squad. A source later told E! News that the two"are still good friends" and "had NO falling out whatsoever." In December, Kloss wished Swift a happy birthday with a selfie of the two.
On Friday, the New York Times ran an interview with Kloss and said that she and Swift continue to be good friends and talk frequently.
"Don't believe everything you read," Kloss said, in response to the rumors about their friendship.
This past January, rumors about the alleged demise of Swift and Kloss' friendship were fueled further after the latter posted on her Instagram a promotional video showing her dribbling a basketball, with the words "Swish swish" in her caption. Many people wondered if she was referencing Katy Perry's "Swish Swish" song, which is rumored to be about Swift, with whom the singer has feuded in the past.
After a slew of fan comments, the words were removed from Kloss' caption.
In February, Jennifer Lawrence brought up the rumors about Swift and Kloss' friendship in an interview with The New York Times.
"I'd like to know what's going on with Karlie Kloss and Taylor Swift, that's the honest to God truth," the Oscar winner said. "Is nobody else curious? It's keeping me up at night. What happened?"