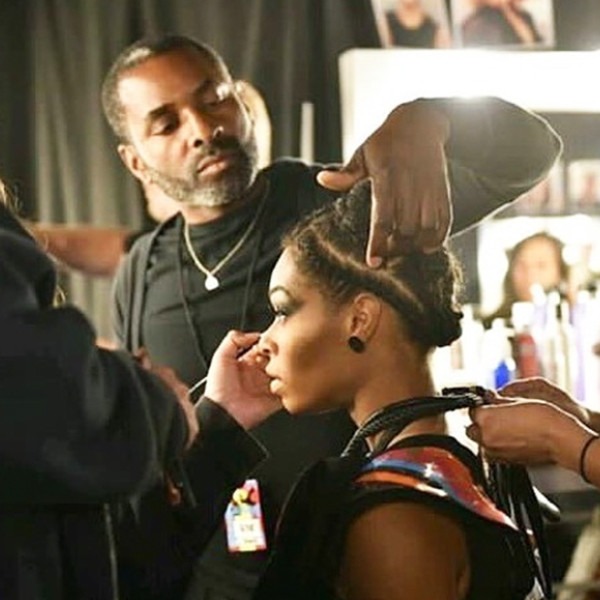 Instagram
When it comes to hair, backstage pro Lawrence Davis does it all.
His list of credits includes TV shows like So You Think You Can Dance, Being Mary Jane, Claws and Shark Tank, as well as movies Bessie, The Immortal Life of Heniretta Lacks, Hairspray Live! (for which he won an Emmy) and Mudbound, just to name a few. There's a lot of productions on his resume and even more people.
For the hairstylist, product knowledge is everything, because there's no telling who he will be working with next. This means that he knows what works beyond what the label of the bottle says and keeps products that work on a range of hair textures.
Case in point: his drugstore must-have from Garnier Fructis.
Since his clientele ranges has included everyone from Oprah Winfrey to Tyra Banks to Paula Patton, he claims this product works on both straight and curly hair. 
Garnier Fructis Style Anti-Humidity Smoothing Milk, $3.42
"It says to use for sleek styles, but it actually enhances curls," he said while explaining why he loves the product. "It just goes to show that products can be used for different purposes."
The Moroccan Argan Oil-based formula fits frizz and the effects of humidity to the hair. Based on the pro's suggestions, it can be used prior to a blowout or on wash-and-go styles. 
For those of us that rock many hairstyles like a celebrity, the pro also warns that you'll need to make learning about products a habit.
"When your hair goes from straight to color-treated to curly, you need different products for different styles," he said. "I really believe in product knowledge."
Yet still, it's nice to have at least one product you can easily afford and use any time.