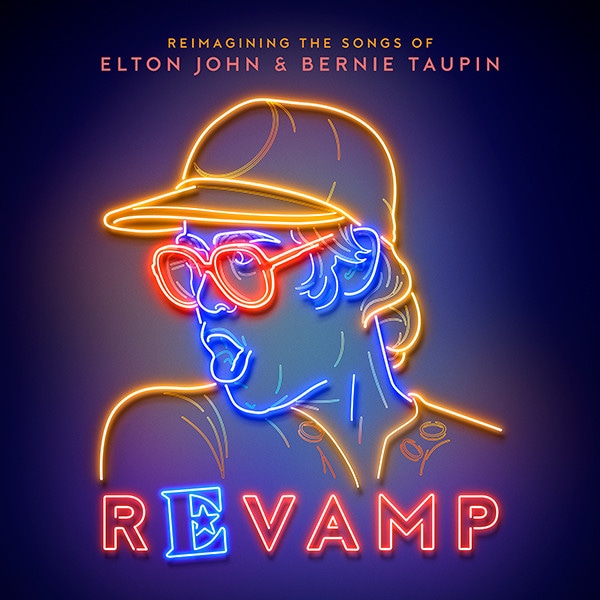 Island Records
Some of the biggest artists are celebrating Elton John's musical legacy with two albums: Revamp (Island Records) and Restoration (Universal Music Group Nashville), both out Apr. 6. They will celebrate John's decades of hits, which he produced with songwriter Bernie Taupin.
Revamp features songs reimagined by Mary J. Blige, Alessia Cara, Coldplay, Miley Cyrus, Florence and the Machine, Lady Gaga, The Killers, Mumford and Sons, Pink and Logic, Q-Tip and Demi Lovato, Queens of the Stone Age, Ed Sheeran and Sam Smith. The album has a pop art cover, based on a Terry O'Neil photograph of John, and it was recreated in neon. "We have two completely different albums; Revamp being the pop one and Restoration being the country one. God, we have so many great artists doing our songs, it's quite incredible," John said in a statement. "On Revamp I wrote out a wish list of people that I would love and asked them," he added. "To my surprise most of them said yes, and we have quite an astonishing eclectic crew."
Restoration "was Bernie's project," John said, "and he's a huge country fan." Revamp "was more my project," he added. "He came up with an astonishing list of country performers both new and legendary." Restoration features country covers by Dierks Bentley, Rosanne Cash and Emmylou Harris, Cyrus, Vince Gill and Don Henley, Miranda Lambert, Little Big Town, Maren Morris, Kacey Musgraves, Willie Nelson, Brothers Osborne, Chris Stapleton, Rhonda Vincent and Dolly Parton, and Lee Ann Womack. "Because of our love of all kinds of music, we're not stuck in one genre. From day one we borrowed from everything that's good about American music—whether it's blues, country, gospel, pop, pure rock—everything got thrown in the mix. I think that's why our music over the years has been so varied," Taupin said. "It would be tiring if you just got stuck in one niche your entire career, especially when it's one as long as ours."
Universal Music Group Nashville
"It's always a huge compliment when an artist loves your song enough to take the time and effort to rework it. As songwriters, Bernie and myself are thrilled when singers we admire and respect as much as those on Revamp and Restoration choose to add their own unique twist in the process. It means that our music is still relevant and ultimately that our songs continue to reach new audiences," John added. "We're humbled and thank them all for their generosity."
Taupin created Restoration's cover art. "For me, there's an irony about the American flag. It's been battered and beaten and burned, but it's resilient. It's always come back. I incorporate it with other things, and lately I've done a lot of pieces with deconstructed guitars and other found materials: barbed wire, broken bottles, things that people identify with on an everyday level. If it's on the floor and it works, I'll put it into the artwork," he said. "But it all goes hand in hand with my belief in America and my interest—I would say obsession—with Americana."
Here is the track listing for Revamp:
1. "Bennie and the Jets" - Elton John, Pink and Logic
2. "We All Fall in Love Sometimes" - Coldplay
3. "I Guess That's Why They Call It the Blues" - Alessia Cara
4. "Candle in the Wind" - Ed Sheeran
5. "Tiny Dancer" - Florence and the Machine
6. "Someone Saved My Life Tonight" - Mumford and Sons
7. "Sorry Seems to Be the Hardest Word" - Mary J. Blige
8. "Don't Go Breaking My Heart" - Q Tip and Demi Lovato
9. "Mona Lisas and Mad Hatters" - The Killers
10. "Daniel" - Sam Smith
11. "Don't Let the Sun Go Down on Me" - Miley Cyrus
12. "Your Song" - Lady Gaga
13. "Goodbye Yellow Brick Road" - Queens of the Stone Age
Here is the track listing for Restoration:
1. "Rocket Man" – Little Big Town
2. "Mona Lisas and Mad Hatters" – Maren Morris
3. "Sacrifice" – Don Henley and Vince Gill
4. "Take Me to the Pilot" – Brothers Osborne
5. "My Father's Gun" – Miranda Lambert
6. "I Want Love" – Chris Stapleton
7. "Honky Cat" – Lee Ann Womack
8. "Roy Rogers" – Kacey Musgraves
9. "Please" – Rhonda Vincent and Dolly Parton
10. "The Bitch Is Back" – Miley Cyrus
11. "Sad Songs (Say So Much) " – Dierks Bentley
12. "This Train Don't Stop" – Rosanne Cash and Emmylou Harris
13. "Border Song" – Willie Nelson
Last month, John announced his Farewell Yellow Brick Road Tour. To celebrate his three-year, 300-date concert series, CBS will air Elton John: I'm Still Standing — A Grammy Salute on Apr. 10 from 9 p.m. to 11 p.m., featuring performances from artists across multiple musical genres.