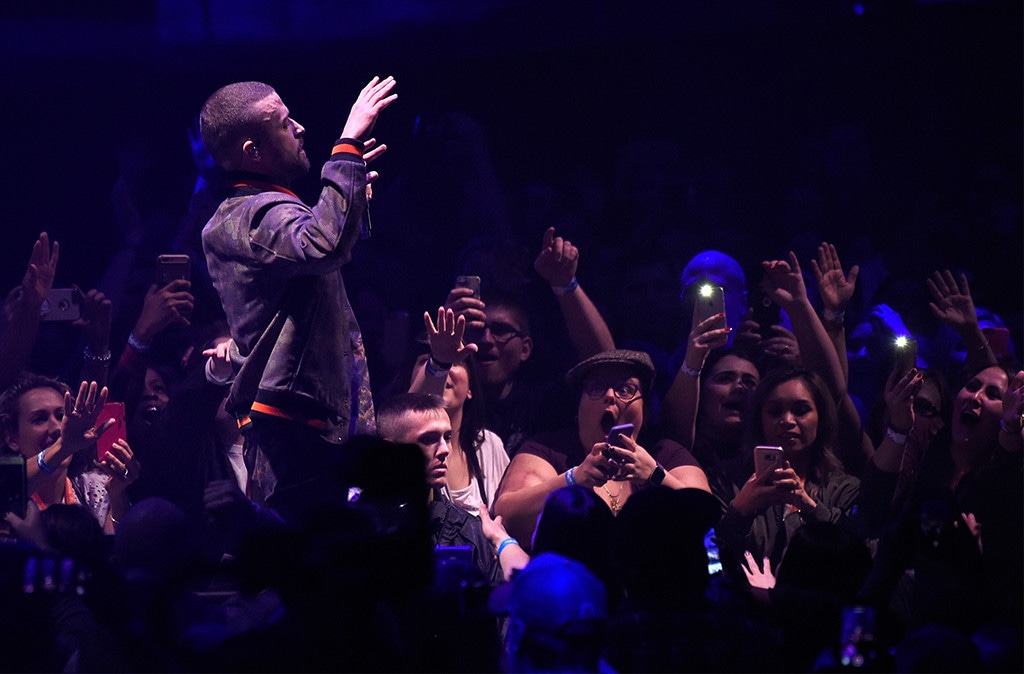 Kevin Mazur/Getty Images for Live Nation
Justin Timberlake kicked off his Man of the Woods Tour Tuesday at Toronto's Air Canada Centre—and his fans couldn't believe it finally happened. Literally, one of Timberlake's fans looked completely shocked to be so close to the 37-year-old entertainer. Who can blame her?
Timberlake performed both older and newer songs, singing "Filthy," "Midnight Summer Jam," "LoveStoned," "SexyBack," "Man of the Woods," "Higher Higher," "Senorita," "Suit & Tie," "My Love," "Cry Me a River," "Mirrors," "Drink You Away," "Flannel," "Until the End of Time," "Morning Light," "What Goes Around…Comes Around," "Say Something," "Montana," "Summer Love," "Rock Your Body," "Supplies" and "Can't Stop the Feeling!" Timberlake's backup singers also did covers of "Dreams," "Ex-Factor," "Come Together" and "Thank God I'm a Country Boy."
Kevin Mazur/Getty Images for Live Nation
Backed by 15 band members, including a horn section and six dancers, he sang for over two hours on a three-stage set-up outfitted with trees, suspended screens, laser projectors and a glowing MOTW logo. Tuesday marked the first of two sold-out nights to a crowd of over 16,500.
Timberlake didn't bring any special guests onstage, but Jessica Biel did share some footage from her seat by the stage. "There's nothing better than watching your man do what they've been put on this earth to do," she said on Instagram. "I'm so proud of you, man of the woods!"
Check out more photos from opening night:
Produced by Live Nation Global Touring, Wright Entertainment Group, LBI Entertainment and Tennman Touring, Timberlake's international concert tour will run for 102 dates through 2019.
Timberlake will return for another sold-out show at Toronto's Air Canada Centre Thursday.