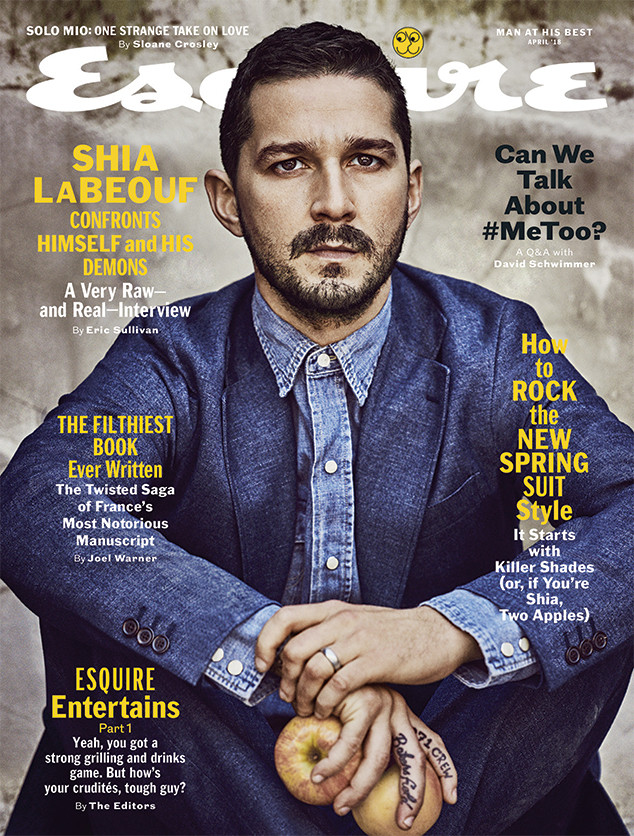 Matthew Brookes/Esquire
Shia LaBeouf has done a lot of soul searching in the last eight months.
In July 2017, the 31-year-old actor was arrested in Savannah, Ga., for disorderly conduct, obstruction and public drunkenness. LaBeouf had tried to bum a smoke from two strangers, unaware that one of them was a police officer. After being denied, he grew angry and ignored the police officer's warnings to relax, so he was handcuffed and taken to the station. TMZ later obtained and published the police footage, in which he bragged about his "millionaire lawyers."
But that wasn't the worst of it. In another clip, LaBeouf belittled a black officer for being "stuck in a police force that doesn't give a f--k 'bout you." Speaking about his latest arrest for the first time in Esquire's April 2018 issue, he says, "What went on in Georgia was mortifying. White privilege and desperation and disaster...It came from a place of self-centered delusion...It was me trying to absolve myself of guilt for getting arrested." In short, LaBeouf admits, "I f--ked up."
The morning after he was released from jail, LaBeouf attended a party for the cast and crew of The Peanut Butter Falcon—and no one mentioned the incident. "Everybody was pussyfooting around it," he recalls—except for his co-star, Zachary Gottsagen, an up-and-coming 32-year-old actor. LaBeouf estimates they discussed his bad behavior for 20 minutes. At one point, he recalls Gottsagen telling him, "You're already famous. This is my chance. And you're ruining it.'"