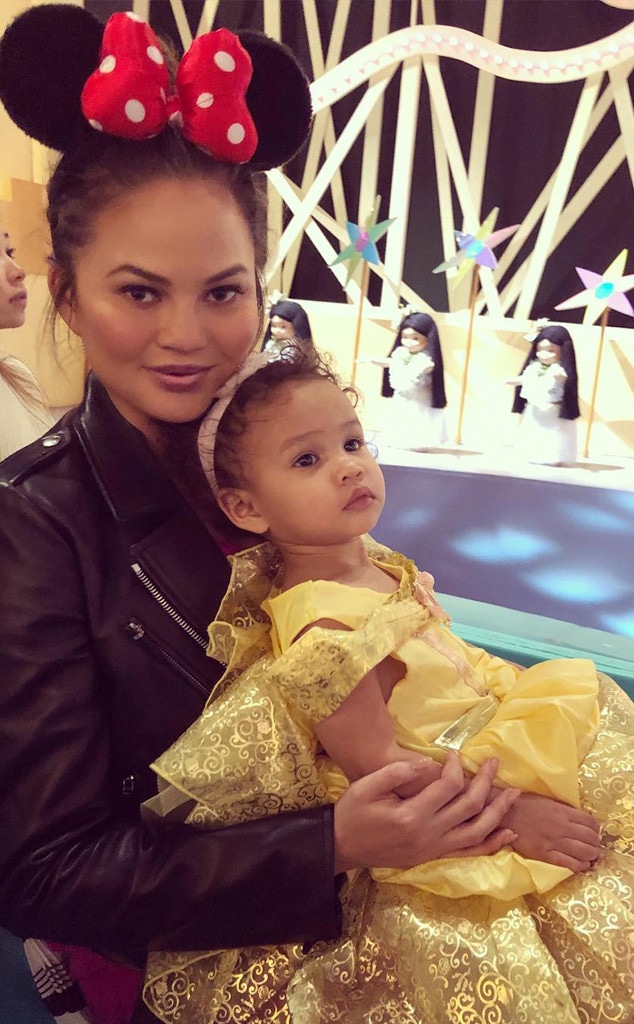 Chrissy Teigen/Instagram
It's a tale as old as time—Chrissy Teigen and her family are the cutest! 
The pregnant model, her husband John Legend and their almost 2-year-old daughter Luna Stephens took a break from Legend's Asia concert stops for a fun-filled day at Disneyland Hong Kong. Both Chrissy and John shared plenty of photos to social media on Saturday, and no surprise here, they're absolutely adorable. 
Little Luna started her Disneyland adventure in a pink tutu and Minnie Mouse ears before being treated to the ultimate princess experience. She changed into Beauty and the Beast character Princess Belle's yellow dress and looked like royalty on classic Disney rides such as It's a Small World. 
The toddler was in total awe of the sights as she smiled and pointed while sitting in her dad's lap. "It's a small world after all! #hongkongdisneyland," Legend captioned the moment. 
Meanwhile, it was love at first sight for Luna and Minnie Mouse, who shared a sweet hug and smooch in the park. Chrissy caught the interaction on camera, later joking on Instagram, "she lets me hug her once a week."
The celebrity trio arrived in China earlier this week for Legend's nearly month-long Darkness and Light Tour. Unfortunately, their trip hit an admittedly rough patch when it was revealed their beloved bulldog Puddy had passed away. 
Lovingly dubbed her "first born," Chrissy mourned the loss of her pooch with multiple heartfelt tributes. Luna and John have definitely lifted the Lip Sync Battle co-host's spirits, as she shared a video of the father-daughter duo dancing and singing in their hotel room. Teigen wrote, "eyes still puffy from puddy tears but they keep me happy." 
Enjoy the trip, Legend fam!