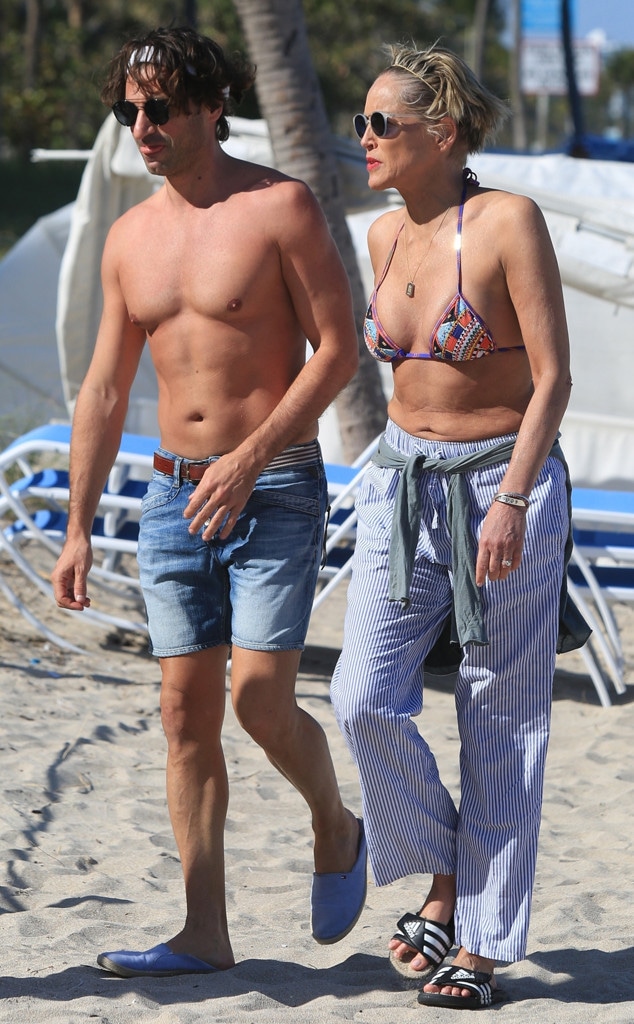 BACKGRID
It's good to be Sharon Stone! 
Just one day shy of her 60th birthday, the actress was spotted kissing and holding hands with new boyfriend Angelo Boffa while on vacation in Miami. While many were quick to point out the diamond sparkler on that finger and wondered about a possible engagement to the dark and handsome beau, a rep for the actress confirms to E! News that the Basic Instinct star and her younger man are not engaged.
The actress has been spotted with the dark and handsome beau since the beginning of the year—they were caught kissing in January at an event for Stone's upcoming HBO series Mosaic—but she has yet to speak publicly about her new romance.Although her body language has said it all!
During last week's week beach vacay, the two had a day of PDA-filled fun in the sun and she appeared to be in the best of spirits with her main man.
And while the twice-married stunner, who was previously wed to Michael Greenburg from 1984 to 1990 and then to Phil Bronstein from 1998-2005, has said nothing about the relationship with new man, she did talk about love recently with Grazia magazine, saying: "I was just not that girl who was told that a man would define me...I was told that if I wanted to have a man in my life, it wouldn't be an arrangement, it would be an actual partnership. And those are hard to find."
A good man in hard to find, so here's what we've gathered about the mysterious Mr. Boffa...
1. He's 19 Years Her Junior: Boffa is 41 years old.
2. He's Not an Actor: According to PageSix, the new man is an Italian real estate mogul.
3. He's a Romantic: In addition to their caught kiss in Italy, the two were spotted spending Valentine's Day together at Shangri-la Hotel in Paris, reports the Italian media.
4. He's a Fan of His Lady Love's Famous Friends: Before he and the Sliver star started dating, he posted an Instagram of a scene of Richard Gere from Pretty Woman and wrote, "One of my favorite #prettywoman." Turns out that Gere's the friend that turned Stone on to being a Buddhist. 
5. He's a Jet-Setter: Boffa apparently met Stone in St. Moritz, Switzerland, in December. The real estate mogul apparently lives in Zurich, but spends a great deal of time in Ibiza, according to PageSix.
6. He Loves Tiny Swim Trunks: The man loves to show off his bod' in itty bitty swimwear. Enough said.
7. He Parties With the Rich, Famous and Fabulous: Just nine months ago, Boffa was hanging out with Heidi Klum at the Fashion for Relief event.
8. He Loves a Good Selfie: While he may have yet to post a photo with Stone, Boffa is all about sharing pics of himself on his Insta.
John Lamparski/Getty Images
9. He's Caught Her Attention: Stone clearly can't get enough of her younger man...
Stone has three sons—Roan Joseph Bronstein, Laird Vonne Stone and Quinn Kelly Stone—from previous relationships.