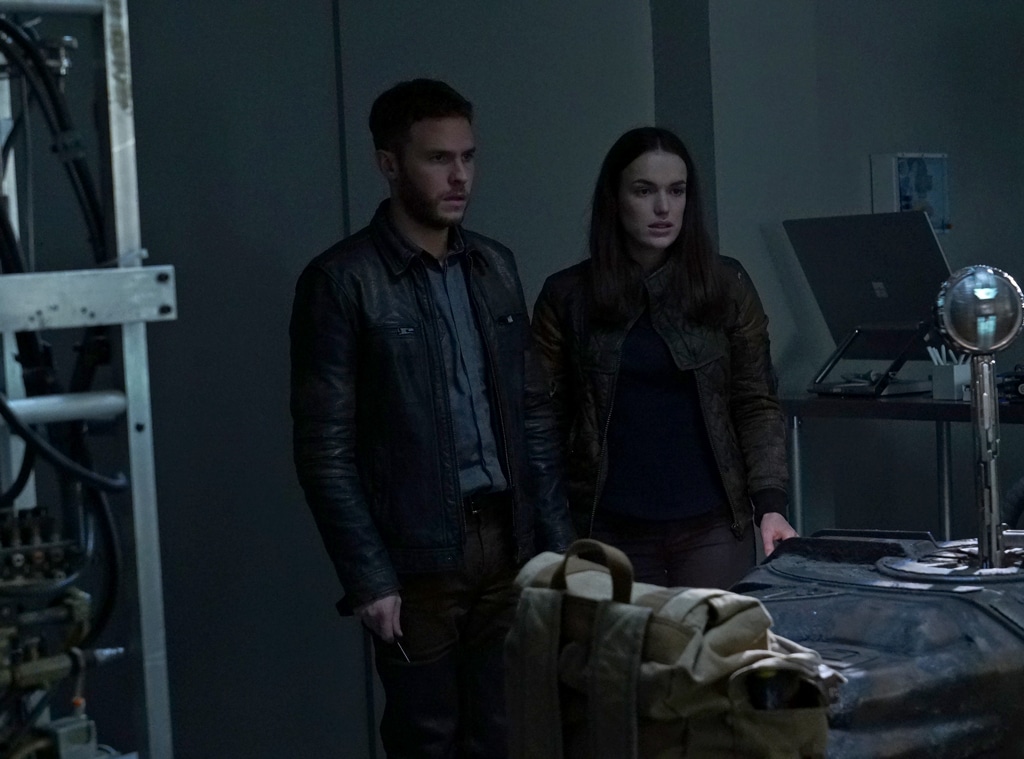 ABC
Warning: The following contains spoilers from the 100th episode of Agents of S.H.I.E.L.D. If you haven't watched yet, you may want to bookmark this page and return once you have. Proceed with caution.
FitzSimmons finally made it official!
Poor Jemma Simmons (Elizabeth Henstridge) and Leopold Fitz (Iain de Caestecker) have been through the wringer during the first 99 episodes of Agents of S.H.I.E.L.D. They've been dropped on the bottom of the ocean floor, they've been separated by surprise interplanetary travel, they've found themselves on opposing sides while trapped in an AI-created simulated world, they've seen the end of the world while trapped in the future.
And now that they're back home in their proper timeline, as they race to stay alive and out of General Hale's crosshairs, they've taken the opportunity to do in tonight's landmark 100th episode something so surprising in its regularity that we didn't see it coming: They got married!
After defeating a rift in time-space continuum that began playing on their worst fears and a surprise assist from ol' Deathlok (J. August Richards), it was clear that there wasn't any reason to waste any more time delaying the inevitable. "I think we can all agree that to wait even one second to do this is playing with fire," Coulson (Clark Gregg) told everyone as he assumed the role of officiant. "All in favor?"
When it came time to deliver their vows, Jemma went first. "Fitz, I knew from the moment I saw you, from our first conversation about dielectric polarization, that you'd be in my life for a long time. But I didn't know you would be my life, my heart, my home," she told her love. "We joined this team for adventures and got more than we had hoped. But I can't wait for our next adventure: building a family together. My love for you grows deeper and always will. No matter where the universe takes us next."
Fitz then followed suit. "I have been thinking about what to say. Just, words don't really seem enough," he said. "I think that you are perfect and I don't deserve you, Jemma. I don't. I don't deserve you. And I'm well aware that I'm the luckiest man on any planet."
As they exchanged rings, secured from a pawn shop along with Jemma's wedding dress by Deke (Jeff Ward), the visitor from the future revealed to Deathlok how he found the jewelry. "Turns out a lot of people pawn wedding rings. I had to find one that was going to be small enough for his little boy fingers," he said. "And then for hers, I found this ring that looks just like this one that my mom used to wear sometimes. It was my grandma's, I think." That's right. FitzSimmons are his grandparents!
"To be honest, I don't really know either one of them," he said. That'll change soon, especially now that Gen. Hale knows what's up.
Oh, and as for that big Coulson reveal? The team finally knows he dying and it's all because of the deal he made with Ghost Rider at the end of last season. In exchange for the powers, Coulson had to surrender the alien technology that brought him back to life in Tahiti before the series began meaning that, at any moment, his heart could just give out and that'd be that. He's made peace with it, he said, but no one else is ready to do the same.
Will Coulson make it out of the season alive? Considering the producers have been open about the fact they're writing the season-ender as if it was a series finale, we're not so sure.
What did you think of the surprise wedding? And the even more surprising family reveal? Sound off in the comments below!
Agents of S.H.I.E.L.D. airs Fridays at 9 p.m. on ABC.