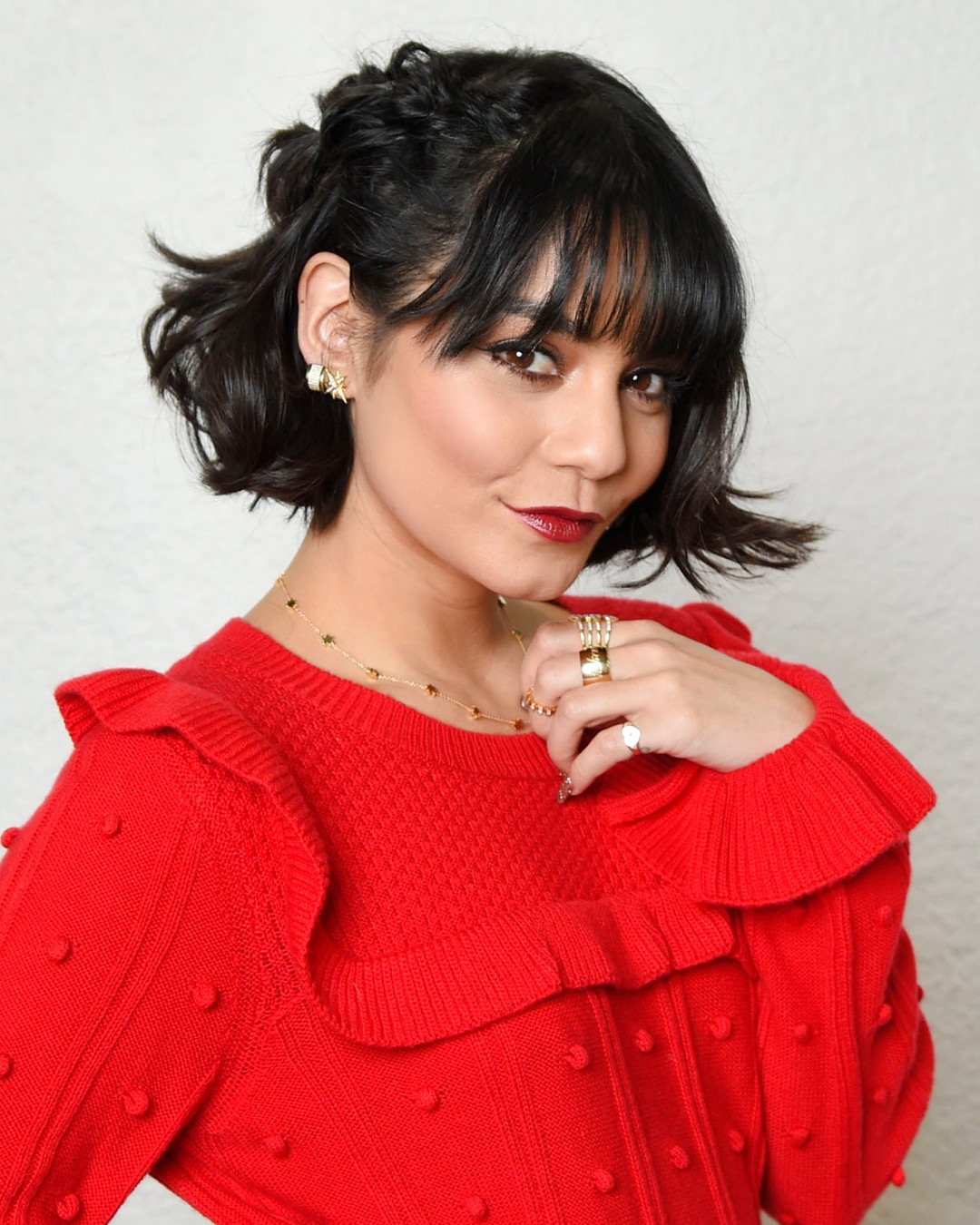 Michael Simon/startraksphoto.com
So many beauty products, so little time. 
Not all the bold, sparkly products on Instagram are worth your time. But, more importantly, there are a lot of random new, smart innovations on the market that go unseen. Don't wait for your favorite beauty influencer to introduce a seemingly odd-albeit-effective product, only to find a #ad, #sponsor or #sp disclaimer tacked on at the end of the caption. We broke down seven Instagram beauty trends we're seeing now. A few are already celeb tried and tested, like a cat-eye stamp pen used by celeb makeup artist Chauntal Capri Lewis on Vanessa Hudgens for a holiday hair tutorial. Others glow and sparkle like all the unicorn and mermaid trends inundating your feeds. Do these products work as cool as they look? You'll have to read our reviews!
Trending: Cat-eye stamps
We Tried: Lyda Beauty Cleopatra Cat Eye Stamp in Sleek, $19.99
Claim to Fame: The dual-ended liquid liner supposedly gives you a symmetrical winged look...without taking an hour to perfect. 
Helpful or Hype: The stamp end actually gives you a pretty precise cat-eye. When connected by the super-pigmented liner, which actually smoothly glides on without pulling skin, it does create a pretty impressive cat-eye Cleopatra would approve of. The hard part is...replicating the exact look on the other side! While the stamp size will be the same, it can be difficult to correctly place it at the same distance and angle as the previous stamp, which can take a lot of practice. After a few tries, our wings were still flapping in different directions. The stamp can also be too long in length for some eye shapes. However, if a dramatic look is what you're going for and you can mirror the angle of the stamp, this product will save you precious minutes! For the less cat-eye savvy, the liner itself is worth a try. Although the packaging is not labeled waterproof, the jet-black pigment stays all day without smudging. 
Trending: Eye serum
We Tried: CosMedix Opti Crystal, $95
Claim to Fame: The formula is infused with coconut, a copper complex and liquid crystals, which not only makes this product Instagram-worthy but also naturally dyes the serum a blueish-purple pearlescent hue. 
Helpful or Hype: While Americans may not recognize this brand, CosMedix is one of the leading skin-care brands in Australia and is used by celebs like Tracee Ellis Ross, according to Into the Gloss. The eye serum, although kind of pricey, works wonders...and not because it glows like mermaid juice. Unlike an eye cream, the formula is a little tacky to the touch, but just a tiny dot, packed with anti-oxidants, will go a long way. This is a must-try!
Trending: Glitter mist
We Tried:  Pinrose Secret Genius Shimmer Mist, $42 (out March 13)
Claim to Fame: It takes the brand's best-selling fragrance (a blend of Madagascan vanilla, sandalwood and caramel) and adds moisturizing oil and micro-glitter to it...because unicorns smell nice, obviously. 
Helpful or Hype: Remember those shimmer body sprays from Bath & Body Works you used to be obsessed with in middle school? This is the adult version. With music festival season upon us, it's a subtle way to stand out, sans flower crowns, glitter-bombed hair and fringe. Don't think these mermaid vibes are too low-key though—a few spritzes will have you sparkling in purple and pearlescent flecks. Don't spray too much either—or the scent can overwhelm. 
Trending: Magnetic lashes
We Tried: Ardell Double Wispies Magnetic Eyelashes, $13.99
Claim to Fame: Enhanced, beautiful lashes without dried gunk or messy glue. 
Helpful or Hype: You're basically sandwiching real lashes in between a top and bottom layer of faux lashes, pulled together by a few unnoticeable small magnets. In theory, it's a genius idea. In reality, it's a little harder said than done. While you would start by placing the top layer onto of your natural lashes, it can move quickly before you put the bottom layer in place. Because the first magnet attracts the second, it can often be pulled away from the lash line. Pro tip: Cut the lash into sections, which will make it easier to get better alignment. Practice makes perfect, and it takes a lot of practice. But once it's perfect, it looks amazing and won't pull out any natural strands, to boot. 
Trending: Cloth makeup remover
We Tried: The Original Makeup Eraser, $20
Claim to Fame: It's kind of like a Magic Eraser but for makeup.
Helpful or Hype: Think: a typical makeup wipe, but in actuality, it's a long fluffy pink towel as soft as a baby rabbit. Wet the cloth with warm water and watch the makeup just melt right off. It doesn't quite get waterproof eye makeup off all the way, but it is surprisingly gentle and effective for those nights where you don't want to go through a 12-step Korean cleansing ritual. It's great for those eco-minded beauty buffs and those traveling, but if you're a stickler for double-cleansing, you might want to stick with your normal routine. 
Trending: Bubble masks
We Tried: H20+ Beauty Soothing Probiotic Bubble Mask, $6
Claim to Fame: It goes from gel to foam, bubbling up right before your eyes, like a skin-care science project gone wrong but that feels oh-so right. 
Helpful or Hype: The thought of a bubble mask is kind of unnerving at first. Visions of a cauldron of boiling goop may come to mind; however, the process is more like opening a bottle of champagne, which just so happens to be an ingredient in the mask (to help even skin tone). After applying the gel onto your face, wait 10 to 15 minutes as it starts to bubble up into a foam, only to dissipate when it's done, like when you first pour bubbly into a flute and the froth flattens. The process is visually entertaining; although, we're not certain how much hydration it adds. The residue layer is a bit thick and tacky, which will wash away easily with warm water. 
Trending: Portable razors
We Tried:  Sphynx Portable Razor, $14.99
Claim to Fame: It's a three-in-one portable razor, which includes a water spray bottle, a moisturizing pre-shave bar and, of course, refillable razors...so even if you're not near running water, your skin can look silky soothe. 
Helpful or Hype: While the circular device is very convenient and perfect for travel (it's even carry-on friendly!), the razor is a bit dull and the soap is a bit too hard. However, if you're looking for a quick touch-up in an inconspicuous corner, it's worth bringing along in your bag. 
Would you try any of these products?