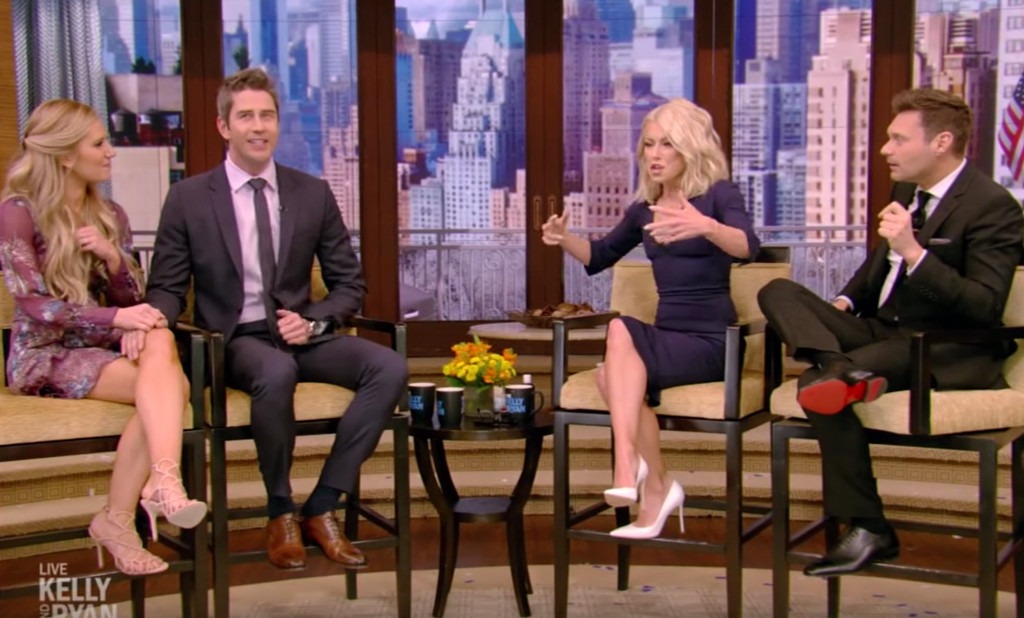 LIVEKellyandRyan
Leave it up to Kelly Ripa to skip the small talk. 
She did just that Wednesday as Bachelor Arie Luyendyk Jr. sat dow on the Live! set with his new fiancée Lauren Burnham. As fans of the ABC series are well aware of by now, Burnham was the second competitor he proposed to after he got down on one knee and later broke it off with Becca Kufrin at the finale. 
"I want to understand everything...your thought process...what's wrong with you…what's wrong with you," she said to the couple soon after they took their seats, shooting out all of her questions. "What are you thinking...how did this happen...were you as shady as I think you are now?"
"Excuse me!" she retorted to Ryan Seacrest's interruption. "This didn't just happen overnight," she continued, verbally raising an eyebrow on Luyendyk Jr.'s quick second proposal Tuesday night.
Ripa's questions continued as the reality star tried to explain himself. "Did you feel pressure to propose to somebody? Was it a coin toss or was it a name in the hat?"
Luyendyk Jr. proceeded to explain that his initial breakup with Burnham was difficult, that he never felt fully in his relationship with Kufrin and that he found himself always thinking about his now-fiancée. Meanwhile, Burnham admitted she was quite reserved on the show, which made their romance blossom late. 
"I had a hard time expressing myself to him," she told the co-hosts. 
"I don't blame you at all," Ripa quipped. 
As the interview wrapped, Ripa wished them luck and thanked them for being good sports. However, later on social media, she shared her serious doubts when a fan commented on a video of the interview, writing, "I give them 100 days."
As Ripa responded, "You're being generous."