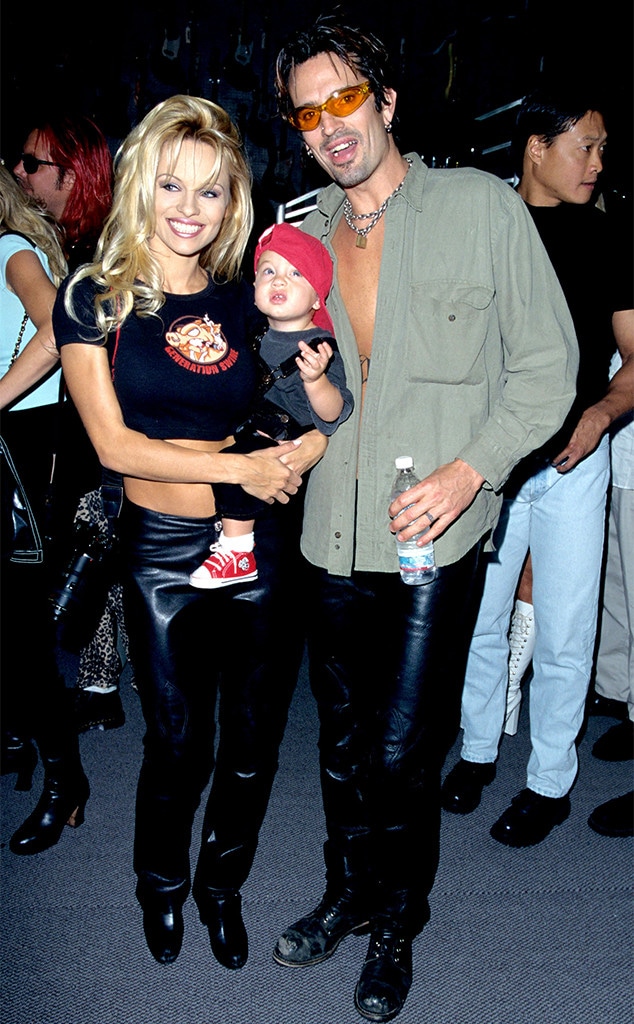 Steve Granitz Archive/WireImage
Tommy Leetalked the talk, but it was a swing and a miss as far as walking the walk.
Barely a day after slamming ex-wife Pamela Andersonfor bringing up their abusive relationship in a recent interview with Piers Morgan, the Mötley Crüe drummer required a trip to the hospital to mend his lip. He claims son Brandon Thomas Lee barged into his bedroom where he and his fiancée were sleeping and attacked him. According to TMZ, Brandon maintains he punched his drunk dad in self-defense after having confronted him about bad-mouthing Anderson.
"I asked him to leave the house and he knocked me unconscious," Lee tweeted. "He ran away from the police. THAT'S the truth."
Lee also wrote in a post that's since been deleted: "My heart is broken. You can give your kids everything they could ever want in their entire lives and they can still turn against you. Good job Brandon! Great son!"
Brandon, of course, is no longer a kid. He's 21, while brother Dylan Jagger Lee is 20. They're the offspring from Anderson and Lee's bizarre, though at times seemingly loving (and graphically so), relationship, which started with the couple tying the knot on a beach in Mexico in their bathing suits after four hot 'n' heavy days together.
After a brief marriage to model Elaine Margaret Starchuk in the 1980s, Lee was married to Heather Locklear (who's also having a rough 2018 so far) for seven years before admittedly screwing it up. They divorced in 1993.
He met Baywatch star and Playboy Playmate Pamela Anderson on New Year's Eve, 1994, at a Hollywood club called Sanctuary, where she bought him a shot and Lee, floating on Ecstasy, fell head over heels. They didn't have their first date for about six weeks, which turned into a last-minute trip to Cancún, and 96 hours later they got married, on Feb. 19, 1995. They got tattoos of each other's names on their ring fingers.
Upon their return to Los Angeles, Anderson moved into Lee's spread in Malibu.
James Aylott /Getty Images
Just months later, the newlyweds' lives would change forever when their disgruntled electrician, seeking revenge after getting fired from the reno job in progress on the Malibu mansion, stole a sex tape the couple made aboard a houseboat during a summer excursion to Lake Mead.
"We filmed everything… we were naked all the time," Anderson shrugged in her interview with Morgan, for his ITV series Life Stories.
Rand Gauthier, the electrician, told Rolling Stone in 2014 that he would never have stolen anything from the Lees, but when he and another guy returned to the job site to collect their tools, he claims Tommy pointed a shot gun at them and said, "Get the f--k off my property."
To get the last word, months later Gauthier stole a safe from the property, making off with jewelry and the now-infamous sex tape. (He told RS he did the job himself, while other accounts—including Lee's own memoir—cast doubt on the idea of him being able to move that safe on his own.) 
According to Rolling Stone, the story unfolds along these lines: Gauthier also apparently had a background in porn and had appeared in multiple videos, so he was familiar with the business. He hooked up with another guy who made a bunch of copies, destroyed the original cassette and set up a few websites from which to market what they were calling Pamela's Hard-Core Sex Movie, available for $59.95 by mail.
Because it was only 1995 the footage wasn't able to make the rounds in the way it would be able to now—nor did word of it make the rounds immediately, because apparently Tommy and Pam didn't even know their safe was missing until sometime after Christmas, much less that a video of them having sex on a boat was available for purchase.
Initially they filed a $10 million lawsuit to try and stop whomever from profiting from it in any way, including Penthouse, which had acquired a copy—but they kept losing motions in court for TROs and injunctions. Penthouse went ahead and published a detailed written account of what was on the tape in its June 1996 issue.
Ironically, though Penthouse wasn't accused of being involved in the theft and therefore was within its First Amendment rights to write about the tape, Pam and Tommy still held the copyright, it being their "intellectual property" and all, so legally the magazine—or anyone else—couldn't publish still photographs from the footage or sell copies of the tape itself. Eventually the court caught up with Milton Ingley, the guy Gaulthier had given the tape to who had been selling copies online, and issued an injunction. 
In October 1997, two years after the original footage was stolen, a judge issued an injunction against Ingley. By then unwitting celebrity sex tape pioneers, Anderson and Lee signed the copyright over on Nov. 25, 1997, to Club Love founder Seth Warshavsky, who later cut a deal with Vivid Entertainment to legally sell hard copies of the movie—on DVD, VHS and...wait for it...CD-ROM.
Pam and Tommy sued Warshavsky in federal court, insisting they were duped into signing away the rights to what turned into a big money-maker for the defendant (Lee wrote that they thought they were OKing a one-time webcast). In 2002, long after the couple were divorced, Warshavsky's company was ordered to pay Anderson and Lee $740,000 apiece for their efforts. The company no longer existed, so no one got paid.
A couple who couldn't look more rock-and-roll if they tried, there's evidence that they really enjoyed their honeymoon period.
But from day one they were surrounded by paparazzi who couldn't get over their whirlwind courtship. They both were eager to start a family, but Anderson suffered a miscarriage during her first pregnancy. Finally, on June 5, 1996, in what must have also been a nice break from their ongoing legal headache, they welcomed son Brandon. 
Behind closed doors, however, their marriage was falling apart. Anderson first filed for divorce in November 1996, but they reconciled and son Dylan was born on Dec. 29, 1997.
"Not being able to do anything...about [the tape] was adding so much frustration and stress to our relationship," Lee recalled to 20/20 in 2004. "It was just consuming us."
Donato Sardella/Getty Images for The Daily Front Row
"Pamela and I got busy having kids so quickly that we never gave ourselves a chance to build a solid relationship," Lee relayed in Mötley Crüe's autobiography The Dirt, via Rolling Stone in 2001. "I asked her much later, 'Why didn't we work on our relationship more?'
"'We couldn't,' she replied. 'I was pregnant the whole time.'"
Lee admitted not being able to handle not getting as much attention from his wife as their two sons were getting.
"So, unable to step back and see the situation from any reasonable perspective, I turned into a whiny, needy little brat," he wrote. "Maybe it was my way of becoming Pamela's third child, so I'd get the attention I needed, too. Now, all of a sudden, Pamela and I were arguing all the time. Our relationship had slowly degenerated from pure love to love/hate." They had a huge blow-out fight during what was supposed to be a romantic Valentine's Day trip to Las Vegas, and he admitted grabbing her to get her behind closed doors in their room so they wouldn't be brawling in public.
The following week at home, he was throwing things around in the kitchen and yelling so much that Anderson told him he was scaring her, after which the fight only escalated.
Lee wrote that Anderson punched him in the lower jaw. He grabbed her arm and as she as finally leaving the room he kicked her in the behind, he recalled, calling her a "f--king bitch." Brandon, then 1 1/2, witnessed a fair amount of this exchange.
They were tussling over Brandon, Lee wrote, when Anderson fell over a kid-size chalkboard in the house, tearing a fingernail in the process. He claims he then took Brandon outside, which was why he was trying to take the boy's hand in the first place, and told the toddler that mom and dad loved him and they wouldn't fight like that anymore; then he went back inside and the cops were there.
Soon after, Anderson filed for divorce.
He ended up pleading no contest to felony spousal battery and, in May 1998, he was sentenced to six months in jail. The judge vowed he would go to prison for three years if he violated his probation, ordered Lee to undergo counseling, perform 200 hours of community service, and pay $6,200 to a battered women's shelter, a victim restitution program and a domestic violence fund. The prosecutor said, per the Los Angeles Times, that Anderson hadn't necessarily wanted Lee to go to jail, but she supported him going into counseling.
"I couldn't understand why Pamela had followed through with pressing charges," Lee wrote in The Dirt. "She was probably scared and thought I was some crazy, violent monster; she probably thought she was doing the right thing for the kids; and she probably wanted an easy way out of a difficult situation. As much as I loved Pamela, she had a problem dealing with things."
He found out Anderson was dating surfer Kelly Slater while he was locked up for what ultimately amounted to four months.
Meanwhile, you'd be forgiven for thinking that Pamela Anderson and Tommy Lee were married for much longer than they were.
In 1999 they discussed remarriage, with Anderson saying, "I picture Tommy and me…old, toothless, on a bench somewhere with our tattoos." 
They had called that idea off in 2000 and were reportedly locked in a custody battle when Anderson admitted to enjoying champagne with her ex on New Year's, a violation of his probation that put him in jail for five days.
Yet they would go on to spend lots of time together as a family and were off and on for years. Lee's 2004 memoir Tommyland features a lot of then-current, oft-touching back-and-forth between the exes.
"Unfortunately, everybody knows about the bad times—so overblown and completely out of context and out of control—and nobody knows about the good stuff," Lee told Rolling Stone when the book came out. "Of course I wanted her in there—she's the mother of my two beautiful boys. We just sat down and started reminiscing about some old stories—and she totally nailed me for my terrible memory."
Lee continued, "You know, it's almost better now than it ever was, because now we're just friends, beautifully co-existing and co-parenting, going to see the boys play soccer, swimming, having barbecue parties. There's none of the pressure of marriage, and I'm loving it. After child custody and divorce—that can just put some serious damage on the whole scene. But we seem to have gotten through it, so I'm stoked. We can now get on with our lives and enjoy each other with our kids."
And perhaps all that reminiscing re-stoked the fire.
"We're crazy in love," Lee told People in 2005. "We're going to take things slowly and see where they go." (At the time, Anderson denied they were back together.)
He added, "The boys miss Pam and me together. When we're together, they're so happy. At the end of the day, that's truly what my heart wants. I want us all to be together."
In 2006, however, Anderson embarked on her mad love affair with Kid Rock, which included four weddings before culminating in divorce in 2007. At one point she tried to get sole custody of their sons, claiming she no longer trusted him to be alone with the boys, then 5 and 3, and alleging in court documents, "I suspect Tommy's jealousy over my new relationship has sparked his recent anger, harassment and breakdown of communication and co-parenting."
Then she married Rick Salomon, but had their union annulled five months later. 
Then, in June 2008, a decade after their divorce, Lee confirmed to Rolling Stone that they were giving their relationship try No. "801."
"Pamela and the kids have moved in with me," he said. "It's awesome, man. It's definitely working. You can tell on the kids' faces—they're happy when we're together."
They held that together until about 2010 before parting ways as a couple for good. But oh how they had tried.
"There was Tommy and then there was nobody else," Anderson, who went on to spend most of 2014 remarried to Salomon before divorcing him in 2015, explained her myriad reunions with Lee to People in August 2015. "He was the love of my life. We had a wild and crazy beginnings that was too much for both of us."
Todd Williamson/Getty Images for PETA
"It really was love at first sight," she continued. "I only knew him four days before I married him." Ultimately "I had beautiful children with him. My kids are grateful to be born out of true love. Everything else I was trying to piece together."
Anderson also said at the time that she and Lee were "good friends" and they were getting better at co-parenting. "He's such a supporter of mine and I'm really happy we're on such great terms," she concluded.
Over the past couple of years, Brandon and Dylan (they were born when Beverly Hills, 90210 was in its heyday) ventured into modeling and have become fixtures among the fashion-show set.
And Dylan, at least, caught the music bug, telling W in January 2017 that he spent a lot of his free time playing piano and guitar and creating beats on the computer.
"As of right now I am working really hard to become a music producer/DJ," he told the magazine. That is my dream and I want it to become a reality. I work everyday on my music and I hope that soon I can make it happen!...My genre of music that I love to produce is 'pop EDM' or 'future bass.' Its really 'festival' music that you can dance to!
Tommy Lee, meanwhile, has seemed to be in good spirits, announcing his engagement to Brittany Furlan on Valentine's Day and showing off the heart-shaped diamond ring he gave her.
But Anderson's sit-down with Morgan ticked him off and he let Piers (who, perhaps he didn't know, loves a Twitter exchange) hear all about it.
"Ur interviews w/ Donald Trump & my ex-wife are pathetic! Think she'd find something new to discuss instead of rehashing old s--t but I guess she has nothing else going on & needs attention. Signed, 'The abuser' (who she texts everyday & asks for me back)," Lee tweeted at the British media personality Monday night.
Morgan replied, "Morning Tommy! Lovely to hear from you. I'm not responsible for what Pamela told me about your marriage so I suggest you take it up with her.."
To which Lee fired back, "I suggest you don't interview her. Are you that desperate for people to interview? She literally has NOTHING going on so she brings up old drama for attention. I'm sure there's some people better worth your time. Lovely to hear from you too ha."
Morgan invited him to sit down for an interview as well, and it degenerated from there into a disparagement of each other's careers.
Lee ultimately tweeted, as a bunch of other people started weighing in, "I don't care about being politically correct, I don't care about offending people. No amount of fame or success is ever going to keep me from speaking my truth. Ps - you don't like it, unfollow."
Anderson, who lately has focused her energies on various environmental, animal rights and women's causes, has mostly been tweeting about those sorts of things, including a retweet yesterday of the National Domestic Violence Hotline.
She told Morgan, "I do want to get married again in my lifetime. But I have been married a lot."