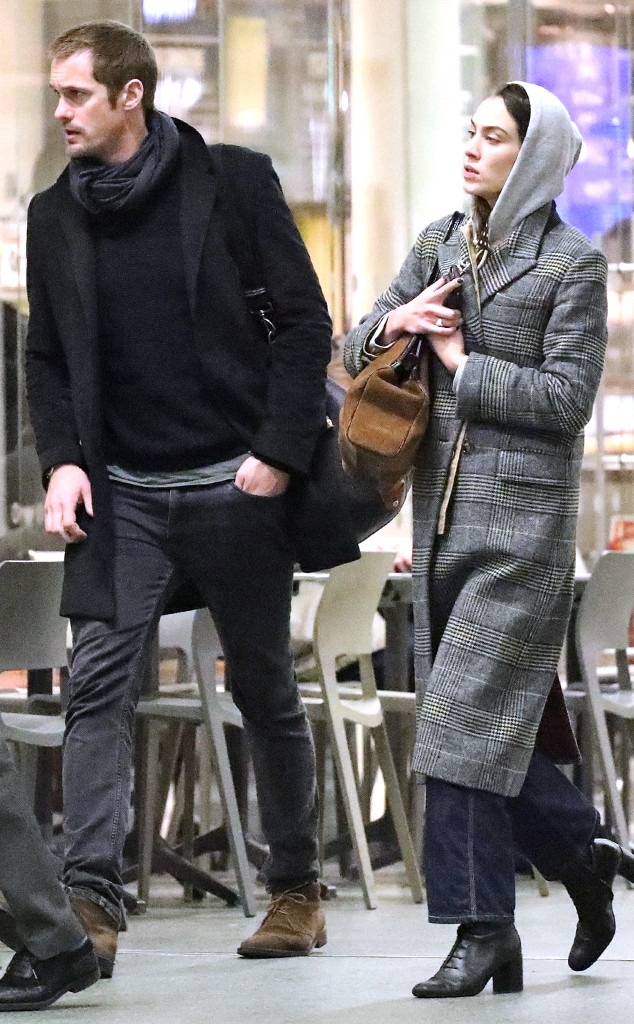 BACKGRID
Are Alexa Chung and Alexander Skarsgård back on?
The 34-year-old British model and the 41-year-old Big Little Lies actor were photographed arriving in London on the Eurostar together on Sunday, March 4, about eight months after they called it quits. The duo split in July after about two years together.
"No one cheated on anyone," a source told E! News exclusively at the time. "It was a clean breakup that was caused by busy schedules and distance. They really did love each other and were pretty serious. They still have respect for each other."
Alexa and Alexander first stated dating back in 2015, the couple's relationship was seemingly confirmed when they were photographed packing on the PDA in New York City in June 2015.
Teach/Moryc Welt/FAMEFLYNET PICTURES
After that time, Alexa and Alexander were rarely photographed together. Before reuniting on Sunday in London, the two were last spotted together in May 2017.
Following their summer split, Alexander was linked to model Toni Garrn. Page Six had reported that Alexander and Toni went on a blind date, accompanied by two of her girlfriends.
But a source shared with us that there was no romance going on between the two of them.
"Alex and Toni just recently met each other but there is no romance," the source said. "A few people all hang out. Very casual. It wasn't a date. Nothing is going on with them."
And while Alexa and Alexander haven't addressed their romance publicly, Alexa did discuss starting a family in W magazine's June edition.
While talking about turning 30 and her move from New York to London in 2016, Alexa shared, "It's not that 30 is old, but it's a point at which you reflect on life. It's a marker of time that means something. Looking to the future, I was like, 'At some point I'd like a family, and I can't float around forever,' and I've already got my family and wanted to be closer to my parents and siblings, who are based in England. I feel like I need more time to figure out what happened, but I'm a bit of a Homing pigeon. I was drawn to living there again."