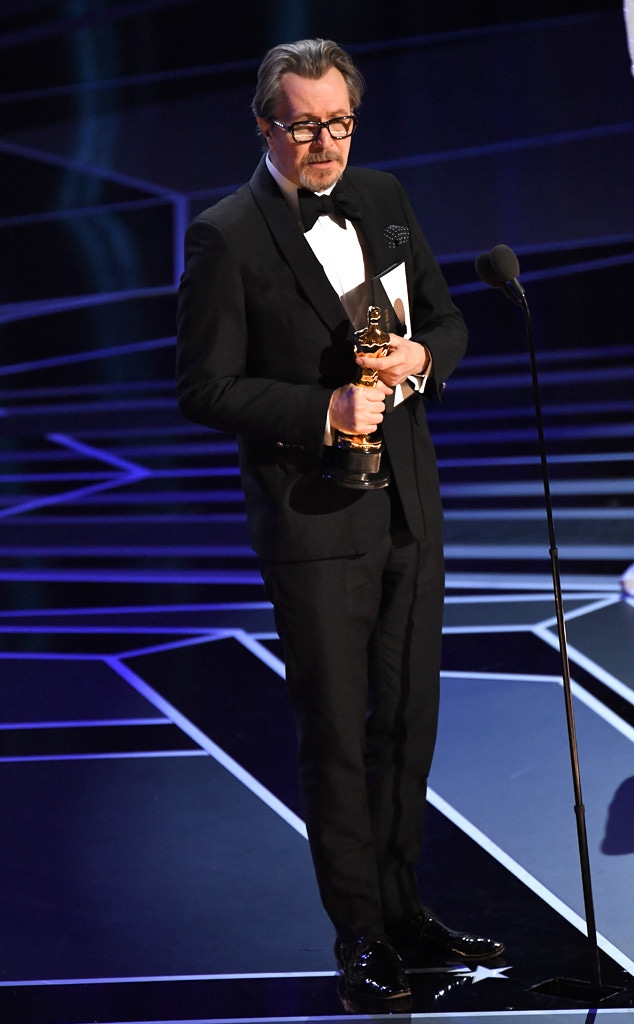 Rob Latour/REX/Shutterstock
Gary Oldman's son has taken a public stand in support of his father.
On the heels of resurfaced reports regarding 2001 domestic violence accusations against the actor from his third ex-wife, the new Oscar winner's son, Gulliver Oldman, has issued a public letter fiercely defending his dad. In the lengthy statement, the 20-year-old son of Gary and Donya Fiorentino called the rehashed claims "false allegations," took aim at The Daily Mail's February interview with Fiorentino, in which she described their allegedly turbulent marriage, and at "clickbait journalism" and the "judgment by headline" that can ensue in the digital age. 
"There is good reason that these specific articles and accusations subsided years ago," Gulliver wrote. "In my eyes it is disgusting that so called 'journalists' have seen fit to spread and perpetuate the lie."
Gulliver went on to share high praise of his father, calling him his "one and true guiding light," his "only hero" and said he is "eternally grateful" to have gotten him as a father.  
To support his insistence that the star is innocent, Gulliver cited the fact that the Darkest Hour star was granted sole custody of his two kids with Fiorentino after their divorce. "Custody of children is not given to a wife beater, and under most circumstances, hardly ever a man," he penned. 
While Gulliver noted that he doesn't enjoy speaking badly of Fiorentino—and hasn't spoken to her since he was 13 years old—he called her a "sad and very troubled" person and described him and his brother Charlie Oldman as "pawns" in their mother's alleged game against their father. 
As for an"incident," seemingly in reference to Fiorentino's 2001 claim that Oldman hit her in the face with a telephone receiver several times while she was trying to call the police, Gulliver wrote he was there and it didn't happen. "Anyone who says it did is lying," Gulliver said in the letter. According to The Washington Post, Oldman denied the allegation and others in the filing, calling them "replete with lies, innuendoes and half-truths." No charges were filed. 
In closing, Gulliver stood up for his father's character as a man, father and actor and insisted the public let him enjoy his successful year by not listening to the lies. 
"In the case of my father, there is only innocence," he wrote. "There never has been any guilt."