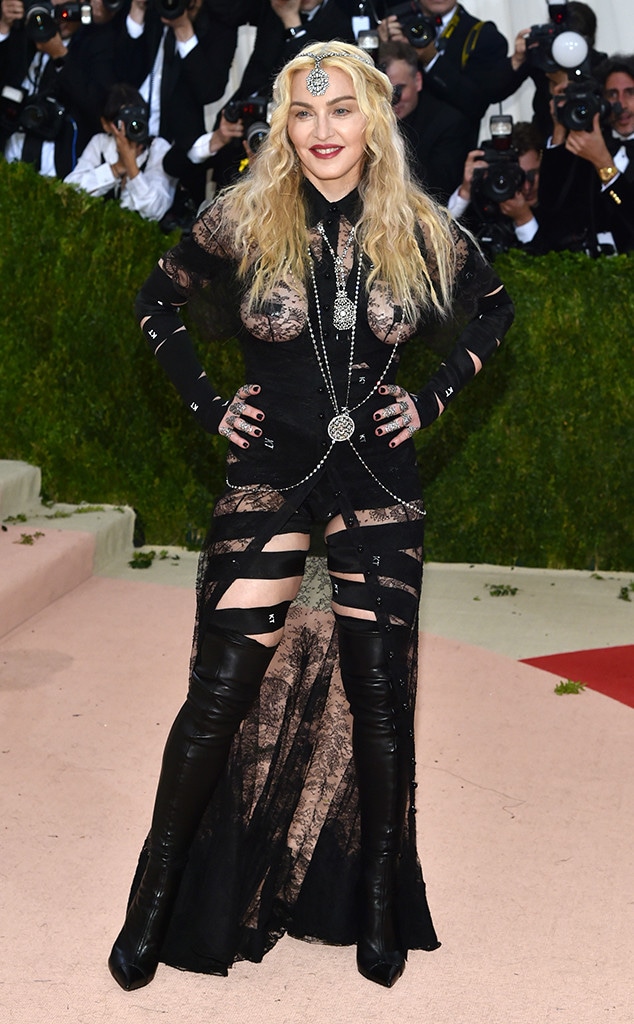 Andrew H. Walker/REX/Shutterstock
Madonna hosted her highly exclusive Oscars after-party last night and, per usual, the event was flooded with some of Hollywood's hottest stars.
In a photo uploaded to the iconic singer's Instagram account today, Madonna posted an image alongside Kim Kardashian and Cardi B., writing, "Gang-Gang" in the caption. In the pic, the women are posing while peering through a ripped sheet of white paper.
And in a video posted by Cardi B's stylist Kollin Carter on the social media app, the women can be seen ripping the paper while Madonna bites the backdrop, wearing long gloves and a black biker hat. Cardi performed at the event and wrote of the experience on her Instagram account.
"I met my real life IDOL @madonna," she said. "I can't even believe I performed at her event and it was the most meaningful performance ever. I grew up with my mom listening to Madonna for hours. I performed 'Material Girl' freshman year in high school, listen (sic) to her on all my photo shoots to have super confidence and always mentioned her in my interviews. The best part about it is she was everything I thought she would be. A liberal kick ass feminist bitch. I'm soo happy."
The singer's manager and party co-host, Guy Oseary, also posted a slew of images with more famous faces, including Sam Rockwell and Sacha Baron Cohen.
Madonna's legendary post-Academy Awards event has become one of the most coveted in Hollywood for the past ten years. This year, additional attendees included Jennifer Lawrence, Ariana Grande, Mac Miller, Margot Robbie, Timothée Chalamet, Leonardo DiCaprio, Ashton Kutcher, Mila Kunis and Amy Adams.
But just how did the party initially come about?
As E! News previously reported, when Vanity Fair canceled its annual Academy Awards party due to the Writer's Strike in 2008, it created a void—one Madonna, Demi Moore and Oseary were happy to fill.
That year, the trio hosted their inaugural after-party, the most exclusive event of award season. Stars like Tom Cruise and Katie Holmes, Ellen DeGeneres, Portia De Rossi and Cameron Diaz were all in attendance. "Just wearing a fantastic dress and having lots of great jewelry—that's my part of the planning," the pop singer told Q Magazine later that year.
And while the invites for Madonna's party were super strict, so was the list for Jay-Z and Beyoncé's Monte Carlo and James Bond 007 themed bash. The rapper and his wife hosted a private party at Chateau Marmont last night, and few stars were given access to the event.
A source tells E! News exclusively, "Jay-Z was VERY picky about the list and turned away more people than he let in and was personally giving the OK on certain people. Diddy showed up with a huge entourage and personal security early on in the night but Jay-Z wouldn't let him in with his security."
The source continues, "Jay did not want any security inside the party. Diddy left after they wouldn't let him in with security, then he came back way later and brought Naomi Campbell and French Montana."
As for the famous hosts, they made sure to spend time entertaining their guests. "Jay was kickin' it with his boys. He hung out with Drake and DJ Khaled and was having a good time," the source says. "Beyoncé stuck with her girlfriends like Lala Anthony, Naomi Campbell and Gabrielle Union and was getting down on the dance floor."
Here's hoping the stars got to sleep in this morning after a very late night!