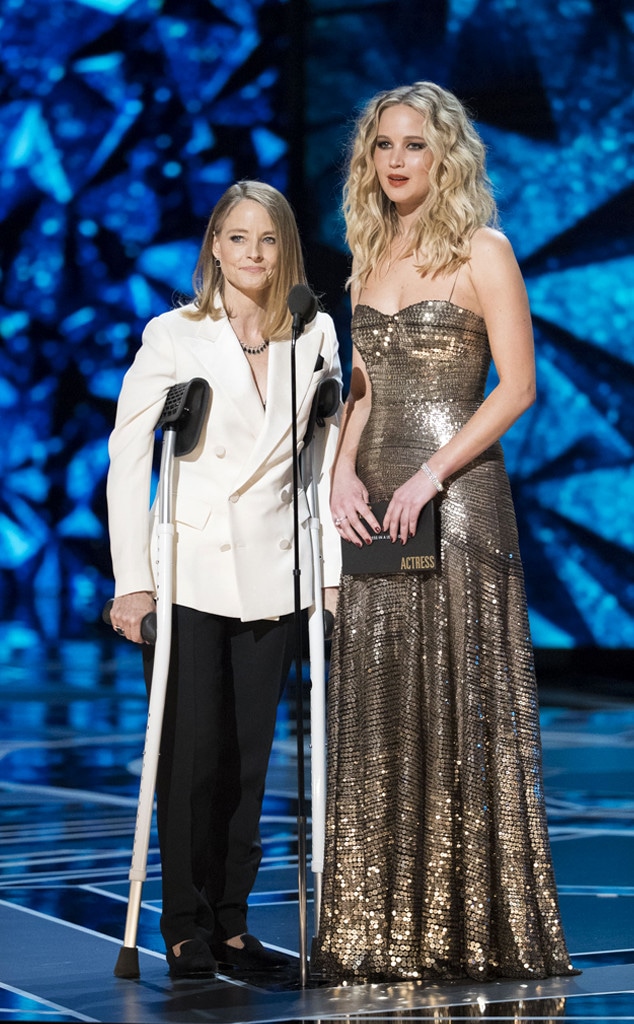 Craig Sjodin via Getty Images
Meryl Streep obviously didn't orchestrate an assault on Jodie Foster before the 2018 Oscars, so what really happened to her leg?
Foster presented the Academy Award for Best Actress alongside Jennifer Lawrence on Sunday night, an honor that went to Frances McDormand. But due to a leg injury, the Silence of the Lambs actress needed the help of crutches to get on and off the Dolby Theatre stage.
She addressed the medical issue with a well-received joke, saying Streep was at fault because she "I, Tonya'd" her. "But I'd prefer to not discuss it," Foster quipped, with J. Law adding, "She tripped me once." 
Of course, Foster was referencing the Oscar-nominated drama starring Margot Robbie and Allison Janney, which documents Tonya Harding's alleged involvement in the infamous attack against figure skater Nancy Kerrigan. 
Watch:
Oscars 2018 Fashion Round-Up
Foster's rep clarified the situation, telling multiple outlets that the Hollywood star was was actually injured in a skiing accident. Safe to say there was no "Tonya'ing" involved.  
As previously reported, Lawrence and Foster replaced Casey Affleck in presenting the Best Actress award. That job is typically reserved for the previous year's Best Actor winner, but the Manchester by the Sea star opted out of participating in light of sexual misconduct allegations previously made against him.
Be sure to watch E! News Monday for more Oscar coverage at 7 and 11 p.m., only on E!