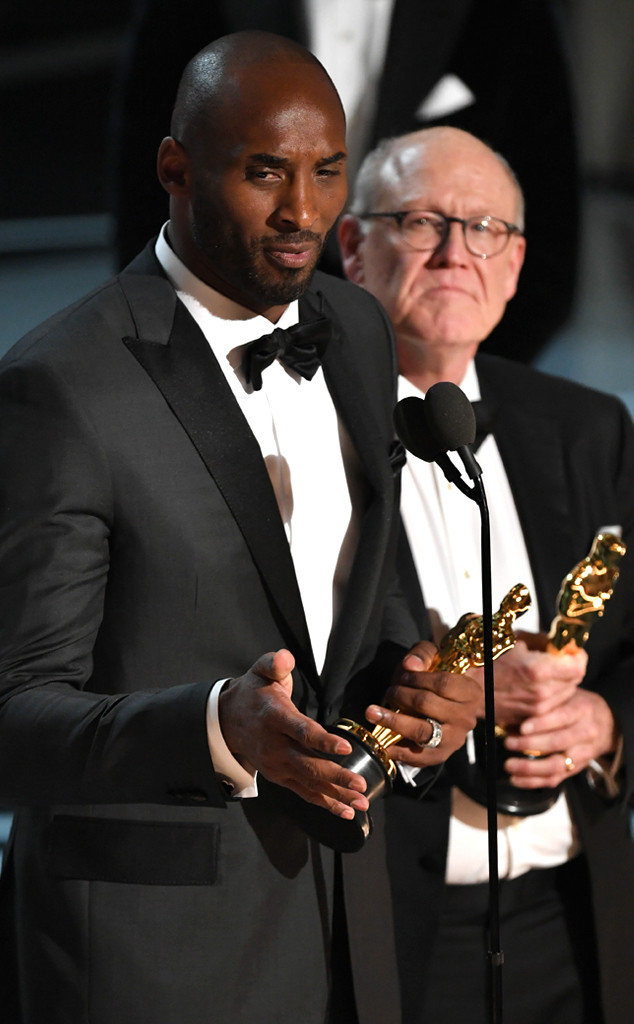 Rob Latour/REX/Shutterstock
It was a slam dunk!
The 2018 Oscars came and they went. While many there were many slam dunk wins throughout the night, there was one wild card winner that no one expected—retired NBA star Kobe Bryant
The 18-time All-Star, 15-time member of the All-NBA Team, and 12-time member of the All-Defensive team can now add Oscar winner to his impressive list of credentials.
The baller won for producing the Best Animated Short Film Dear Basketball and while he and his co-producer Glen Keane were in the Oscars press room following the win. The former hoopster just so happened to say what a huge deal being an Oscar winner meant to him.
Bryant, who was almost at a loss for words, said, "This feels better than winning the championship, to be honest with you."
He continued, "Growing up as a kid, I dreamed of winning championships and working really hard to make that dream come true, but then to have something like this seemingly come out of left field."
The icon added that he told people he wanted to be a writer after he left the NBA and people dismissed him.
"I heard a lot of people telling me when I started writing and they would ask me, 'What are you going to do when you retire?' And I'd say, 'Well, I want to be a writer; I want to be a storyteller,' and I got a lot of, 'That's cute. That's cute. You'll be depressed when your career is over, and you'll come back to playing.'"
The awe-struck sports star continued, "I got that a lot. And so, to be here right now and to have a sense of validation is...crazy."
Keane then joked to his producing partner, "Not only that, after you don't have to sit in a tub of ice now."
Bryant won five championships during his lengthy basketball career.