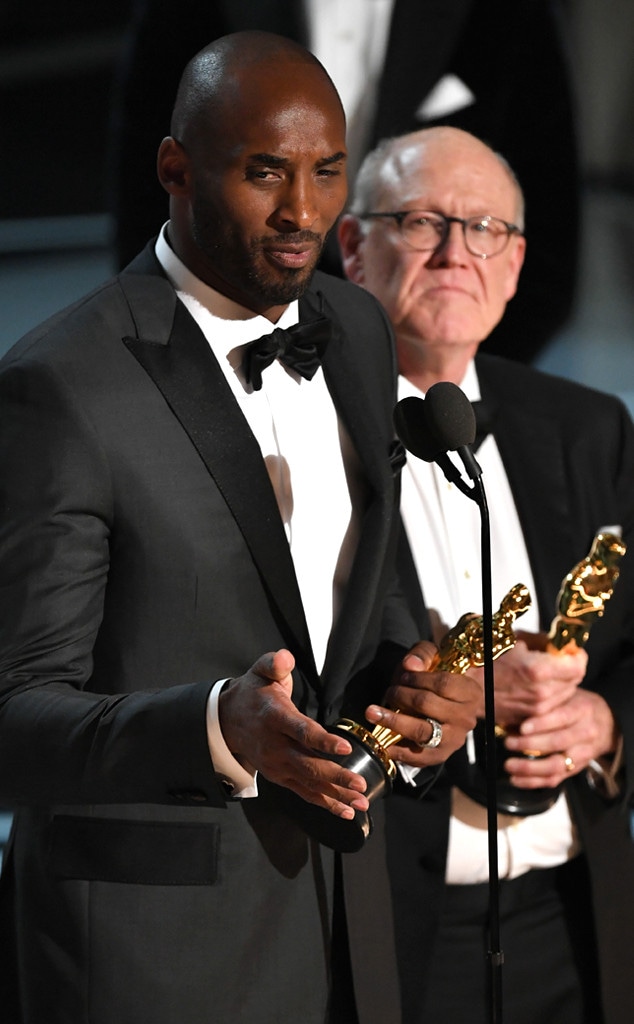 Rob Latour/REX/Shutterstock
Bet you weren't expecting this during the 2018 Oscars!
During tonight's star-studded award show at the Dolby Theatre in Hollywood, cast members from Star Wars: The Last Jedi appeared on stage to present the award for Best Animated Short Film.
While the category is nothing new, pop culture fans were quite surprised to learn the winner of tonight's trophy.
Anybody know former Los Angeles Lakers and basketball superstar Kobe Bryant? Well, he's now an Oscar winner!
"As basketball players, we're really supposed to shut up and dribble. I'm glad we can do a little bit more than that," Kobe shared during his acceptance speech. "Thank you Academy for this amazing honor."
The message was likely directed towards Laura Ingraham who recently advised basketball player LeBron James to keep his political commentary to himself. After LeBron called some of President Donald Trump's comments "laughable and scary," the Fox News host shared a message for the athlete.
"It's always unwise to seek political advice from someone who gets paid $100 million a year to bounce a ball," she said. "Keep the political comments to yourselves...Shut up and dribble."
Ultimately, Kobe continued his speech by expressing appreciation for those who made the project possible. "Thank you John Williams for a wonderful piece of music. Thank you Verizon for believing in the film," he shared. "And to my wife, Vanessa, our daughters, you are my inspiration. Thank you so much, guys. Thank you."
Dear Basketball is a six-minute film based on a letter Kobe wrote to The Players' Tribune on November 29, 2015 announcing his retirement from basketball. The project also earned an Annie Award for Best Animated Short Subject. 
"This feels better than winning the championship," the NBA pro later explained in the press room. "This is crazy man."
Be sure to watch E! News Monday for more Oscar coverage at 7 and 11 p.m., only on E!