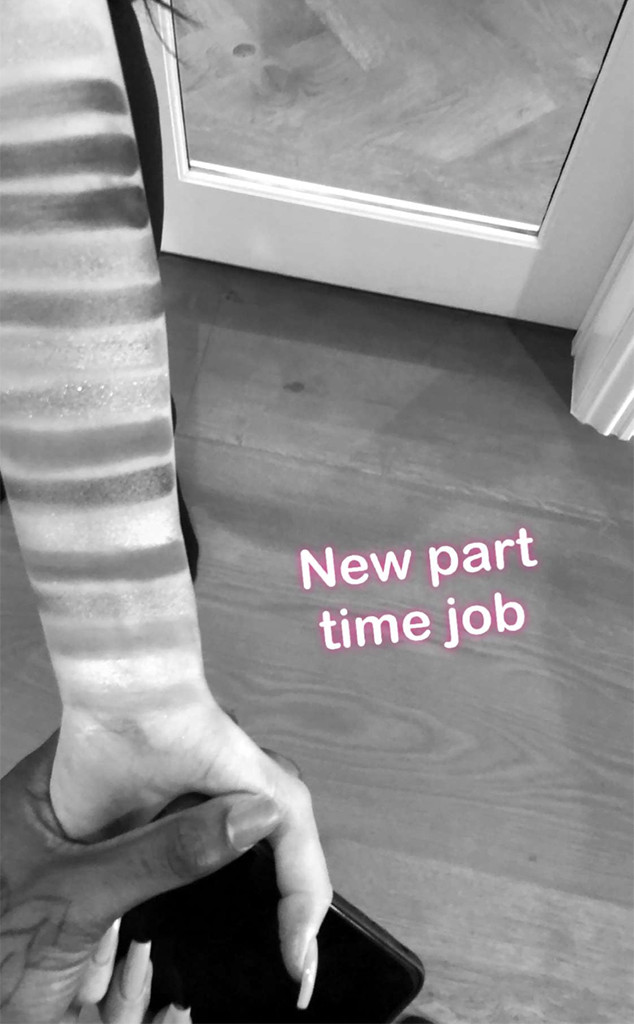 Snapchat / Travis Scott
Travis Scott has a "new part-time job": Being a cosmetics assistant for Kylie Jenner.
The 25-year-old rapper and father of their 1-month-old baby girl Stormi Webster posted on his Snapchat on Friday a black and white photo of the two holding hands, with her arm sporting swatches from her new line of Kylie Cosmetics eyeshadow colors.
"New part-time job," he joked.
Kylie, 20, also posted on her Snapchat a video of her swatch-decorated arm, writing, "Summer [fire emoji]."
In Travis' photo, Kylie also sports long nails. The Keeping Up With the Kardashians star had showcased the same look in recent Instagram photos showing her holding Stormi, which marked the first pics with the child that also shows Kylie's entire body. Some people mommy-shamed Kylie over the length of her nails, suggesting she wasn't a hands-on mom.
"She absolutely gets her hands dirty changing diapers on the regular and is really attentive and makes sure Stormi is eating and sleeping enough," a source told People in comments posted on Friday.
"She has a baby nurse that's been helping out and that gives her little breaks and some guidance," a source told E! News last week. "Her sisters have been very helpful and a wealth of knowledge when it comes to feeding and fussiness. They talk all the time and are comparing notes on how to get Stormi on a feeding and sleeping schedule."