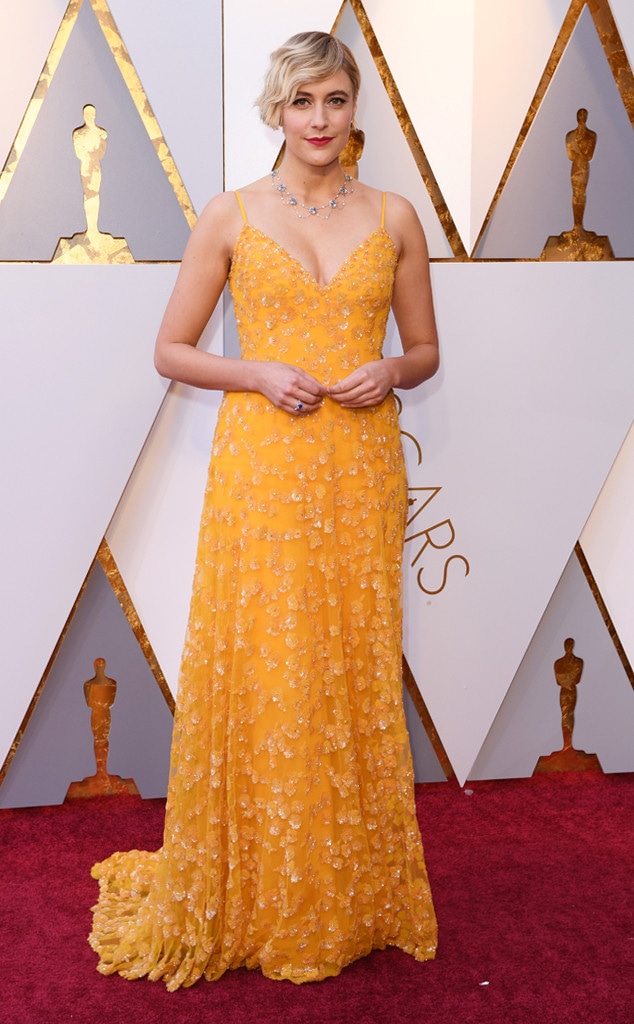 David Fisher/REX/Shutterstock
As Greta Gerwig and Allison Williams cross the finish line of a whirlwind Hollywood race, there's a sartorial team behind them on an equally tireless quest to get them dressed. 
It's been quite the momentous award season for 34-year-old Gerwig, who rose to new professional heights this year when she garnered not one, but two of her first Oscar nominations for her critically acclaimed directorial debut, Lady Bird. In addition to her recognition as a nominee for Best Original Screenplay, the multi-hyphenate became the fifth woman in history to able to call herself an Academy Award Best Director nominee.
The honor is the pièce de résistance on a non-stop award season packed with acknowledgement from virtually every award ceremony on the lineup. From a sartorial standpoint, the mounting initial buzz around Gerwig's latest project was an early cue to Gerwig's longtime stylist, Cristina Ehrlich, that there would be plenty to dress for in the coming months. 
"When all of the announcements started coming in before Christmas, it was pretty much on our radar that we would be doing a full award season with her," the revered stylist told E! News. 
Getty Images/E! Illustration
Williams, meanwhile, made her silver screen debut last January with Get Out and has been on one magical award show ride ever since. That ride culminated in her first ticket to the Oscars as the movie is nominated for Best Picture among other nods. 
Not keen on dawdling, Ehrlich sprung into action to prepare for the award season that awaited two of her star clients. "I have a reputation and a tendency to like to start pretty fast and furious out of the gates because the timing with everything is tight," she explained, noting that conversations with designers began as early as mid-October to gauge interest. 
Frazer Harrison/Getty Images
Naturally, finding a brand name dress to wear to some of the most publicized and respected events of the year in Hollywood does not come without its own level of strategy. "Our first task at hand is to make a list of designers that we feel are suitable and really kind of work with the client's aesthetic and then reach out to them and find out if the brand also has the interest," the stylist said. "It's sort of like peeling the onion—you start with the big onion and you just peel away and it always depends on the girls and her category and what the project is."
It also depends on what the star wants to wear, of course. "They really defer to my team and I to bring options to them and sort of give them an idea of what we're thinking and then it's a discussion," Ehrlich told E! News. "Greta and I have a very evolved relationship at this stage of the game, as do Allison and I, so it's really just sort of a matter of looking at what the awards are that they're most likely attending and kind of just talking through it."
Getty Images/E! Illustration
It doesn't hurt that Ehrlich has the privilege of working with women who already have a keen interest in fashion and are willing to mix it up. "I think all of these ladies, which is why it's been a very amazing season for this office is, they all have a big love for fashion and they all look great in clothes and they all like to not be predictable and they're all very just disciplined about approaching the process the way they would approach a role or a project," the stylist noted.
As she added, "It's been a very creative time getting to work with [Gerwig] because there's a lot of brands that love her and at the same time, she's a very unusual and sort of not your classic beauty, so it's been like a really fun way to find certain brands and colors and silhouettes and shapes and see how to bring each carpet moment alive on its own."
Still, being tied to two highly celebrated films of the year comes with an added layer of time constraint. "These girls are so busy that they want to have the process be fun and it is very exhilarating, but they also really kind of depend on you to deliver the goods," she said. 
After all, those looks will be forever memorialized in the annals of digital media. "These are moments that will always be available," the stylist told E! News. "I look at some of the carpets that I've done in past Oscars and these are moments that will stay with your client for years."
We're willing to bet Gerwig nor Williams will forget what they wore for their first Academy Awards on Sunday night. For Williams, that was a blush gown with a rhinestone and crystal embroidered bodice and a full swing skirt by Armani Privé. Harry Winston jewels completed the glamorous old Hollywood look. "This being the first time that she's going to the Oscars…she really wanted to have that really beautiful, classic moment," Ehrlich noted. 
Meanwhile, Gerwig brought a ray of sunshine to the carpet in a custom Rodarte marigold beaded gown that speaks to the spirit of her nominated film. To top of off the look, the nominee sported a moonstone and sapphire Louis Comfort Tiffany necklace from 1910, a nod to the director's "whimsical old soul."
With these looks hitting the red carpet Sunday night, thus marks the end of a two-month style sprint. "My team and I have probably had no more than a day or two off since the 3rd of January. We're working 24/7," Ehrlich revealed. "We've probably dressed [Gerwig] for at least 40 to 50 looks total and it's a lot...With social media and the way the whole thing works now, every look that she wears is important. People are paying attention." 
The work is not officially over until the star sets foot on the iconic Academy Award red carpet—perhaps the biggest stage in the season yet. Having been a professional dancer, Ehrlich does not underestimate the power of preparation to ensure a seamless process. By the big day, Gerwig already has had numerous fittings in her dress, but had any snag or beyond arose at the last minute, sewers were in the room on Sunday. "If something happens, it will be fixed, but I've been doing this job a long time and I have had plenty of experiences to where I know how to avoid those experiences, so on the day of it's like we're way past a dress rehearsal," Ehrlich assured.
Benjamin Lozovsky/BFA/REX/Shutterstock
By Sunday, the shoes have already been tried on and padded if necessary, the jewelry has been picked out and any foreseeable problems have most likely been troubleshooted. "I'm not one of these stylists that likes to do things last minute because the clients really don't like it, either. It's too nerve-racking on the day of. It should be a very peaceful environment. Your client is zenned out. She's getting her nails done. There's music playing in the background and it's like—we've got this."
In the words of Ehrlich, "You can have an amazing season—you don't want to mess up Oscars day."
In the social media-driven world we're living in today, Ehrlich preps her clients down to their red carpet poses—or lack thereof. "I can't stand when the girls pop their legs," she candidly told E! News. "I don't like when they put their hands on their hip. I'm not a big fan of when girls make that really big, sexy pouty face. I think there's something really, really nice about just looking very natural and not posed on the carpet."
When the time came for the two stars to make their red carpet debuts, the moments were picture perfect indeed.