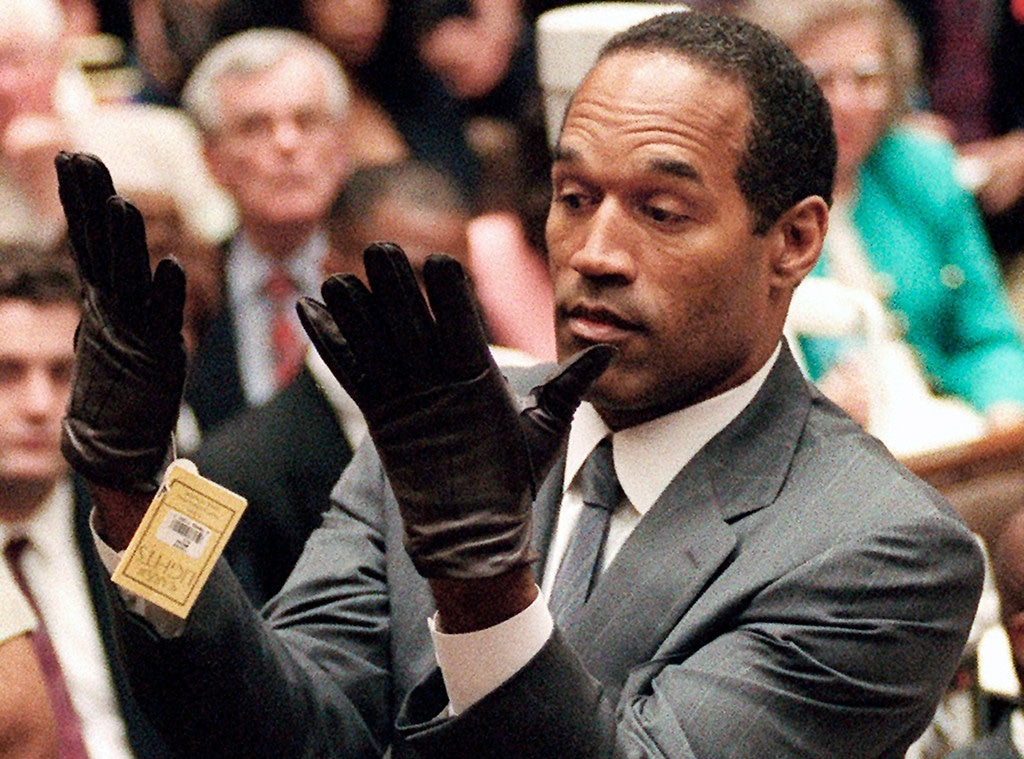 AP Photo/Vince Bucci
No matter how many other decades-old murders there are to mine for entertainment (albeit of the serious, ideally teaching-society-a-lesson-about-itself variety), nothing will ever entertain quite like O.J. Simpson.
Still the biggest celebrity to ever be put on trial for murder, the impact of that case and his subsequent acquittal changed people's lives—and, arguably, pop culture—for ever. And aside from ushering in the era of 24/7 cable news coverage and Court TV, it built upon the cop acquittals in the Rodney King beating trial to further expose a usually ignored schism between the white and African-American experience when it came to trusting the police and the justice system in general. The O.J. Simpson case wasn't just the end-all and be-all of a salacious tabloid story—it was an onion that we didn't even know needed peeling.
Hence the wild success of Ezra Edelman's 7 1/2-hour Oscar-winning documentary O.J.: Made in America, and Ryan Murphy's Emmy-winning American Crime Story: The People v. O.J. Simpson, which made a star out of Sterling K. Brown and helped rewrite the narrative on real-life prosecutor Marcia Clark, more than 20 years after the murders.
Though true crime has always been a rich and commercially viable genre, the copious revisiting of the Simpson trial in 2016 helped trigger the inescapable true-crime-as-highbrow-entertainment trend, which now seemingly every network and streaming service is contributing to.
But unlike still obsession-inducing cases like the murder of Jon-Benét Ramsey, the slayings of Tupac Shakur and Notorious B.I.G., and the Menendez brothers killing their parents, all '90s cases, all of which have gotten the scripted and documentary-special treatment over the past 18 months, no one is seriously trying to reconstruct the who-did-it aspect (or why, in the Menendezes' case) in the 1994 murders of Nicole Brown Simpson and Ronald Goldman. Not even O.J., who said he would find the real killers.
Understandably, the well of fresh water is running a bit dry now that arguably the definitive takes on the case—Edelman's and Murphy's—have been made. Even Simpson's release from prison last October after nine years behind bars for armed robbery and related charges landed with a bit of a thud, considering just how much else is going on in the world. (He also, weirdly enough, got out of a Nevada jail just hours before the mass shooting in Las Vegas, rendering his release relatively inconsequential on a national scale.)
But while O.J. himself hasn't made much news since (getting banned from the Cosmopolitan hotel bar just doesn't titillate all that much these days), it turns out there's still plenty of old to make new again. 
In 2006, Simpson had written (or at least collaborated on) a book to be called, unfathomably, O.J. Simpson: If I Did It, Here's How It Happened, a hypothetical confessional from the man who insists he didn't do it and who was found not guilty by a jury of his peers, but whose marketability in polite company had been forever extinguished and who was up for collecting a fat paycheck—Simpson himself called it "blood money"—from HarperCollins imprint ReganBooks and Fox, both News Corp. entities.
The National Enquirer had been first with the news in October 2006 that Simpson was working on a book, but, according to the New York Times, his lawyer had said there was no truth to the report. Because you could not be serious about such a thing, right?
But it wasn't just the audaciously named book. That November, Fox planned to air a sit-down interview between Simpson and publisher Judith Regan, a shining star in Rupert Murdoch's empire who had previously put out memoirs from Janice Dickinson, Jose Canseco and Jenna Jameson, political reads from the likes of Sean Hannity, and—notably—prosecutor Christopher Darden's 1996 account of the O.J. trial, In Contempt. She had recently relocated ReganBooks from New York to L.A., seemingly with an eye on expanding her brand into TV.
The two-part special was promoted as Simpson explaining "how he would have committed the murders if he were the one responsible."
Myung J. Chun/Daily News via AP
Needless to say, the whole venture was ragingly controversial from the get-go. Affiliates squirmed. Copies of the yet-to-be-published book made the rounds and managed to surprise even the media with how bizarre it was. A spokesperson for NBC, one of multiple networks where the interview was shopped before it ultimately was delivered to the home team, told the New York Times that "from an advertising point of view, from a public relations point of view, everything, it was impossible." (According to Vanity Fair, ABC was interested—but only if Barbara Walters conducted the interview.)
There was also the question of whether the family of Ron Goldman, who had won a $33.5 million wrongful-death judgment against Simpson in 1997, would see any of the If I Did It money.
Despite the ick factor, the book was printed and Regan did indeed conduct the interview.
Sylvain Gaboury/FilmMagic
But within a week of the official announcement of the Fox special, the whole project—including the book release—was scrapped. Finally someone in charge had realized just how distasteful the entire venture was. Even more than a decade after the murders, the wounds were still too raw. 
The following month, a shockwave was sent through the media world when Regan—who through News Corp. is said to have indirectly paid Simpson anywhere from $630,000 to $3.5 million, arranged in a way so that the Goldmans couldn't get the money—was fired, seemingly another casualty in the never-ending case of the people vs. O.J. Simpson (though by multiple accounts, she had been ruffling feathers and making enemies for years). Regan decried the lack of support she got from HarperCollins and News Corp. in the wake of the PR debacle.
Murdoch, who's said to have signed off on the deal originally (without knowing all the details, his defenders said), called it an "ill-considered project."
"I'm not bitter," Regan, who ended up with a reported $10 million settlement from News Corp. after filing a $100 million lawsuit, told The New York Times in 2015. "Strangely, I have no hostility. I carry grudges when things are unresolved, not when they're resolved. I don't relish other people's suffering."
Regan Books/HarperCollins
Meanwhile, the Goldman family filed a federal lawsuit against Simpson over the If I Did It money and ended up (after the case was moved to a Florida bankruptcy court) being awarded the rights to the book—which they sent to press in 2007 with the famously tiny "It" barely noticeably next to the "I Did It," with the subtitle Confessions of the Killer. Dominick Dunne, who had covered the murder trial for Vanity Fair and made no bones about whom he thought was guilty, wrote the afterward.
"I look forward to learning through this process who all worked with the killer to profit from the death of my son," Fred Goldman said in a statement when the suit was filed. "We will not stop until we are able to shine the light of truth on those [who] acted in concert with him."
Nicole Brown Simpson's sister Denise Brown said on Today that News Corp. had "wanted to offer us millions of dollars" to take their O.J. project in stride.
"Millions of dollars for, like, 'Oh, I'm sorry' money. But they were still going to air the show," she said. "We just thought, 'oh, my god.' What they're trying to do is trying to keep us quiet, trying to make this like hush money, trying to go around the civil verdict, giving us this money to keep our mouths shut." (News Corp. stated that conversations were had with both the Goldmans and Browns, and they had been offered all the profits from the book and TV special.)
As for that explosively exploitative title, O.J. Simpson said in a 2006 radio interview right after the plug was pulled, "That was their title. That's what they came up with. I didn't pitch anything. I don't make book deals."
But he did profit from the deal. "Would everyone stop being so naive? Of course I got paid," he said. "I spent the money on my bills. It's gone."
Simpson also told the Associated Press at the time, "This was an opportunity for my kids to get their financial legacy. My kids understand. I made it clear that it's blood money, but it's no different than any of the other writers who did books on this case." Ghostwriter Pablo Fenjves embellished a lot as well, he said.
At the end of the day, though, he insisted that his tale was hypothetical, no matter how anyone—Regan, Fox, the Goldmans, et al.—marketed it as nothing short of a confession. Simpson was still pleading not guilty.
"...I maintained my innocence from day one." he told WTPS-AM. "No matter what everybody wants to say, I didn't do it. I have nothing to confess." 
Jason Bean-Pool/Getty Images
Less than three years later, Simpson ended up in prison for his role in an armed heist to reacquire some memorabilia the tarnished football star said belonged to him anyway. Facing a possible 33 years behind bars, he was granted parole in July. 
And now, no longer worried about being too taboo for prime-time, Fox has reconsidered when it comes to the piece of the weird O.J. puzzle they've been sitting on all these years.
On March 11 at 8 p.m., O.J. Simpson: The Lost Confession?, using footage from the infamously shelved Judith Regan interview and clever use of a question mark, will air on the network, more than 11 years after it was deemed too crass to see the light of day.
Soledad O'Brien, who took a look at O.J.'s robbery case in an episode of her Oxygen series Mysteries and Scandals and also reported on him in real time back in the '90s, will host and be joined by a panel of analysts who will break down the crime and the "confession." Domestic violence PSAs will be shown during the two-hour broadcast, which otherwise will air with limited commercial interruptions. Sources told Deadline that both the Brown and Goldman families support the endeavor.
As it turns out, Judith Regan was just ahead of her time.
(E!, Oxygen and NBC are all members of the NBCUniversal family.)