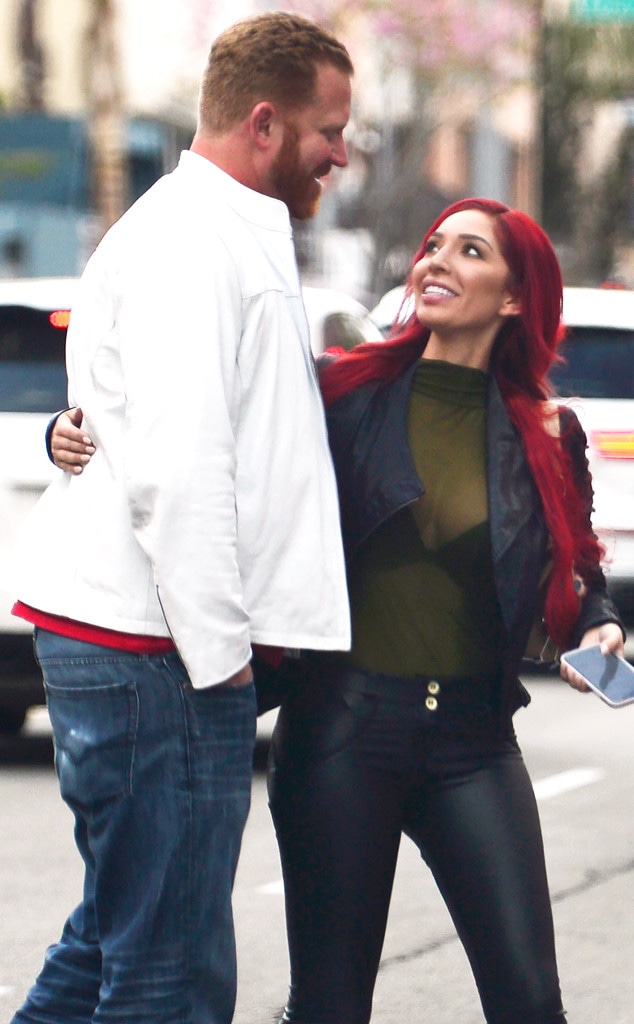 MEGA
UPDATE: After less than two weeks of dating, Farrah Abraham and Aden Stay have split.
"A mutual friend set us up. We went on two dates but we were never in a relationship," Aden shared with E! News. "I don't care about fame nor did I know she had any. She's a nice person and I wish her luck in the future. Right now I'm focused on my career."
Farrah couldn't be reached at this time. 
———— 
Farrah Abraham is so excited and she just can't hide it!
Just one day after the Teen Mom OG star was photographed enjoying a romantic lunch with Aden Stay, E! News can confirm the pair is happily together and dating.
"Aden is smart, a great father, working in entertainment and films for over 15 years," Farrah shard with us. "We're a great team and power couple. I met him in Beverly Hills and literally had a feeling as soon as I saw him...this is my man!"
She added, "I don't want to say too much but I know what love at first sight is and this is that. I can't believe I'm even saying this as I literally thought I'd never have that feeling about someone ever again after Sophia's father passed away."
So who exactly is this stunt performer making Farrah so happy?
Frazer Harrison/Getty Images
He has worked on dozens of projects including Pitch Perfect 3, Jurassic World and Hawaii Five-O. And outside of Hollywood, Aden has multiple businesses outside of entertainment including a construction company.
While the relationship is still in its early stages, Farrah's daughter Sophia has already met Aden who surprised her with roses and teddy bears.
And although Farrah has yet to meet his daughter, they both "look forward to having our children meet soon in Hawaii where he lives."
Pop culture fans may remember Aden was previously linked to Pitch Perfect star Rebel Wilson. As for Farrah, she had her relationship and subsequent breakup with Simon Saran documented on Teen Mom OG.
Ultimately, the pair is enjoying the present and savoring any free time they can spend together. As for what could happen next, only time will tell.
"I simply can't express how lucky of a woman I am and I feel," Farrah gushed to us. "It was like love at first sight."
Us Weekly was first to report the relationship. 
Originally published Thursday, March 1, 2018 at 4:51 p.m.