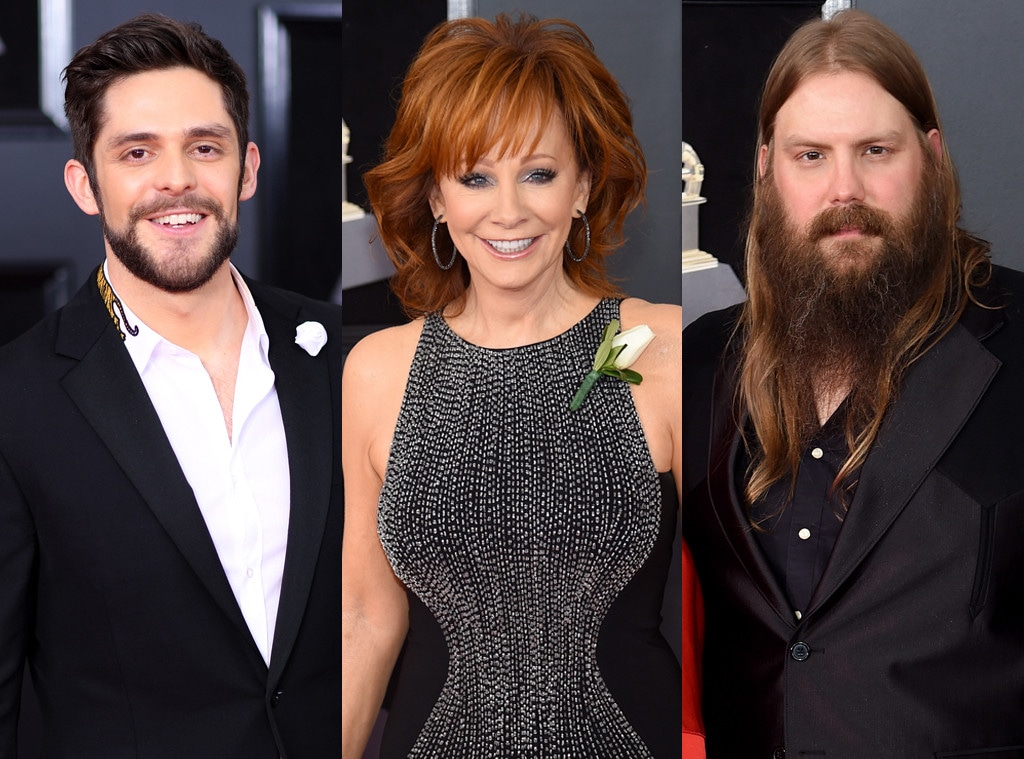 Getty Images
Reba McEntire will host the 53rd Academy of Country Music Awards—making it the 15th time she's hosted the award show.
The Academy of Country Music announced the news on Thursday along with the full list of nominees.
Chris Stapleton heads into the night with the most nominations. He's up for eight awards across five categories, including Entertainer of the Year and Male Vocalist of the Year. He's also nominated twice in both the Album of the Year and Single Record of the Year categories for serving as singer and producer.
Thomas Rhett has six nominations, including Male Vocalist of the Year, and Keith Urban has five. This is the eleventh time Urban is in the running for Male Vocalist of the Year and the eighth time he's up for Entertainer of the Year.
Miranda Lambert enters the evening with four nods. If she takes home the trophy for Female Vocalist of the Year, it will be her ninth consecutive win in this category. Maren Morris also has four nominations, and Little Big Town is in the running for Vocal Group of the Year.
There will even be some newbies in a few categories. While Tim McGraw has 18 ACM Awards and Faith Hill has 16, this is the first time the two have been nominated in the Vocal Duo of the Year category. 
In addition to hosting the event, McEntire is a contender for Female Vocalist of the Year—her sixteenth nomination and possible eighth win in the category. 
To see all of the nominees, check out the following list:
Entertainer of the Year
Jason Aldean
Garth Brooks
Luke Bryan
Chris Stapleton
Keith Urban
Female Vocalist of the Year
Kelsea Ballerini
Miranda Lambert
Reba McEntire
Maren Morris
Carrie Underwood
 Male Vocalist of the Year
Jason Aldean
Thomas Rhett
Chris Stapleton
Keith Urban
Chris Young
Vocal Duo of the Year
Brothers Osborne
Dan + Shay
Florida Georgia Line
LOCASH
Tim McGraw and Faith Hill
Vocal Group of the Year
Lady Antebellum
LANCO
Little Big Town
Midland
Old Dominion
New Female Vocalist of the Year
Lauren Alaina
Danielle Bradbery
Carly Pearce
Raelynn
New Male Vocalist of the Year
Kane Brown
Luke Combs
Devin Dawson
Russell Dickerson
Brett Young
New Vocal Group or Duo of the Year
High Valley
LANCO
LOCASH
Midland
Runaway June
Album of the Year
Breaker — Little Big Town
California Sunrise — Jon Pardi
From A Room Vol. 1— Chris Stapleton
Happy Endings — Old Dominion
Life Changes — Thomas Rhett
Single Record of the Year
"Better Man" — Little Big Town
"Body Like A Back Road" — Sam Hunt
"Broken Halos" — Chris Stapleton
"Drinkin' Problem" — Midland
"I'll Name The Dogs" — Blake Shelton
Song of the Year
"Body Like a Back Road" — Sam Hunt
"Female" — Keith Urban
"Tin Man" — Miranda Lambert
"Whiskey And You" — Chris Stapleton
Video of the Year
"Black" — Dierks Bentley
"It Ain't My Fault" — Brothers Osborne
"Legends" — Kelsea Ballerini
"Marry Me" — Thomas Rhett
"We Should Be Friends" — Miranda Lambert
Songwriter of the Year
Rhett Akins
Ashley Gorley
Hillary Lindsey
Shane McAnally
Josh Osborne
Vocal Event of the Year
"Craving You" — Thomas Rhett Featuring Maren Morris
"Dear Hate" — Maren Morris featuring Vince Gill
"Funny (How Time Slips Away)" — Glen Campbell And Willie Nelson
"The Fighter" — Keith Urban featuring Carrie Underwood
"What Ifs" — Kane Brown Featuring Lauren Alaina
ACM Radio Awards (to be presented during the annual Radio Winners Reception on April 14)
National On-Air Personality of the Year 
Cody Alan​CMT After MidNite with Cody Alan
Bobby Bones, Amy, Lunchbox, Eddie​The Bobby Bones Show 
Terri Clark ​Country Gold with Terri Clark
Lorianne Crook and Charlie Chase​Crook and Chase Countdown
Ty Bentli, Kelly Ford and Chuck Wicks ​Ty, Kelly & Chuck 
On-Air Personality of the Year — Major Market
Bud and Broadway​WIL-FM​St. Louis, MO
Cadillac Jack​WQYK-FM​St. Petersburg, FL
Chris Carr, Kia, Maverick and McKaila​KEEY-FM​St. Louis Park, MN
Paul Schadt, Meg Butterly, Geof Knight ​​WKKT-FM​Charlotte, NC
Roxanne Steele​WYCD-FM​Detroit, MI​
On-Air Personality of the Year — Large Market
Dale Carter​KFKF-FM​Kansas City, MO
Double-L​KWNR-FM​Las Vegas, NV
Jim Denny, Deborah Honeycutt & Kevin Freeman WFMS-FM​Indianapolis, IN
Johnson and Johnson​KUBL-FM​Salt Lake City, UT
The Randy, Jamie and JoJo Show​KAJA-FM​San Antonio, TX 
On-Air Personality of the Year - Medium Market
The 97.5 WPCV Breakfast Club with Roger Todd,
Julie Kay and DJ Thee Trucker​WPCV-FM​Lakeland, FL 
Carina With A Twist Of Lime ​WCYQ-FM​Knoxville, TN
Buzz Jackson​KIIM-FM​Tucson, AZ
Steve & Geoff​​KUZZ-AM/FM​Bakersfield, CA
The Odd Squad​CKRY-FM​Calgary, AB
On-Air Personality of the Year — Small Market
Ben Butler and Arnie Andrews​​WCOW-FM​Sparta, WI
Bobby and Steve (and Mandi!) ​WKYQ-FM​Paducah, KY
Dave Daniels​KHAY-FM​Ventura, CA​
Pat James​KHUT-FM​Hutchinson, KS
The Q Crew with Jason and Ashley on Q100.3​KRWQ-FM​Medford, OR
Radio Station of the Year — Major Market
KILT-FM​Houston, TX
KMLE-FM​Phoenix, AZ
KSCS-FM​Dallas. TX
WIL-FM​St. Louis, MO
WPOC-FM​Baltimore, MD 
Radio Station of the Year — Large Market
KAJA-FM​San Antonio, TX
KUBL-FM​Salt Lake City, UT
WFMS-FM​Indianapolis, IN
WKDF-FM​Nashville, TN
WSIX-FM​Nashville, TN
WSM-FM​Nashville, TN
Radio Station of the Year — Medium Market
KUZZ-AM/FM​Bakersfield, CA
KXKT-FM​Omaha, NE
WGKX-FM​Memphis, TN
WQMX-FM​Akron, OH
WUSY-FM​Chattanooga, TN
Radio Station of the Year — Small Market
KCLR-FM​Columbia, MO
KHAY-FM​Ventura, CA
KTHK-FM​Idaho Falls, ID
KTTS-FM​Springfield, MO
KYKZ-FM​Lake Charles, LA