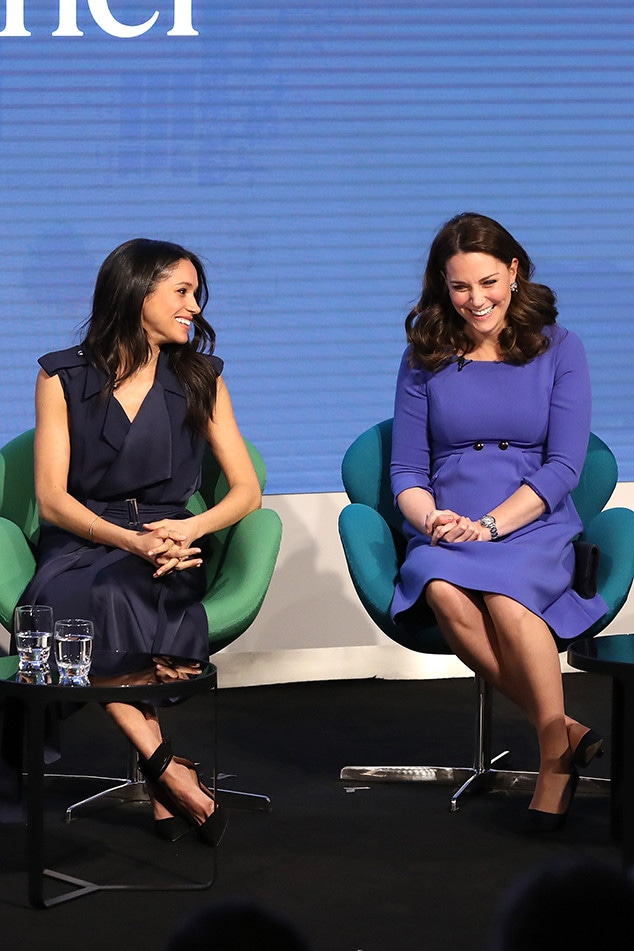 Chris Jackson - WPA Pool/Getty Images
Meghan Markle has a friend in Duchess of Cambridge—and future sister-in-law—Kate Middleton. 
Having called her future relative "wonderful" from the start, the American actress and expectant royal clearly have an affinity for each other—one that took center stage on Wednesday as the two sat side by side to discuss the Royal Foundation and their future work within it. While Markle is not officially tied to the royal family just yet, the Los Angeles-born activist appears to be in sync with the woman who has already experienced everything that is in store for the former Suits star. 
Sartorially speaking, they kept to the same color family. "Both women were resplendent in shades of blue, which was undoubtedly coordinated, and looked at ease with each other and in taking the stage for the first time together," Meghan's Mirror editor Amanda Dishaw told E! News. 
Middleton opted for a royal blue peplum maternity dress by Seraphine, while Markle sported a darker blue sleeveless belted wrap dress by Jason Wu—a departure from the blouse and pant combinations she's been wearing as of late. "Some of our readers were initially worried we might not see Meghan in a dress until the wedding based on her record of wearing trousers to royal events recently, but she showed us today that she's all about mixing it up, wearing a classic yet chic satin Jason Wu dress," Dishaw pointed out. 
In addition to their seemingly coordinated dresses, the ladies quite literally mirrored each other in the way they sat. "Many noticed today that Kate and Meghan were practicing 'The Duchess Slant' when seated on stage. This royally approved way of sitting involves having your heels firmly on the ground with the option to cross your ankles or leave your legs in the middle. The key is to always keep your knees and ankles together," Christine Ross of Meghan's Mirror added. 
Their budding bond was also apparent in their body language. "Their interactions and the warm smiles they shared showed everyone watching that they are in this together," Ross added. "Both women are in impossible roles, stepping into a blinding spotlight. You could tell from the subtle smiles, nods, and glances they shared that they are friends and comrade in their unique positions as 'Windsor Wives.' Both women spoke about how the Fab Four are working together towards change, and you can tell that Meghan and Kate have a long and happy future as sisters-in-law and good friends."
CHRIS JACKSON/AFP/Getty Images
While it seems Markle has been welcomed into the fold with open arms, she also continues to hold strong to her own identity despite impending royal life—both in fashion and function. "Meghan broke all the royal rules today! She chose a dark colored outfit, which is usually a royal no-no. Meghan has been favoring darker colors as they send off a professional and very stylish vibe, but these dark tones are usually reserved for somber or very serious royal events. It is another way Meghan is showing how she is making her own way as a royal. She also wore a sleeveless dress to a daytime event. Royals tend to dress modestly, including covering their shoulders, so this was definitely a surprising style move for Meghan," Ross observed.
"She could not have looked more put together, but she is bending our preconceptions on how a royal woman should dress."
Markle's background in the spotlight may prove to be quite advantageous as she moves forward in her most high-profile role yet. "We thought Meghan looked super comfortable with the stage and the commentary expected of her at the event. Her background as an actress and being in the spotlight has undoubtedly been an asset to her new role," Dishaw added.
"She's a natural! I also loved how she spoke so passionately about the empowerment of women [and] girls, something we can absolutely expect her to champion in her new role and one so exciting for us to be able to watch develop."