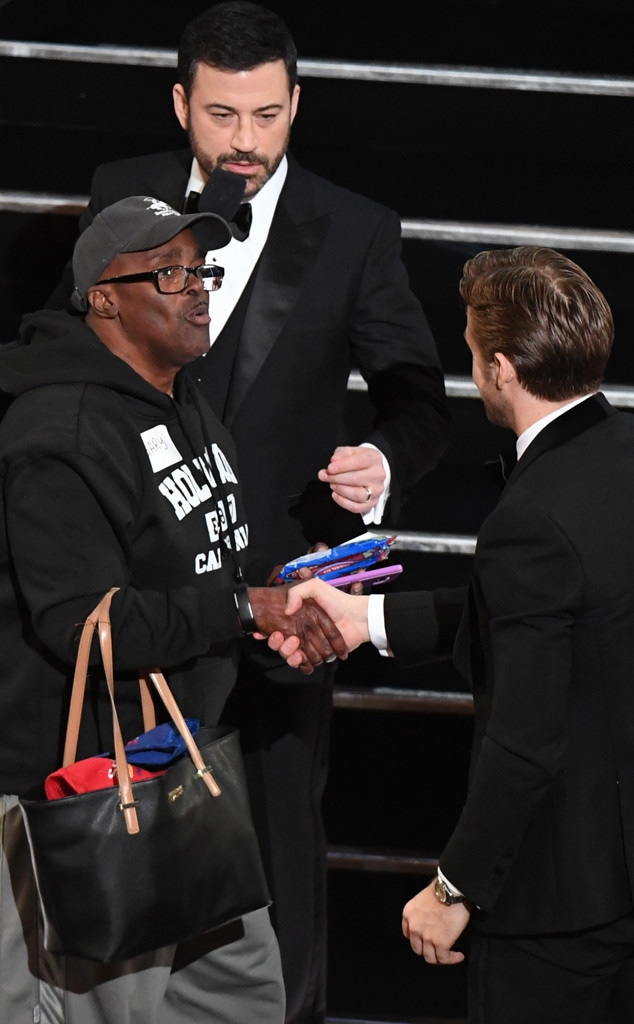 MARK RALSTON/AFP/Getty Images
Remember "Gary from Chicago"? He had stolen the show at the 2017 Oscars,  that is until the Best Picture mix-up made almost everyone forget the previous three hours... 
But thanks to The Hollywood Reporter, we finally know how the rest of Gary's year as a viral sensation panned out. Here's a quick refresher: Gary and a group of similarly unsuspecting vacationers were on a Hollywood tour when Jimmy Kimmel brought them out onstage. Gary and his fiancé Vicki didn't hesitate to snap selfies with A-listers like Ryan Gosling, Nicole Kidman, plus Denzel Washington even officiated their impromptu wedding ceremony! 
Unfortunately for Gary, his sudden celebrity status came with a price. As he explained to THR,  "It was great for my family and friends to see me on the Oscars. But two days later, [the media] tried to make it something ugly."
As it was revealed shortly thereafter, Gary completed a 20-year prison sentence and was released from a California jail three days before his Dolby Theater visit.
"It was horrible," he continued. "I didn't ask to be put on the Oscars. I was minding my own business, walking down the street. I was like, 'Wow, that's crazy—that's America for you.'"
He also revealed that his engagement fizzled within a week of last year's telecast, but has since found love with another woman while living in Fresno, Calif. 
Gary had this to say about the current state of affairs within show biz: "And how about the way it's come down? Look what happened to Harvey Weinstein! Come to find out that the people up in really high places are the ones we should've been watching, and not some poor little black guy that's been locked away in prison for the last 20 years!"
Be sure to watch E! News Monday for more Oscar coverage at 7 and 11 p.m., only on E!