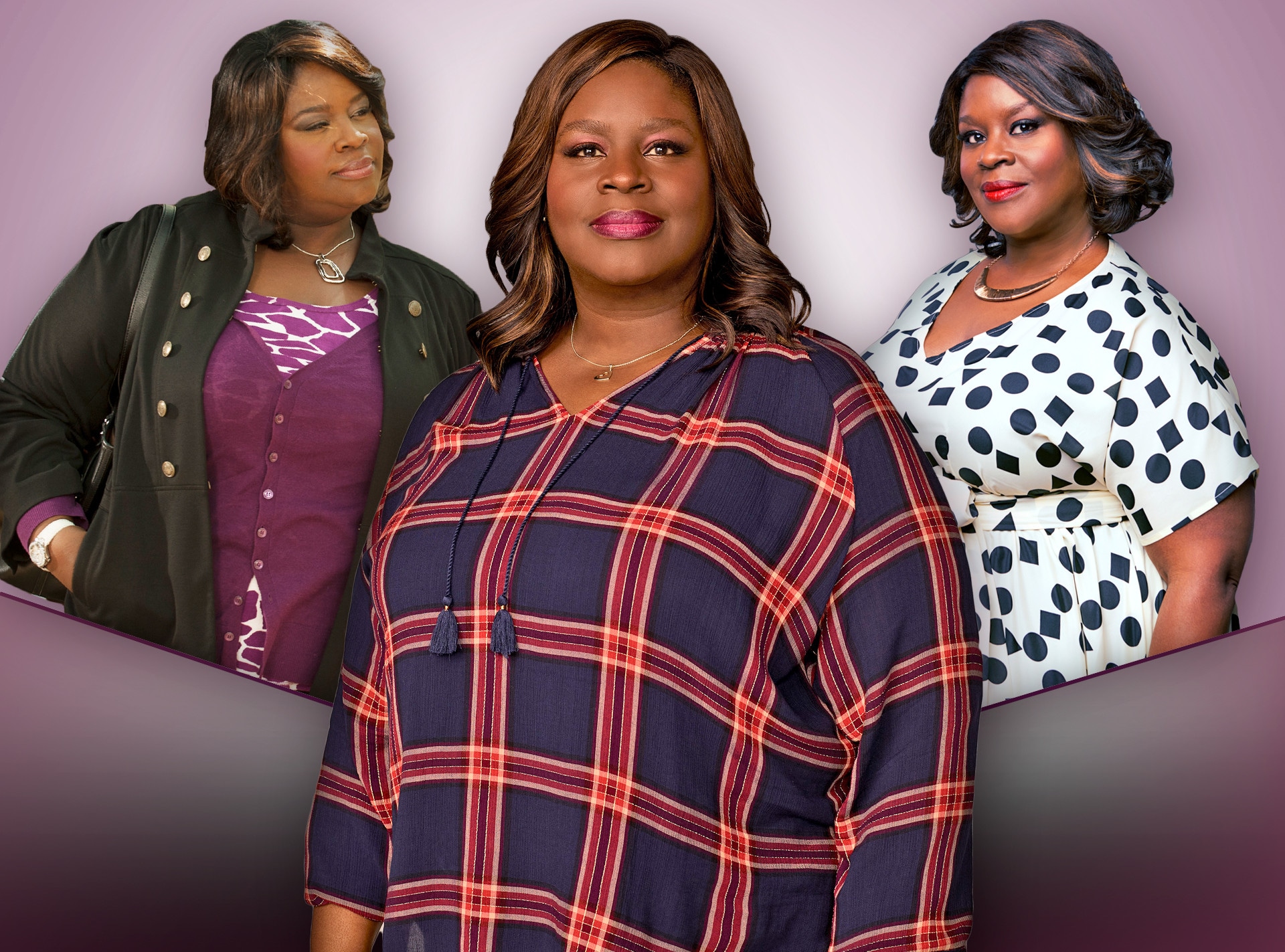 NBC; E! Illustration
Retta's path to leading lady was a winding one.
When America first met the Good Girls star nearly 10 years ago, she was a stand-up comedian making recurring appearances on a new NBC comedy called Parks and Recreation. Ever heard of it? The role of Donna Meagle was a minor one, with little to her description other than "no-nonsense office manager." She wouldn't develop into a series regular until the third season. And while the idea of her co-starring as one of the three leads in NBC's newest hit dramedy might have seemed unlikely back in 2009, it's not because the spark of an undeniable star wasn't anywhere to be found.
"Donna was a very unformed character when we were doing the auditions—we were just looking for a few interesting performers to fill out the office. Retta was just sort of instantly charismatic and funny when she read," Parks and Rec co-creator Michael Schur told E! News via email. "Then I asked her a question about a watch she was wearing, just to make conversation, and she just talked about it passionately and hysterically, and we all thought, well that's an interesting performer!"
Retta laughed when asked about the watch story. "I had just joined Gilt Group, which is like a shopping thing, an online shopping group. And you know, you can get items for sale and toy watches were really popular at the time. And I had gotten this toy watch that I was obsessed with that I bought and I had gotten it for cheap," she explained. "I went into this whole story about how someone had forwarded me an email for this thing called Gilt Group and it's a new thing, you can get high-end items—like a whole ridiculous story. And I was like, 'If you want to join, I can forward you the email and you can become a member because you can't become a member unless you're recommended by another member.' Like he wants to get a watch, he's trying to find deals on online shopping. I was so excited about this watch and the deal I got for it that I was like, 'Of course, Mike Schur would want this deal.'"
It's that gregariousness that endeared her to fans of the sitcom as quickly as it endeared her to Schur, with her Twitter feed becoming just as popular as her performance. As the seasons went on, the role of Donna grew and began to be influenced by the actress bringing her to life. 
"It was more about Retta herself than it was about the character—every time you talk to Retta, you learn something new about her. Her aunt was the President of Liberia, she sings opera, she loves hockey...Retta's a human onion," Schur said. "We wrote an episode where it's revealed that Ginuwine is her cousin, in part because we realized that it would not shock us at all to find out that Ginuwine is Retta's actual cousin."
"There was a moment where Mike had sent me an email and said, 'I have a surprise for you in the next episode.' I was like, 'What?' He was like, 'It's a surprise, you'll see it.' And then it was that Donna live-tweeted because it was after I had started live-tweeting shows," Retta reminisced. "The more you spend time around people, the more you get to know them, the more you find things that they can do or idiosyncrasies or characteristics that are interesting for the character they're playing as well. When they found out I could sing, then they had me sing at Leslie and Ben's wedding. So I think it's because you spend time around people and you get to know them. We do the same thing on Good Girls. When they find something interesting about you, they throw it in the script."
Seven seasons of acting alongside comedy greats like Amy Poehler, Nick Offerman, Aubrey Plaza, Adam Scott and more instilled two lessons that Retta said she's taken with her to every role she's had since. "One, I learned improvisation. I was always fearful of it," she admitted. "People were always like, 'You should take an improve class.' I'm like, 'Nope, not interested.' And then I worked with some of the best [improvisers]. Like, all of them are really, really good at it and it was a safe environment to experiment, so it made me comfortable saying things, trying my own lines, because we used to have fun runs and you could say whatever you wanted. It gave you a freedom to do it."
It was that freedom that led to her second and perhaps most important lesson learned. "I also learned fearlessness from them. I knew that as an actor, it doesn't hurt to be fearless, but I wasn't sure that I could be," Retta said. "I don't necessarily feel that I'm completely fearless, as I'm sure there are still things I'd be afraid to do, but I learned that from them. I saw it from Nick—even from some of our guest stars because we had a lot of great improvisers come to the show. Just watching Megan Mullally gave me a sense of don't be scared to do things."
When the show came to its end in early 2015, it wasn't long before Retta landed her next gig: a recurring role in the second season of Bravo's first-ever scripted series, Girlfriends' Guide to Divorce. She was cast in the hour-long dramedy, which tells the story of Lisa Edelstein's self-help author Abby McCarthy as she embarks on a newly single life post-divorce, as Barbara Sawyer, Abby's co-worker at a Huffington Post-like website. By season three, Barbara had become Abby's business partner and Retta had earned herself a promotion to series regular.
While Girlfriends' Guide may not have carried quite the same cultural cachet as Parks and Rec, the role did prepare Retta for Good Girls in a way that the beloved sitcom never could. 
"Girlfriends' Guide allowed me to do drama for the first time. I'd done it in plays and stuff, but it was the first time I got to do it on camera," she said. "That was a lot of fun to be able to flex that muscle and gave me greater ease when it came to auditioning for something else. Which, honestly, I didn't really get to audition for much because [Good Girls] came along quickly, but again, I feel like every job gives you a little more comfort within your skin and allows you to try something new on your next project."
When it came time for former Grey's Anatomy and Scandal scribe Jenna Bans to cast Good Girls, her uncannily timely dramedy about three suburban moms fed up with the men in their lives and the world at large letting them down, there was only one person in mind for the role of Ruby, the happily married mother to a daughter with a debilitating and very expensive chronic illness.
"Well, actually, when I pitched the show to NBC, I nerdily brought in this poster board with pictures of my ideal actresses for the show. And I had a picture of Retta for the role of Ruby. I had just been such a fan of hers for a long time from Parks and Rec and Girlfriend's Guide. I felt like she could sort of do it all.," Bans told us.
"Well, this is the first I'm hearing of it, so it's definitely exciting," Retta said when we broke the news to her. "I know that she said she had written it with me in mind. I didn't realize I was on a dream board. So, I'll take it! It's humbling. It reinforces that I belong in the industry if there are writers and producers that feel that they need me for their project. It doesn't hurt my self-esteem."
The role, in which Retta absolutely shines, marrying her estimable comedy chops with deep emotional work—seriously, we dare you to watch her big scene in the doctor's office in the series premiere and not find yourself feeling some type of way—hasn't been without its challenges, however. "When you don't understand the way the director or producer wants a scene to go, I get panicked because I'm like 'There's something they want and I can't service this need.' And I had that happen with a scene…in the second episode…and I just wasn't sure what they wanted," she admitted. "So Jeannine Renshaw, one of our [executive producers], came over and she explained it. And I didn't quite get it. But I was like, 'You know what, do what you think it is and just keep trying, keep trying.' And at the end, I didn't think I had gotten what they wanted and Jeanine came over and said, 'It was so beautiful.' It just gave me such relief to just trust in yourself and I think this show is giving me the ability to trust that I know what I'm doing because I feel like actors tend to, sometimes you can get in your head about stuff and then you can self-sabotage. And I'm learning to kind of just relax, trust in what you're doing, and keep trying. I think that should be the case for anything that you do, but I'm getting better at it as the result of this show."
"We all know she's hilarious, but I really do think people will be completely blown away by her emotional range and her depth and just the groundedness in which she plays this character. I'm consistently blown away every time I see a cut," Bans said of her performance. "She's one of the best actors I've ever worked with. Which is not to say I should be surprised by that, but it's just so fun when you get to see an actor do something they've never done before and see them nail it. You get excited for the world to experience it the way you're experiencing it."
While Retta didn't arrive overnight, it's clear with Good Girls that she's, at long last, arrived. The series, which landed the plum post-The Voice time slot (indicating a confidence on behalf of the network), debuted to impressive ratings, besting fall success story The Good Doctor in the key adults 18-49 demo and earning its trio of female leads (Retta stars alongside Christina Hendricks and Mae Whitman) rave reviews from critics. 
When asked what the Retta of 2009 would think if she could catch a glimpse of her very exciting future, the actress only had this to say: "I think she'd be like, Finally.' [Laughs] Honestly, I think she'd be like, 'Shut the front door! Pretty f—king cool.'"
Good Girls airs Mondays at 10 p.m. on NBC.
(E! and NBC are both part of the NBCUniversal family.)