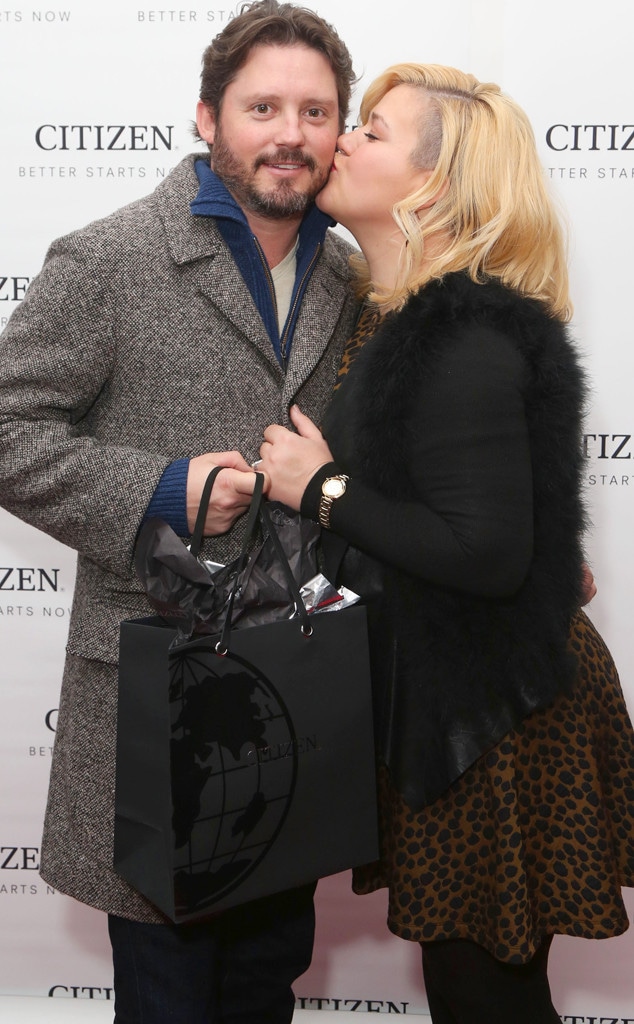 J Grassi/Patrick McMullan/Sipa USA
It is a truth universally acknowledged that everyone with a pulse is rooting for Kelly Clarkson's happiness.
From the moment she first entered the national consciousness on American Idol—once Simon Cowell finally got it—almost 16 years ago, she's been a person who can't help but invite championing, with her innate ability, hardscrabble back story, tireless work ethic and inspiring messages about self-sufficiency, girl power and bouncing back better than ever from the crap life throws you.
And when Miss Independent found Mr. Right...well, hot dog.
"I never thought honestly I would get married or fall in 'love', like they say in the movies," Clarkson told CBS News in 2015. "You know, I never thought that would happen. And, not so because I didn't think it was true...I just didn't know if it was possible."
"I had a very high bar if I was going to date someone, 'cause I have a great life," she recalled her single days during a 2016 appearance on The View. "And I'm like, if I'm gonna add someone to it," she motioned to that imaginary bar, "you're gonna have to bring somethin'. But he's amazing." 
Of course, because nothing worth having isn't worth waiting for, Brandon Blackstock was not available when Clarkson first laid eyes on him in 2006. She had hired his father, Narvel Blackstock, to be her manager and had known his stepmother, Reba McEntire, since 2002 when they sang together on the American Idol finale.
Clarkson was rehearsing with Rascal Flatts for the 2006 ACM Awards and Blackstock, a married father of two, was the band's manager.
Kevin Winter/ACMA2013/Getty Images for ACM
"We were just in a room together, and then he came up and said he was from the same hometown as me and I was like, 'Oh we're so getting married,' I was so that girl," Clarkson recalled to Ryan Seacrest on KIIS-FM in October 2012. "When he became single, I was on the prowl."
In a funny twist of fate, Blackstock was managing Blake Shelton—now Clarkson's co-worker and competition on The Voice—when they reconnected in 2012 at the Super Bowl, where Kelly was singing the national anthem.
"And then we were like, 'I love you,'" Clarkson, feigning a schmoopy voice, told the audience during a chat at the Texas Book Fair in Austin in 2016. "He was like, 'I love you.' And then we lived happily ever after."
Of course it wasn't quite so simple.
Blackstock had to go through a separation from wife Melissa Ashworth first, never easy, especially because they're parents to a son and daughter together. His divorce was finalized shortly before he met Clarkson, a reunion facilitated by his father.
Talking to Seacrest that October, Clarkson said that they were "taking it slow, and we're enjoying each other. I'm from a family of broken marriages, but we will definitely break that trend one day." She added, "I'm completely head over heels for him. He knows that."
Two months later, they were engaged and Kelly was showing off a stunning yellow canary diamond ring her fiancé designed with jeweler Jonathan Arndt.
"To have my buddy as my daughter-in-law, who could ask for more," McEntire, smiling, told Katie Couric in 2013.
Noting that she'd been married 24 years, Reba said that the best advice she and Narvel could give to the betrothed couple was "by example instead of words." Communication was important though, she added.
Clarkson and Blackstock tied the knot on Oct. 20, 2013, at Blackberry Farms in Walland, Tenn., in front of a close-knit group that included the groom's children. The bride were Temperley London.
The following month, Clarkson announced that she was pregnant with the couple's first child, the "best early Christmas present ever." She said on Today that she had hoped to wait longer into her pregnancy to go public, but that she'd been so plagued by morning sickness she felt she had no choice but to explain why she had to cancel an obligation.
"I didn't want people to think I was cancelling because I'm lazy or something, so we just told people," she said. 
"I don't know why they call it morning sickness. That's my big joke right now because it's all day and all night. I am super-excited about being pregnant, though. I'm just looking forward to the second trimester...they say it's better."
The communication Reba advised about would prove key soon enough when, that December, a woman went to The Dirty claiming Brandon wasn't flat-out cheating on Kelly with her, but that they had been "intimate in other ways." Then another gal, also anonymous, claimed she'd had a one-night stand with him.
The cries of B.S. came from multiple corners. Blackstock took to Twitter to say that the stories "make for great reading on the s--tter." 
Interestingly, the music manager's ex-wife, Melissa, also came to his defense, telling Radar Online that her ex was a good guy and knocking rumors of infidelity in either marriage.
"This is ridiculous...this silliness," she said. "I have my two children right here, who I love." Moreover, "I adore Kelly and Brandon as a couple, so if I say anything it's going to be positive."
Clarkson's pregnancy wouldn't get all that much easier. "We just found out we're having a girl officially! I knew it!" she tweeted in January 2014. "Only a girl could cause this much drama with all this vomiting ha!"
Down the road she would open up about being hospitalized for part of the time, causing her to take a much longer break from work than she had envisioned, and then losing her voice after she gave birth. But daughter River Rose Blackstock, born on June 12, 2014, came out healthy and that was what mattered.
And nothing she experienced the first time around ultimately deterred Clarkson and Blackstock from going for it again. The doting parents announced just over a year later, in August 2015, that baby No. 2 was on the way.
Shockingly, McEntire and her husband had announced a couple weeks earlier that they were separating—and the divorce was finalized that October.
(While Reba's no longer her mother-in-law, Clarkson and her longtime friend and mentor remained close. "We talk still about business and she trades videos with River and stuff," she said on Watch What Happens Live! in October 2016. "I mean, she's still my—our—older two [kids], their grandma." They had also just collaborated on "Softly and Tenderly," off McEntire's post-split album Sing It Now: Songs of Faith and Hope.)
Meanwhile, son Remington Alexander Blackstock was born April 12, 2016. About a month beforehand, Clarkson, who's been open about not having a relationship with her own father after years of trying, had nothing but praise for her husband's approach to parenting.
"Watching my husband love on his daughter all the time you know, go to her events and just be there and, like, be present is hard to watch but beautiful to watch," she explained to Ryan Seacrest on the radio. "I know that my kids are going to have that. Y'all are totally going to make me cry on this interview. I'm so glad you can't see me."
Clarkson had reached out to her dad multiple times over the years, but the pain of not getting a response back took its toll.
"I'm 33 years old, I'm a grown woman. But it's more of that thing where you can try your hardest to salvage relationships—and I did—but at the end of the day, if you keep getting hurt by someone because they just don't know how to properly love people, it's just not worth it," she said. "It's not worth the strain in your heart and it starts to bleed into your other relationships and it becomes super dysfunctional."
How can you not hope that her own marriage keeps chugging along, fueled by its own steam?
Lester Cohen/Getty Images for NARAS
Not only was Blackstock the first person she romantically said "I love you" to (and really meant it in the truest sense of the phrase), but she wasn't even that turned on by anybody before him, either.
"This isn't a downer to anybody I dated before him, but I'm just going to be real: I never felt like, honesty, sexually attracted to anybody before him," she revealed during a Sirius XM private listeners event in November. "And I'm not downing my exes. You know, everybody's different. But there was something about him."
Clarkson continued, "I honestly thought I was asexual—I'd never been turned on like that in my whole life. I was like, 'Oh that's that feeling...OK! That's what they were talking about in Waiting to Exhale.' I just got it. I just didn't have a clue."
But then she just...knew.
"I was single for, like, ever," she told USA Today last October, a few days after her wedding anniversary. "But once I found someone I fell in love with—we've been together four years — honestly, it still feels like the first week. We're just still crazy about each other...and we have a great team, I know we're going to be great parents. We were really adamant—our kids go to bed at a certain time every night, and then it's our time."
And now that she's married with kids, "I know it sounds funny, but I've never felt sexier," she also said on Sunday Today With Willie Geist last fall, part of the press whirlwind she was doing for her eighth studio album, Meaning of Life. "I've never felt more confident. I've never felt more empowered.
"I don't think you have to get married or have children to have those things, that's just what happened to me, personally."
Catch Kelly Clarkson on The Voice, Mondays and Tuesdays at 8 p.m. on NBC
(E! and NBC are both members of the NBCUniversal family.)